Bengals: 2017 schedule released, 2 prime-time games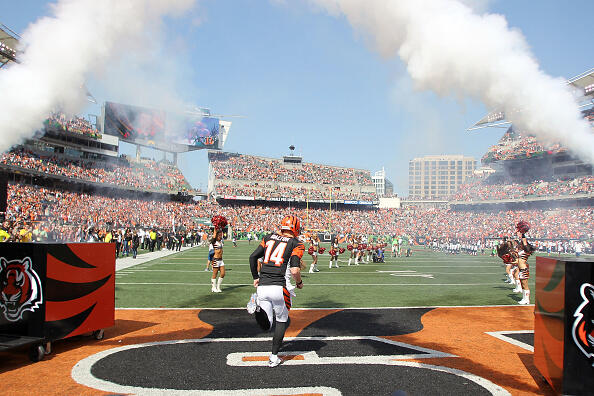 From Bengals
Bengals: 2017 schedule announced
The Bengals' 2017 schedule, released today by the National Football League, features two national prime-time games and the first home opener since 2009.
The Bengals start the season with back-to-back home games, including the opener versus division rival Baltimore Ravens on Sunday, September 10 at 1 p.m. For the first time ever, the Bengals are launching single-game tickets for the home opener versus Baltimore simultaneously with the schedule release, which means that these tickets are available now at Bengals.com/tickets.
Following the Baltimore Ravens game, the Bengals kick off the NFL's Thursday Night Football schedule when they host the Houston Texans on the following Thursday, September 14 in what is the first of two home national prime-time games. The Bengals are also scheduled at home for a December 4 game versus the Pittsburgh Steelers on ESPN's Monday Night Football.
"We are excited to kick-off our 50th season at home, and to accommodate fans, we are making single-game tickets to the home opener versus the Baltimore Ravens available now," said Bengals executive vice president Katie Blackburn. "This will be a special year commemorating our 50th season, and having two nationally televised prime-time games at Paul Brown Stadium adds to the enthusiasm."
Including the club's August 27 visit to Washington televised by FOX, the Bengals are scheduled to play a total of three national games in 2017. Additionally, Cincinnati's September 24 game at Green Bay and November 19 game at Denver will be carried in the national 4:25 p.m. time slot.
"We have the opportunity to get off to a fast start with back-to-back home games to open the season," said Bengals head coach Marvin Lewis. "It will be a challenge playing three road games in a row in November, but I'm excited to close the season with four of our last six games at home."
During Weeks 10-15 and 17, all Sunday games are subject to possible flex among the three standard kickoff times -- early afternoon, late afternoon and night. Additionally, in Weeks 5-9, flexible scheduling may be used in no more than two weeks.
CINCINNATI BENGALS 2017 SCHEDULE
Sun., Sept. 10: BALTIMORE, 1 p.m.
Thurs., Sept. 14: HOUSTON, 8:25 p.m. (NFL Network)
Sun., Sept. 24: at Green Bay, 4:25 p.m.
Sun., Oct. 1: at Cleveland, 1 p.m.
Sun., Oct. 8: BUFFALO, 1 p.m.*
Sun., Oct. 15: (Bye week)
Sun., Oct. 22: at Pittsburgh, 1 p.m.*
Sun., Oct. 29: INDIANAPOLIS, 1 p.m.*
Sun., Nov. 5: at Jacksonville, 1 p.m.*
Sun., Nov. 12: at Tennessee, 1 p.m.*
Sun., Nov. 19: at Denver, 4:25 p.m.*
Sun., Nov. 26: CLEVELAND, 1 p.m.*
Mon., Dec. 4: PITTSBURGH, 8:30 p.m. (ESPN)
Sun., Dec. 10: CHICAGO, 1 p.m.*
Sun., Dec. 17: at Minnesota, 1 p.m.*
Sun., Dec. 24: DETROIT, 1 p.m.
Sun., Dec. 31: at Baltimore, 1 p.m.*
All times are Eastern; home games in CAPS
An asterisk (*) denotes a game subject to possible flex scheduling.

He insists he has the best job going....and who is to argue? He gets paid to talk about the teams he grew up with in Cincinnati. He painted his face for the Freezer Bowl and watched Pete get hits 3,000 and 4,192 in person. His broadcast career originated with weekly calls to WLW Sports Talk to talk circles around Bob Trumpy. When he wasn't bugging neighbor Marty Brennaman to sign his 1976 Reds Greatest Hits album, he was playing for Cincinnati's 1977 dynasty little league team, Wicks Good Food and Booze. Being cut from his high school baseball team, as a left handed shortstop, opened the door to doing radio at his high school station. After graduation from Carmel High School in Carmel, Indiana in 1984 it was onto Butler University. His TV sports anchor career began at WSBT-TV in South Bend and took him to CLTV in Chicago. The highlight of his broadcast career was winning a Midwest Emmy for Chicago Bulls coverage. Eventually he left to do radio with Norm Van Lier at WMVP AM 1000 in Chicago. Then it was back home to Cincinnati in 1997. He resides in Northern Kentucky. Wife Kelly was his intern in Chicago (insert own joke here). He has two children, Casey 17, and Peyton 14. In 2003, Casey received a bone marrow transplant that saved his life after being diagnosed with AML leukemia.Lance is the proud owner of the St. Pete Roses, his fantasy baseball team for the past 27 years. In 2006 he played on the Reds Baseball Heaven Championship team with his father. Despite an injured hamstring that limited him to a DH role, he hit a crisp .500 (14 for 28) for the week. In November of 2008, after fainting in the emergency room, Lance's heart stopped and he flat lined for 60-seconds. That day he received the ultimate conversation starter, a pacemaker. Like the watch, he keeps on ticking today.