The Bengals have a lot of question marks heading into free agency. They could lose Kevin Zeitler, Dre Kirkpatrick or Andrew Whitworth. Heck, they could lose all three. They have plenty to worry about when it comes to their own free agents, but that doesn't mean they shouldn't target other players.
Here are six free agents the Bengals should consider signing:
1. Jabaal Sheard, Defensive End – Sheard is a versatile pass rusher that would fit right in with the Bengals. He had a "down" season in New England last season and still managed five sacks. That was the second-lowest sack total of his career. The Bengals' defensive line was responsible for 28.5 sacks in 2016 and struggled to get consistent pressure on the quarterback. The Bengals haven't been shy about signing former Patriots. He's 27-years-old and could likely be signed at a reasonable price. Brandon Tate, Benjarvus Green-Ellis and Brandon LaFell are just a few players that have performed well in Cincinnati after leaving New England. Signing Sheard would be a drastic upgrade for a pass rush that desperately needs it.
2. Markus Wheaton, Wide Receiver – I wrote about Wheaton and the Bengals a few weeks ago. He is coming off of an injury-riddled 2016. Wheaton has the upside the Bengals should be looking for in free agency. He's younger and faster than LaFell. LaFell was coming off of an injury when he signed with the Bengals. He had something to prove and it worked out well. Wheaton has played for a winning organization in Pittsburgh and has potential to be a difference-maker on a good team. In 2015 he average 17 yards-per-catch. Bringing in Wheaton could change things for an offense that struggled to stretch the field.
3. Nick Mangold, Center – Some have said Mangold is washed up. Others believe he has something left in the tank. I lean towards the latter. Mangold was injured for a big chunk of 2016, but that doesn't mean he isn't an upgrade from Russell Bodine. Some wonder if Mangold is worth the risk? I think he is. If the Bengals plan on contending in 2017, they should bring in players like Mangold. He's a proven commodity that wants to win. What's the harm in signing him? Mangold was released by the Jets. Something tells me he's more motivated than ever to show people that he can still play.
4. Torrey Smith, Wide Receiver – Smith was released by the 49ers this week. The Bengals' offense lacks speed on the outside. Smith may be a one-trick pony, but he does that one trick pretty well. He shouldn't cost much in free agency. He might end up signing for less than LaFell. He's averaged 17 yards-per catch during his six-year NFL career. The Bengals knew they needed speed at wide receiver last offseason and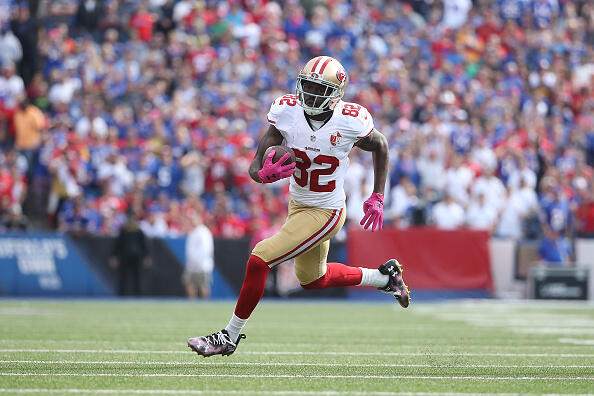 didn't reach out to Mike Wallace. Wallace was a productive member of the Ravens in 2016. Maybe they'll have more interest in Smith because of his skillset and his attitude. Smith isn't known for the locker room antics and distractions that Wallace is. Smith is only 28-years-old. I think he can still help a team like the Bengals.
5. Chance Warmack, Guard – Most believe Zeitler is going to sign elsewhere when free agency officially begins. The Bengals could decide to replace him with a veteran, instead of drafting a guard or plugging in fifth round pick Christian Westerman. Warmack could be on that list. He isn't as good as Zeitler, but the Bengals "don't value" guard. Warmack would be a younger, cheaper alternative. He also played at Alabama and we know how much Marvin Lewis likes former SEC players. Could the Bengals survive with Warmack at guard if they keep the rest of their offensive line intact? If the answer is yes, then he should be on the Bengals' radar.
6. Charles Johnson, Defensive End – The Bengals' pass rush could use any help it can get. Johnson was once a game-changing defensive end, but it remains to be seen how much he has left at 30-years-old. Even though he's declining, I'm betting he has something to offer to the Bengals' pass rush. He doesn't have to play every down. He could rotate in and out to stay fresh. He still posted a solid Pro Football Focus grade of 81.4. That doesn't mean he's a star or someone that would change the Bengals' defense in a big way. But, could he help? I think so and that's why the Bengals should be interested.
*UPDATE* Johnson signed a two-year deal to stay with the Panthers. The other five free agents on this list remain unsigned.