The NFL Draft is 37 days away and the Bengals have plenty of needs. The good news is they have 11 picks to upgrade their roster. I've released multiple 3-round mock drafts. It's now time for a 7-round mock.
Here's what I think the Bengals will do in 2017 NFL Draft:
First round, ninth pick: Corey Davis, Wide Receiver, Western Michigan – Dave Lapham recently said the Bengals want a pass rusher in round one, but they will consider a wide receiver as well. I'm betting the top pass rushers are off of the board by the time they are on the clock. They end up with the best wide receiver in the draft. Davis was a playmaker at Western Michigan. He is very good after the catch and would be the best wide receiver the Bengals have had on the opposite side of Green. This would do wonders for Andy Dalton and an offense that lacked a downfield threat last season. Pro Football Focus thinks Davis would be perfect in Cincinnati.
Second round, 41st pick: Joe Mixon, Running Back, Oklahoma – The Bengals have interest in Mixon. Some may think round two is a bit early to select him considering his off-the-field issues. I'm not sure he falls this far. One report says he could be drafted in round one. If he lasts until pick 41, I think they'll definitely consider drafting him. Every draft analyst I've talked to thinks Mixon is the real deal. Some believe he could be the next Le'Veon Bell. The Bengals need to upgrade at running back and Mixon could be the guy.
Third round, 73rd pick: Derek Rivers, Defensive End, Youngstown State – The Bengals need to upgrade their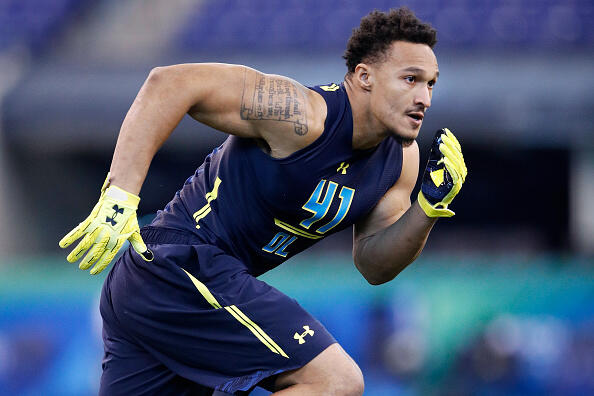 pass rush and they do so with their third pick. It's a deep draft for defensive ends. Rivers should be able to have an impact right away. He does come from a small school, but the Bengals aren't looking for someone to replace Michael Johnson this season. He can come in and play on passing downs. Rivers gives their pass rush an instant boost. The Bengals went to his pro day and would be ecstatic to land a player with Rivers' potential in round three.
Fourth round, 116th pick: Dalvin Tomlinson, Defensive Tackle, Alabama – Tomlinson was a big part of the Crimson Tide defense. The Bengals decide to take him to add depth on a defensive line that lost Domata Peko and Margus Hunt. They took Andrew Billings last year, but he didn't play one snap as a rookie. Tomlinson would give them two young and productive defensive tackles to build around.
Fourth round, 138th pick: Adam Shaheen, Tight End, Ashland – The Bengals take their third small-school prospect of the draft with Shaheen. He's 6'6" and 278 pounds. He's fast for his size and would give the offense another red zone weapon. Tyler Eifert's injury history also plays a factor in their thinking. They may have more pressing needs, but he could be the best player remaining on their board.
Fifth round, 153rd pick: Zane Gonzalez, Kicker, Arizona State – The Bengals are looking for "the next Justin Tucker." Gonzalez may not be Tucker, but he did make 23 out of his 25 field goal attempts last season. He was 7-9 on kicks that were 50 yards or more in 2016. He also made a 59-yard-field goal attempt and was nearly perfect (39 out of 40) on extra points. The Bengals decide drafting a kicker is better than rolling with a veteran.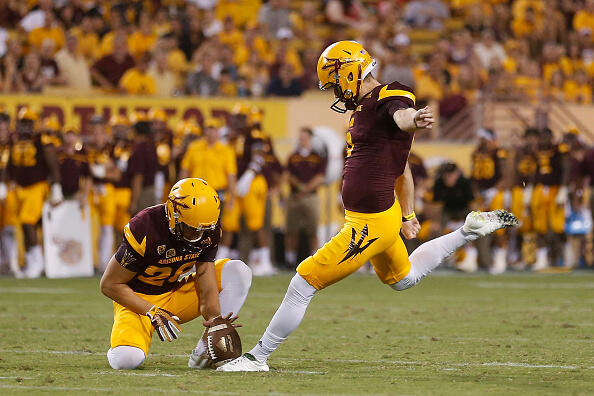 Fifth round, 176th pick: Danny Isidora, Guard, Miami (FL) – Instead of reaching for an offensive lineman earlier in the draft, the Bengals wait until round five to address the position. Isidora is an athletic guard who could backup Andre Smith this season. Smith has battled injuries throughout his career and Isidora could wind up being Kevin Zeitler's long-term replacement.
Sixth round, 193rd pick: Lorenzo Jerome, Safety, St. Francis – He doesn't have the size the Bengals generally look for in a safety, but Jerome performed well at the Senior Bowl. He would battle Clayton Fejedelum for a roster spot.
Sixth round, 217th pick: Damore'ea Stringfellow, Wide Receiver, Mississippi – After drafting Cody Core in the sixth round last year, the Bengals decide to take another wide receiver from Ole Miss. Stringfellow would battle for a roster spot, but would likely project as a practice squad player barring any injuries.
Seventh round, 227th pick: Blair Brown, Linebacker, Ohio – Marvin Lewis and the Bengals usually wait on linebackers in the draft. They like Vontaze Burfict, Nick Vigil, Vinny Rey and newly signed Kevin Minter. Brown is a great tackler for his size. He won't be the biggest player in the room, but he could make the roster and eventually contribute.
Seventh round, 251st pick: Chad Kelly, Quarterback, Mississippi – The Bengals aren't afraid to pick players who have questionable off-the-field history. At some point they're going to move on from A.J. McCarron. That could mean Jeff Driskel becoming the number two quarterback. You can never have enough quarterback depth. The Bengals opt to draft Kelly. They may end up stashing him on the practice squad. Kelly is the nephew of Hall of Fame quarterback Jim Kelly. Some think he is the "most talented" quarterback in the draft. That's a reach, but using a seventh round pick on Kelly isn't.
I don't think all eleven players will make the Bengals' roster. They definitely have the assets to trade up in the middle rounds and I wouldn't be shocked if they did.
Pro Football Focus thinks the Bengals should take a wide receiver in round one.
One Bengals fan says they will make the playoffs in 2017. Here's his plan.
The Bengals should've paid Andrew Whitworth.
You can subscribe to my daily Bengals podcast on iTunes or audioboom.
Email me: JamesRapien@espn1530.com
Photo By Getty Images