The NFL Draft is 16 days away and the Bengals have plenty of needs. Mock draft 5.0 is here. If the NFL Draft began today, this is what I think the Bengals will do.
First round, 9th pick: Derek Barnett, Defensive End, Tennessee – The Bengals are taking a long look at Barnett. Both Duke Tobin and Paul Guenther have said they'll consider smaller defensive ends. Barnett is 6'3" tall and 259 pounds. He's bigger than a lot of players, but he doesn't have the size the Bengals have sought out at defensive end in the past. They could wait until round two and get a similar prospect, but they opt to take Barnett and address their biggest need. Barnett had an impressive final season for the Volunteers. He finished with 56 tackles, 19 tackles-for-loss and 13 sacks. He played well against quality opponents like Florida, Alabama and South Carolina. He had eight tackles-for-loss in those three games. Barnett is a good player who fills a need. The Bengals may not have him ranked as the best player available, but he's good enough for them to pick him.
Other possibilities: Alabama TE O.J. Howard, Western Michigan WR Corey Davis
Second round, 41st pick: Alvin Kamara, Running Back, Tennessee – The Bengals land their running back of the future in round two. They wanted Joe Mixon, but he's already off the board. Kamara is 5'10" tall and 214 pounds. He's not the biggest running back, but he is extremely versatile. The Bengals have struggled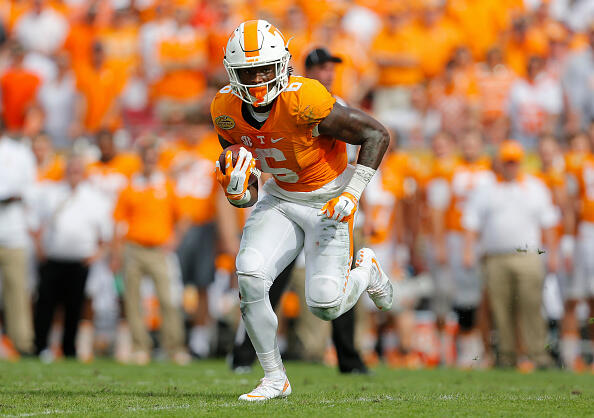 rushing the ball in recent seasons. Kamara would work well alongside Giovani Bernard. Both players can run between the tackles and catch out of the backfield. Kamara didn't get a ton of carries at Tennessee. That could mean he's an ascending prospect who has yet to reach his full potential. He finished with 210 carries for 1,294 yards. He also hauled in 74 receptions for 683 yards.
Other possibilities: Oklahoma RB Joe Mixon, Youngstown State DE Derek Rivers
Third round, 73rd pick: Chad Hansen, Wide Receiver, California – The Bengals are ecstatic to see Hansen available in round three. A lot of draft evaluators have him going in round two, but a deep cornerback and pass rusher class pushes Hansen down draft boards. Fans who wanted the Bengals to take Mike Williams from Clemson should be happy with this pick. Hansen isn't as big, but he mirrors Williams' ability to go up and get the ball over opposing defensive backs. He doesn't have blazing speed, but he is sure-handed. Hansen didn't drop a deep ball in college according to Pro Football Focus.
Other possibilities: Louisiana Tech WR Carlos Henderson, Auburn DE Carl Lawson
I think most fans would be happy with this draft. I'd be most excited about the Kamara pick. He would have a chance to make an impact right away on an offense that needs it. I'd be worried about the Barnett pick. Is he any better than the defensive ends that could be available in round two? It doesn't seem like they're getting great value. But, if he ends up panning out, no one will care about value. Hansen is the wild card. Will the Bengals get him on the field right away or will they give the majority of his snaps to Brandon LaFell?
Ultimately, the Bengals need a boost at pass rusher and the skill positions. This draft would do that for them on paper, but would the coaching staff be willing to rely on three rookies?
I think the Bengals should consider this trade. Check out my idea here.
I did a seven round mock draft that you can check out here.
Dave Lapham joined me to talk Bengals offseason, the draft and more.
Pro Football Focus thinks the Bengals should take a wide receiver in round one.
One beat writer thinks the Bengals should take a tight end in round one.
One Bengals fan says they will make the playoffs in 2017. Here's his plan.
The Bengals should've paid Andrew Whitworth.
You can subscribe to my daily Bengals podcast on iTunes or audioboom.
Email me: JamesRapien@espn1530.com