The Bengals filled a need yesterday when they picked wide receiver John Ross. They still have plenty of holes to address. I would expect the Bengals to target a pass rusher and a running back in rounds 2-3. Here are five players that could end up in stripes on Friday night.
1. Joe Mixon, RB, Oklahoma - It's no secret that the Bengals like Mixon. He's arguably the best running back in the draft. If he's there when they're on the clock, it's hard for me to envision them passing on him. Is he worth the trouble? Some believe the Bengals shouldn't touch Mixon. Others think they should trade up for him. It'll be interesting to see if he falls to No. 41.
2. Jordan Willis, OLB, Kansas State - The Bengals need help at pass rusher and Willis could do exactly that. He tested well at the combine and my guy Rocky Boiman loves Willis' game. The former Big 12 Defensive Player of the Year would give the Bengals' pass rush an immediate boost. I've been adamant about the Bengals waiting until rounds 2-3 to take a defensive lineman. A big reason for that is because players like Willis should be around when the Bengals are on the clock. If the Bengals want Willis, they'll have to take him in the second round.
3. Alvin Kamara, RB, Tennessee - Kamara would be a nice addition to the Bengals' offense. He's not a big back, but he would fit well in Ken Zampese's offense. Kamara could be a three-down back. He has good hands and would give the Bengals another weapon out of the backfield. Kamara could be in play at 41, depending who's available when the Bengals pick.
4. Demarcus Walker, DE, Florida State - Walker would give the Bengals' pass rush an instant boost. He played in 90 percent of the snaps for the Seminoles in 2016. Walker compiled 25 sacks over the past two seasons. He should be there at 41 and may even slide to pick 73 in the third round. If Walker falls that far, the Bengals would have to be tempted to pick him.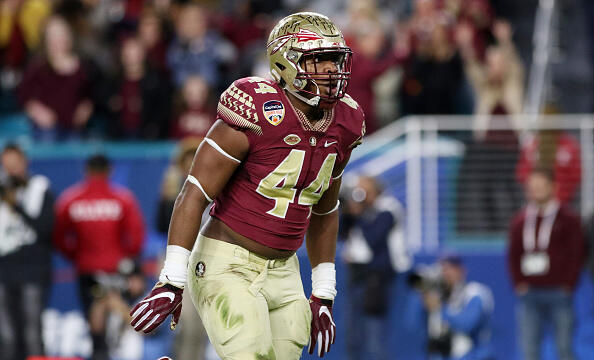 5. Derek Rivers, DE, Youngstown State - Rivers made my list of players the Bengals should draft. He racked up 56.5 tackles for loss and 41 sacks in 37 career starts in college. He tested well at the combine and would give the Bengals a legitimate pass rusher on the other side of Carlos Dunlap. Some worry about who he played against in college, but he performed well and has all of the traits necessary to be a successful NFL player. He would be someone the Bengals could target in round three.
Honorable mention: Sidney Jones, CB, Washington - Bengals fans may read this and wonder why the Bengals would consider a cornerback? Jones is a first round prospect who NFL scouts have compared to Marcus Peters. The only reason he wasn't picked in round one is because of a torn achilles he suffered at his pro day. This may not address a need, but the Bengals may draft Jones because he's the clear-cut best player available when they pick in the third round.
Listen to our conversation with John Ross
I wrote about why picking John Ross makes sense here.
You can subscribe to my daily Bengals podcast on iTunes or audioboom.
Email me: JamesRapien@espn1530.com
Photo By Getty Images