The Bengals enter day three of the NFL Draft with a ton of talent already added to the roster. They've drafted wide receiver John Ross, running back Joe Mixon and defensive end Jordan Willis. All three players address team needs. Yes, picking Mixon was controversial because of his past. I discussed that here.
The Bengals still have nine picks. Here are five players that they could target on Saturday:
1. Carl Lawson, OLB, Auburn - Lawson could be a day three steal for the Bengals. It's a bit shocking that he's still available. He's had multiple injuries in college including a torn ACL. He could give the Bengals the depth at pass rusher they desperately need. For more on Lawson go here.
2. Semaje Perine, RB, Oklahoma - Perine is one of the top players available heading into tomorrow. He's not a super fast player, but he runs with power and toughness. He's good at running through contact and in short yardage situations. Could Mixon's former teammate join him in Cincinnati? I wouldn't be shocked if he was the best player on their board heading into day three.
3. Josh Reynolds, WR, Texas A&M - Reynolds could be on the Bengals' radar. Yes, they took John Ross in the first round. That doesn't mean Reynolds won't be on the top of their draft board in round four. He's a tall, long-armed wide receiver that would be a good fit on most NFL teams. NFL.com compares him to Marvin Jones. Dave Lapham kicked around the idea of drafting multiple wide receivers a few weeks ago. It may sound crazy, but I wouldn't rule it out since they still have nine picks.
4. Danny Isidora, G, Miami - The Bengals are going to draft one, maybe two offensive lineman on the final day of the draft. Isidora has potential to be an NFL starter at some point. He's a three year starter for Miami and projected to be taken in the fifth or sixth round. For more on Isidora go here.
5. Zach Banner, T, USC - Banner is a giant at 6'8" tall and 353 pounds. The Bengals could fall in love with his strength and see a player who could develop into a starter. He spent most of his time at right tackle, but had to occasionally fill in on the left side. He's expected to be drafted in round four.
6. Blair Brown, LB, Ohio - Brown isn't the biggest linebacker, but he's a good tackler and someone the Bengals could have their eyes on. He finished the 2016 season with 128 tackles and 4.5 sacks. He's projected to get picked in rounds 4-5. The Bengals have five picks in that span and I wouldn't be shocked if they used one on Brown. For more on the former Ohio linebacker go here.
Honorable mention: Zane Gonzalez, K, Arizona State - Gonzalez made 23 out of his 25 field goal attempts last season. He was 7-9 on kicks that were 50 yards or more in 2016. He also made a 59-yard-field goal attempt and was nearly perfect (39 out of 40) on extra points. Fans might be really excited if they found a way to pick Gonzalez. I'd expect him to be picked in the fourth or fifth round.
There is no correct way to feel about the Bengals picking Joe Mixon.
I wrote about what Mixon brings to the Bengals from a football standpoint here.
We talked to John Ross on Thursday night.
You can subscribe to my daily Bengals podcast on iTunes or audioboom.
Email me: JamesRapien@espn1530.com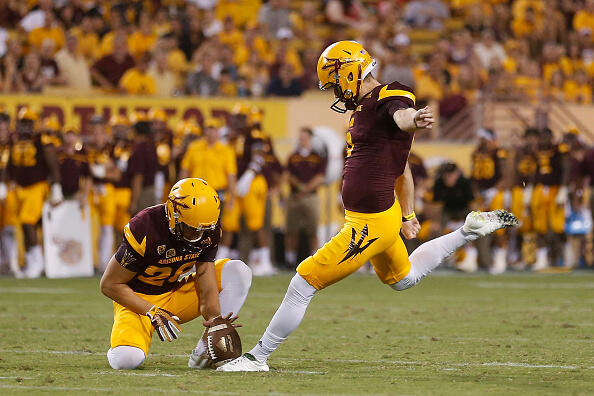 Photo By Getty Images