Andy Dalton's pass was out of Alex Erickson's reach on fourth down. That was the final nail in the coffin. A team that had high expectations a week ago, is now 0-2 and is looking for its' first touchdown.
The Bengals didn't lose 13-9 on Thursday Night Football because they didn't have Andrew Whitworth. They didn't lose because Kevin Zeitler is in Cleveland. They're 0-2 because of offensive coordinator Ken Zampese and quarterback Andy Dalton.
Zampese has been awful. My message this week following a 20-0 loss to the Ravens was simple: Find a way to get the ball to your playmakers. I could give you 139 reasons why an offense with A.J. Green, Tyler Eifert, Joe Mixon and Giovani Bernard should NEVER go eight quarters without scoring a touchdown. The Bengals have done just that. A 13-9 loss to the Texans is ugly enough. An offense that was supposed to be explosive has scored nine points in eight quarters.
Eifert was invisible against the Ravens and didn't get utilized much against Houston. The running back rotation is a lot like Dalton under pressure: clunky and awkward. Zampese is a bad play caller. Should he be fired? I'm not sure. I do know changes to be made.
Zampese was a quarterback's coach for 13 seasons. There's a reason he didn't become an offensive coordinator sooner. That may sound harsh, but the entire league passed over him year after year. The Bengals passed over him for an outsider in Jay Gruden and again when they promoted Hue Jackson. I've been told Zampese wasn't their first choice when Jackson departed for Cleveland. Zampese deserves a lot of blame for the way the offense has played in the first two games.
I'm not a play-calling expert. I don't have the answers. I do know this coaching staff had six months to scheme around a below-average offensive line. You wouldn't guess that if you watched the first two games.
Dalton is supposed to be a franchise quarterback, but the moment the rush gets close to him, he pulls the ball down. Rookie quarterback Deshaun Watson was fine under pressure last night. Watson was calm, cool and collected, even after Geno Atkins threw him. Dalton looks about as comfortable in the pocket as I did when I asked Samantha Williamson to dance in junior high.
We knew the offensive line was going to struggle, but they were passable last night. Sure, there were breakdowns, but they were going up against J.J. Watt, Jadeveon Clowney and Whitney Mercilus. That's one of the top pass rushes in the NFL. Is it the offensive line's fault that Dalton missed a wide-open Brandon LaFell for what could've been a 40-yard gain? Is it Cedric Ogbuehi's fault that Dalton threw the ball into the ground, instead of connecting with LaFell for a key first down late in the game?
Marvin Lewis told the media that his quarterback hasn't regressed. Dalton will remain the starter. That's fine, but a change needs to happen.
"Get Brandon (LaFell) the ball early, get John (Ross) the ball earlier," Green said after the 13-9 loss. "As one of the leaders of the offense, I feel we need a spark and need the ball in my hands somewhere, somehow. You have to find a way to get me the ball and we are not doing that right now."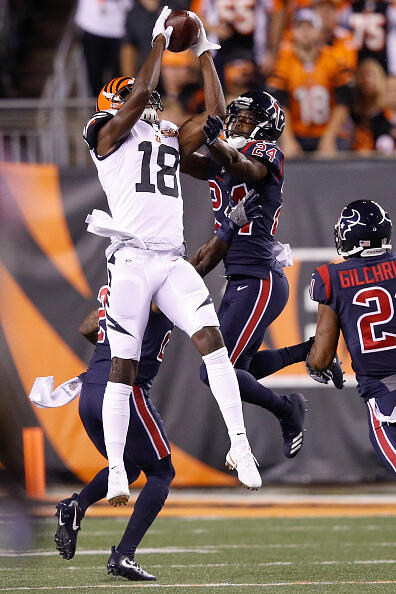 This offense looks worse with Green, Eifert and Bernard, than it did at the end of last season without those guys. As big of an issue as the offensive line is, good teams have success with poor line play. Seattle did last season. The Colts had success for years with a below-average line. The problem is you can't have a bad line, awful play-calling and a quarterback who can't deal with pressure. The Bengals have all three. That is why they're 0-2.
Fans can't expect them to grow new lineman before they play Green Bay. Heck, I don't think it's realistic to bench Dalton. Could they bring in a new offensive coordinator? It might be tough, but it's the most realistic of the three options.
The Baltimore Ravens have changed offensive coordinators in the middle of a season. They're not the only NFL team to do so. You, me and everyone at Paul Brown Stadium knows Zampese has struggled, why wait until the end of the year to move on?
Subscribe to the Run On Your Own Gas Podcast here.
Subscribe to the Locked on Bengals Podcast here.
Subscribe to my iHeartRadio channel that includes interviews with A.J. Green, Dave Lapham & more here.
Photo By Getty Images