The 3-4 Bengals have plenty of issues. Their offensive line is bad, their quarterback is average and they've struggled to move the ball in over half of their games.
They aren't going to move on from 'BlAndy' Dalton in the middle of the season. They've already fired an offensive coordinator. What can this team do to get better? They could trade for Buffalo Bills LT Cordy Glenn. Jason La Canfora of CBS Sports says the Bills are open to trading veterans like Glenn.
Glenn would certainly be an upgrade from Cedric Ogbuehi. It would also allow Andre Smith to get more time at right tackle. Anytime a team considers a trade, it has to ask plenty of questions. Let's try to cover every angle of a potential deal.
1. How good is Glenn?
Pro Football Focus gives Glenn a 75.0 rating, which would make him the 27th best tackle in the NFL this season. He earned an 80.1 pass blocking grade, while posting a 45.4 run blocking grade. I talk with film expert Joe Goodberry every week on the Locked on Bengals podcast and he said Glenn would be a tremendous upgrade.
2. How does he stack up against what the Bengals have?
Ogbuehi has a 42.8 rating on Pro Football Focus. They rank him at the 63rd best tackle in the NFL. Fisher has a 46.2 rating, which is good for 55th in the league. Smith is the best of the three with a 48.1 rating. Smith is the 48th best tackle in the NFL according to PFF. Clearly, Glenn would be an upgrade.
3. Could the Bengals acquire Glenn's contract and stay under the salary cap?
Anytime I have a salary cap question, I ask my guy Andre Perrotta. I asked him how adding Glenn would impact the Bengals' salary cap? Here was his response:
"Glenn would fit rather easily under the Bengals salary cap not just for the remaining portion of the current 2017 season, but also for the 2018, 2019, and 2020 season for which Glenn is under contract. For the remaining part of the 2017 season, the Bengals cap hit in acquiring him via trade between now and the 10/31 trade deadline would equal = $4,764,706. Glenn has a fully guaranteed $9,250,000 base salary for 2017, but since he is already been paid for 8 weeks of that salary by the Bills, the Bengals (or any other team that acquires him via trade) would only have to pay 9/17ths of the salary (players get paid over 17 weeks; the 16 game weeks plus the bye week). So 9/17ths of $9,250,000 = $4,764,706. The Bengals can easily afford that for this season, as they are currently sitting on approximately $11,850,000 ($11.85M) in 2017 cap space."
So the Bengals could bring him in and be fine for 2017. What about the future?
"Glenn is also under contract for the 2018, 2019, and 2020 seasons. His base salaries for those seasons are as follows:
2018: $9,250,000
2019: $7,250,000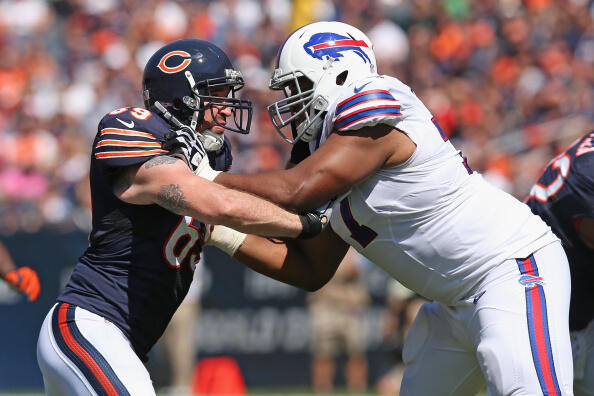 2020: $7,500,000
He also has an annual $2,000,000 Roster Bonus due to him if he is on his team's 90-man roster on the 5th day of each of those league years. So, taking his above-mentioned Base Salaries, and adding the annual Roster Bonuses, his future year cap hits for the Bengals (or for any other team that acquires him via trade) would be as follows:
Future Year Cap Hits: 2018: $11,250,000 (calculated by adding his $9,250,000 Base Salary + $2,000,000 Roster Bonus)
2019: $9,250,000 (calculated by adding his $7,250,000 Base Salary + $2,000,000 Roster Bonus)
2020: $9,500,000 (calculated by adding his $7,500,000 Base Salary + $2,000,000 Roster Bonus)."
That is a lot of numbers and information. The short version is simple: The Bengals could trade for Glenn and comfortably fit his salary in without handcuffing them (salary cap wise) this season or in the future.
4. What would it take to acquire Glenn?
This is an interesting question. No, Buffalo wouldn't trade Glenn for Jeremy Hill. The Bills need speed at wide receiver and will probably want a draft pick for Glenn. He has plenty of value considering he just turned 28-years-old and is under contract through 2020. I think a second round draft pick would get it done. It's a steep price to pay, but at least the Bengals would get a proven commodity to protect Dalton's blind side.
The Bengals could start by offering a speedy wide receiver like Cody Core and a third round pick. They should have multiple third round picks in 2018 following Kevin Zeitler's departure in free agency. They should get a third round compensatory pick in return after losing Zeitler.
Dalton, 30, and A.J. Green, 29, are in their prime. Adding Glenn would give the offense a proven left tackle for the rest of their prime years. They whiffed on Ogbuehi and Fisher. It's about time they admit it.
The Bengals should consider giving up a second round pick and Core if that's what it takes. This team needs a boost. Glenn and the Bengals could be the perfect combination and not only for 2017, but for the next few seasons.
Ultimately, the Bengals probably won't make a move for Glenn. They like to build in the draft. I looked at the last four Super Bowl champions and none of them were afraid to make a necessary move. The Seahawks, Patriots and Broncos all made trades or big free agent signings to give their team a boost. Heck, New England continues to rid itself of draft picks for proven players. If you're the Bengals, don't you have to (at the very minimum) give the Bills a call?
The trade deadline is Tuesday at 4p.m. ET. We will keep you informed with the latest rumors and updates.
A former agent thinks the Bengals should trade Jeremy Hill.
Subscribe to the Locked on Bengals Podcast here.
Subscribe to my iHeartRadio channel that includes every episode of Cincy 3:60, interviews with Bengals, my hottest takes of the week & more here.
Photo By Getty Images