The Bengals lost to the Bears 33-7 earlier today. It was one of the worst losses of the Andy Dalton-A.J. Green era. Most of us are thinking about the offseason. There are fans who wonder if Bengals owner Mike Brown will move on from Marvin Lewis? The Bengals are 5-8 and even if they won out, I'm not sure Brown would stick with Lewis.
The Bengals haven't been this bad since 2010. Brown bought Lewis back, but that logic made sense at the time. Brown felt Lewis could still be the guy that led this organization to a Super Bowl. He gave Lewis a second chance to win with Dalton-Green. Most fans think ownership doesn't want to win. I've never thought that was the case. This is the first time in Lewis' fifteen years where moving on seems like a foregone conclusion.
Ultimately, I think both Brown and Lewis will make a mutual decision to part ways after the season. That leads to the question fans are asking already. Who could replace Lewis as the Bengals' head coach in 2018?
Here are 10 coaches the Bengals could have interest in:
Todd Haley - Mo Egger mentioned Haley to me last week on ESPN 1530. He's currently the offensive coordinator in Pittsburgh, but went 19-27 in Kansas City from 2009-2011 as the Chiefs' head coach. He also helped the Arizona Cardinals get to a Super Bowl as their offensive coordinator in 2007 and 2008. It would make a lot of sense. Haley is known as a no-nonsense coach. He is an offensive mind who puts his best players in a position to win. He makes sure star players like Le'Veon Bell and Antonio Brown get enough opportunities. He's also not afraid to stand up to stars. He made Ben Roethlisberger adjust his game for the better. Yanking Haley from the Steelers would hurt a Pittsburgh team that has had the Bengals' number. He is someone the Bengals should definitely interview this offseason.
Brian Kelly - Kelly's succeeded with multiple programs in college. He's another offensive minded head coach that is familiar with the Cincinnati area. Why would the Bengals consider Kelly? Well, he's revitalized the Cincinnati fan base once. It's not crazy to think he could do it again. Kelly went 34-6 at the University of Cincinnati from 2006-2009. Kelly is 68-34 in his eight seasons at Notre Dame. He's had a winning record in every season but one. Some believe Kelly isn't NFL material because of his fiery sideline rants that he's known for. I've also seen Bengals fans complain Marvin Lewis wasn't fiery enough over the past 15 years. If Kelly is interested (I think he would be), then why not bring him in for an interview?
Paul Guenther - Guenther is the favorite for the job if Brown decides to promote from within. I wouldn't make this move for a very simple reason: perception. Guenther was here through plenty of the collapses against the Steelers. He coached Vontaze Burfict and Adam Jones during the good and bad times. If you're going to bring in a new regime and turn over a new leaf, why would you do that with someone who was a BIG part of the former regimes success and failures?
Josh McDaniels - This is a popular name among fans. McDaniels has had plenty of success in New England with Tom Brady and Bill Belichick. Is he a product of that system or is he a great coach? McDaniels went 11-17 in two seasons as the head coach of the Denver Broncos (2009-2010). McDaniels would walk into established NFL weapons. There's no doubt the Bengals should make the call, but would McDaniels consider leaving New England for Cincinnati?
David Shaw - Shaw has been an assistant coach in both the NFL and the college ranks. He took over as Stanford's head coach in 2011. Since then Shaw has went 73-20 and 4-2 in bowl games. Shaw is on the record saying how much his family loves Santa Clara. He is certainly qualified for the job, but would he consider making a move to the NFL? If so, the Bengals should be an attractive destination for Shaw.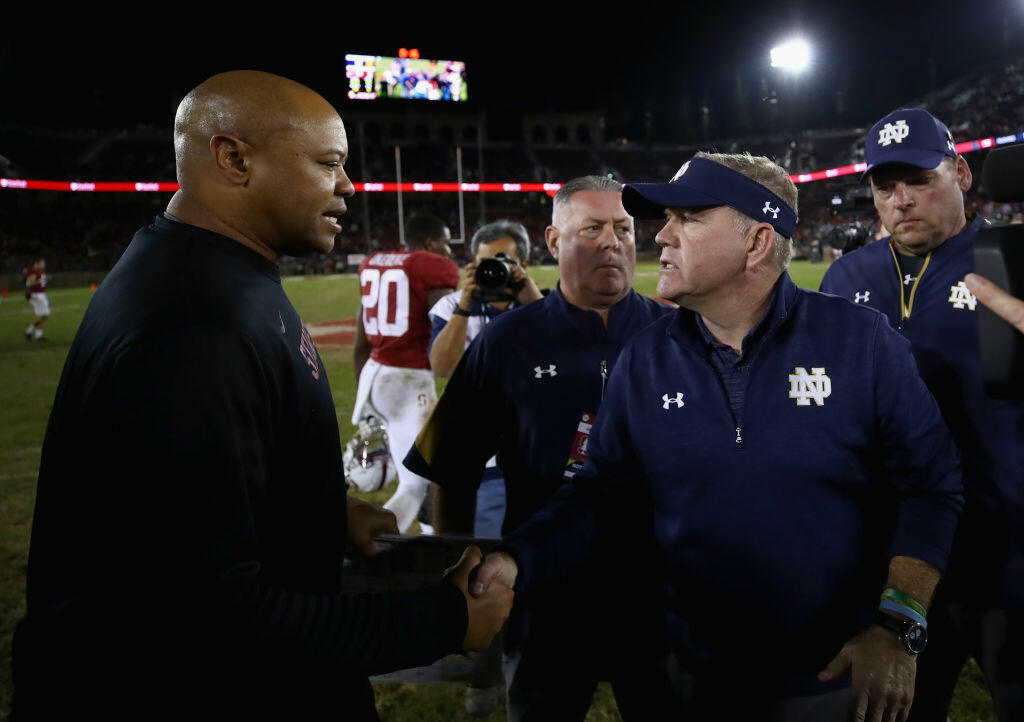 Pat Shurmur - Shurmur was the head coach of the Cleveland Browns in 2011-2012. He posted a 9-23 record with the Browns. Since then, he's been the offensive coordinator for Philadelphia and Minnesota. He's currently the offensive coordinator for the Vikings. He's been great for Minnesota this season. The Vikings are sixth in total offense and ninth in points. They're led by Case Keenum. If Shurmur can get solid play from Keenum, what could he do with Andy Dalton and/or a rookie quarterback? He's a 'must interview' candidate in my eyes.
Jim Harbaugh - Yes, I know it's unlikely, but the Bengals should make the call. It doesn't hurt to be the guy who gets shot down by the hottest chick at the bar. Brown should make the inquiry. What harm would it do? If Harbaugh is interested in returning to the NFL, then the Bengals could offer him stability, a capable quarterback, plenty of draft picks and young players he could help mold.
Matt Patricia - The Patriots defensive coordinator has three Super Bowl rings and should get multiple head coaching interviews this offseason. Most fans want an offensive mind, but Patricia has had plenty of success developing and getting the most out of young players on defense. If you're on board with hiring Guenther, then Patricia should peak your interests too.
Darrin Simmons - Simmons is the other internal candidate that Brown may consider. Simmons has been on Marvin Lewis' staff since 2003. He's considered one of the best special teams coaches in the NFL. He coached with Lewis in Baltimore in 1998. Simmons is a great coach and would be unemployed for ten seconds if the Bengals moved on from him. I'm not sure the culture change everyone is looking for will come from promoting him or Guenther. That's the biggest reason why I consider both long shot candidates.
Jim Schwartz - Schwartz's name has been tossed around as a legitimate head coaching candidate. He went 29-52 as the Lions' head coach from 2009-2013. He's currently the defensive coordinator for the Eagles. His defense has held opponents to 17.9 points-per-game. He's had plenty of success as a coordinator, but it's hard to look past his stint with Detroit. He only had one winning season with the Lions. Maybe he turns it around in his second stint as a head coach. The Bengals could consider interviewing him.
Subscribe to the Locked on Bengals Podcast here.
Subscribe to my iHeartRadio channel that includes every episode of Cincy 3:60, interviews with Bengals, my hottest takes of the week & more here.
Email Me: JamesRapien@ESPN1530.com
Photo By Getty Images