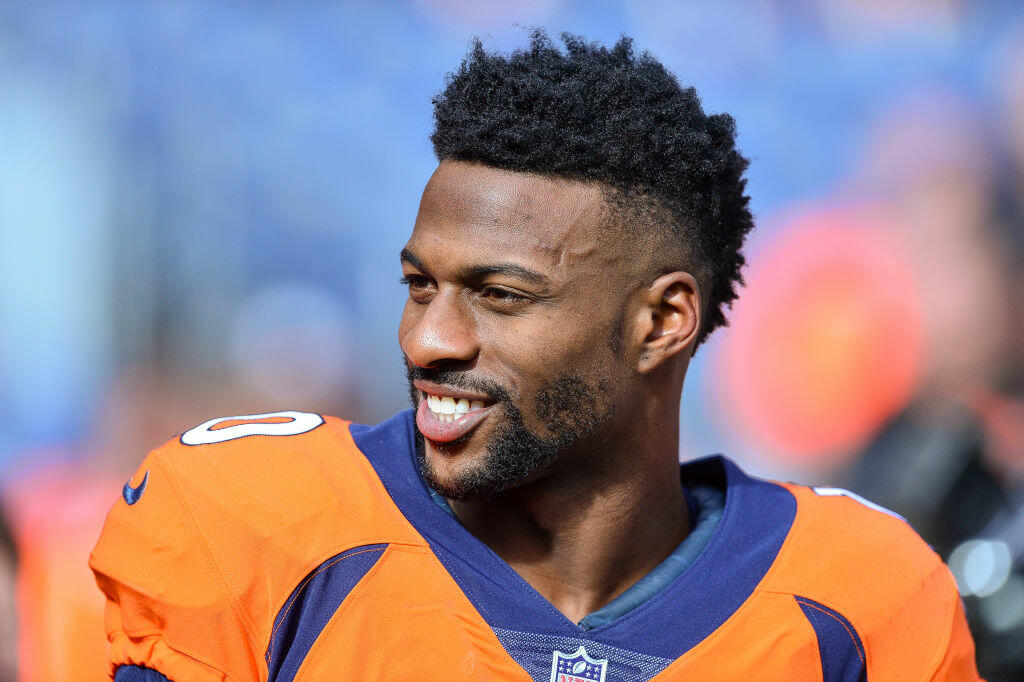 The Bengals have a lot of work to do this offseason. They need to upgrade at multiple positions, including offensive line. One spot that many will overlook is wide receiver. Who is the Bengals number two wide receiver? They don't have one. That's why they should consider trading for Broncos wide receiver Emmanuel Sanders.
Sanders could be on the trading block according to the Denver Post. He will be 31 in March and is coming off of a disappointing season with the Broncos. Sanders missed four games with an ankle injury last year. There are a few reasons why trading for him makes sense for the Bengals.
Brandon LaFell is four years removed from his most productive season and isn't a deep threat. John Ross has potential, but he played a total of 17 snaps as a rookie and has yet to catch a pass. Tyler Boyd had an inconsistent 2017 season. Josh Malone flashed as a rookie, but it's hard to envision him becoming Andy Dalton's number two option in 2018. Cody Core and Alex Erickson are primarily special teamers.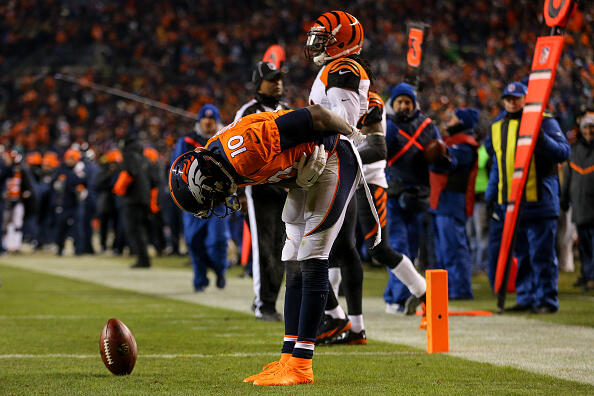 The Bengals used four draft picks on wide receivers in the last two years. Why spend a draft pick on an unproven commodity, when you can get a former pro bowler? Sanders is still a high-end player who played with below-average quarterbacks in Denver.
Sanders had three-straight 1,000 yard receiving seasons, before the 2017 season. The Bengals could move on from LaFell and save $4 million. LaFell has never had a 1,000 yard season and isn't as versatile or as good as Sanders. Some may worry about his numbers in 2017. He had 47 receptions for 555 yards and two touchdowns. It was his worst season since 2011. I asked Joe Goodberry of The Athletic what he thought about Sanders' game? Joe watched wide receivers for Bleacher Report last season. Here's what he told me about Sanders:
"Some of the top receivers saw their production affected by poor quarterback play in 2017," Goodberry said. "Sanders should headline that list. He's still a fantasy route runner due to quickness, agility and great feet. Denver used him in many ways to manufacture touches and give him opportunities to run after the catch. Sanders is a body-catcher, but there's nothing wrong with his hands and body control on the sidelines. He's a top end number two wide receiver and could elongate his career in the slot as he gets older."
The Bengals could get Sanders for a late round pick. Sanders has a cap hit of $8.2 million in 2018. Would you rather have a fifth/sixth round pick, LaFell and $4 million of cap room or a proven game changer on the other side of A.J. Green?
The Bengals are projected to have 10 draft picks in April's draft. Why not spend a fifth or sixth round pick on a player that could help transform the 32nd ranked offense?
I talked with my go-to salary cap expert Andre Perrotta and he thinks Sanders will get released this offseason. His 2019 salary of $10.25 million is the biggest reason why, but the team would decide whether or not to take on that salary. The Bengals could elect to move on from Sanders following the 2018 season without any dead money (Denver would be responsible for it). If Sanders has a great year in 2018, then the team could exercise his option or renegotiate his contract.
The Bengals were 32nd on offense for plenty of reasons. Yes, they need to get better offensive linemen. Yes, they have plenty of weakness on defense that they need to address. They also can't go into another season with Green, five unproven youngsters and LaFell if they want different results.
It sounds like the Bengals could part with Tyler Eifert this offseason. This team needs weapons. Maybe Ross does emerge and prove the Bengals right. Maybe Boyd can build on what he did in the final two games of 2017. I don't want the Bengals to bank on 'maybe.'
Their offense needs to be revamped. Parting with LaFell and adding Sanders would help them tremendously. Sanders is a proven player who can play in the slot, outside or both. Adding him to an offense with Green, Joe Mixon and a revamped offensive line is exactly what the Bengals need.
Subscribe to the Locked on Bengals Podcast here.
Subscribe to my iHeartRadio channel that includes every episode of Cincy 3:60, interviews with Bengals, my hottest takes of the week & more here.
Email Me: JamesRapien@ESPN1530.com
Photo By Getty Images