The Bengals hope to rebuild on the fly this offseason, especially if they want to return to the playoffs in 2018. They have plenty of holes that need to be filled. The key to having a successful offseason is embracing change ­– something owner Mike Brown has always been reluctant to do.
Change starts with loyalty. The Bengals are known for being loyal to veterans. They keep players around and honor their contracts – even if they're past their prime. It doesn't help them win. That's the first thing that needs to change this offseason.
The Bengals should move on from Adam Jones, Brandon LaFell and Michael Johnson. All three are capable of contributing in the NFL, but are those players worth $15 million of cap space? Releasing them would give the Bengals the flexibility they need to make significant additions in free agency.
Brown and the Bengals have nearly $27 million in cap space currently – that includes the space they'll use on rookies in April's draft. If they moved on from Jones, LaFell and Johnson, they could have $42 million to spend.
Some of that money could be put towards extensions for Geno Atkins and Carlos Dunlap. The team wants to extend both players this offseason.
It would also give them money to sign veterans that can help in 2018. Yes, the Bengals have 11 draft picks, but that can't be their only way of improving.
Here are a few free agents the Bengals should consider signing ­– assuming they take my advice and move on from the three veteran players mentioned above.
Sign Nate Solder, Cameron Fleming or Chris Hubbard – The Bengals don't have time to wait for offensive linemen to develop. Adding a tackle who can step in and be an upgrade right away should be priority number one in free agency.
Solder is likely to command around $13 million per-year from a team this offseason. He may not be as good as Andrew Whitworth, but he's six years younger. He's the top left tackle in this free agent class. Pro Football Focus ranked Solder as the 32nd best tackle of 2017. For context, Whitworth was 19th according to PFF. Solder would be the most expensive option, but there aren't any other left tackles projected to be available that would offer the impact he could have in Cincinnati.
Fleming and Hubbard could both fill a need as well. Fleming is a right tackle, who was teammates with Solder in New England. He was the 24th best tackle in 2017, according to PFF. He's younger than Solder and should come at a cheaper price. The downside is that he won't plug the hole on the left side, but he'd be an upgrade from Andre Smith.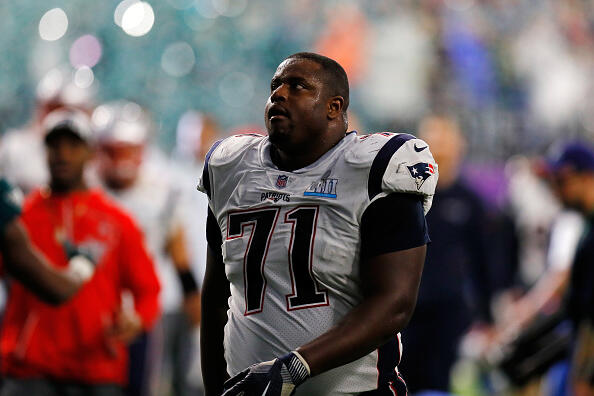 Hubbard was a guard entering 2017, but moved to right tackle and filled in admirably. He made 10 starts at tackle and was the 40th best tackle according to PFF. He offers versatility, which the Bengals value. Is Hubbard good enough to start at right tackle long-term? I'm not sure anyone knows the answer to that question. We do know that he is capable of being better than what the Bengals had. Does it matter if he plays tackle or guard? It could certainly change his compensation, but adding Hubbard would give the Bengals another proven lineman to pair with Clint Boling.
Another tackle worth keeping an eye on is Ja'Waun James. James is a former first-round pick out of the University of Tennessee. The Dolphins could move on from him according to the Miami Herald. James started eight games for Miami in 2017 before being placed on injured reserve with a groin injury. He graded out as Pro Football Focus' No. 2 right tackle before his injury. If James is available, the Bengals should seriously consider adding him. He has the ability to be what the Bengals hoped Jake Fisher would become. James is entering his fifth-year and is under contract for 2018. If the Dolphins make him available via trade, the Bengals should have interest. Giving up a mid-round pick would be worth it if it meant adding James – they could work out a multi-year contract extension.
Sign John Sullivan or Ryan Jensen – Both veteran centers would be an upgrade over Russell Bodine. Marvin Lewis says he wants Bodine back. The Bengals should ignore Lewis and add an established center with more talent. Jensen and Sullivan were the ninth and tenth ranked centers according to Pro Football Focus for the 2018 season. Bodine was the 25th ranked center in PFF's rankings.
Jensen, 26, is younger than Sullivan and is entering his prime. He started all 16 games at center for the Ravens in 2017. Jensen will probably be looking for $8-9 million per year in free agency. The Bengals could certainly afford it. Adding Jensen would certainly fill a need, which would give them less holes to plug in the draft.
Sullivan could be a cheaper option. He had a solid season for Los Angeles. If he does make it to free agency, the Bengals should have interest. He's 32-years-old, but played well in 2017, making 15 starts. He won't command the contract Jensen will because of his age, but would still be an upgrade from Bodine. Ideally, the Bengals could sign Sullivan for a reasonable amount, move on from Bodine and add a center in the draft.
Sign Sammy Watkins or another established wide receiver in their prime – Watkins is just 24-years-old and has the talent to be a game changer in the NFL. He's also dealt with injuries and didn't put up the numbers last season to warrant a huge contract. Watkins would be a huge upgrade from LaFell. He'd give the Bengals a deep threat on the other side of AJ Green.
I'd expect Watkins to command a contract close to Kenny Stills' four-year, $32 million contract he signed with Miami last offseason. He may want a short-term deal to prove himself. He's a former fourth overall pick and one of the most talented wide receivers in the league when he's healthy.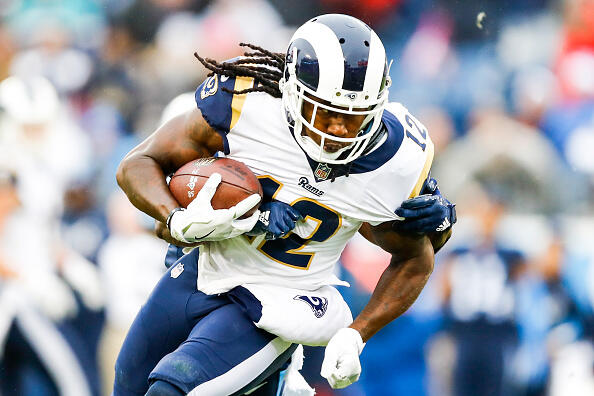 Watkins had 39 receptions for 593 yards and eight touchdowns in 2017. He averaged 15.2 yards-per-reception and would give the Bengals an established playmaker on the opposite side of Green. It would also leave the door open for young players like John Ross and Tyler Boyd. I wrote about the Bengals potentially trading for Emmanuel Sanders a few weeks ago. Watkins would be a younger, cheaper option than Sanders. Some believe the Rams could use the franchise tag on him. If that's the case, there are plenty of other free agent wide receivers the Bengals should consider adding.
Other wide receivers to consider
Marquise Lee, 26, isn't expected to be re-signed by Jacksonville. He absolutely shredded the Bengals in their matchup last season. He could fit well in the Bengals offense with Green, Ross and other options around him. Why keep LaFell at $4 million, when you can sign a younger player who can do more on the field?
Terrelle Pryor is coming off of a disappointing 2017 season. He's never had the benefit of playing alongside a player like Green. Pryor is 6'4 and would give Dalton another big target to throw to. He only had 20 receptions in 2017 and might be a low risk, high reward option for the Bengals. He hauled in 77 receptions for the Cleveland Browns in 2016. I'd take him on a one-year deal versus keeping LaFell for the same price.
Donte Moncrief is another option the Bengals could consider in free agency. He would instantly become a red zone threat. All signs point to the Bengals moving on from Tyler Eifert, which means they'll need more from their wide receivers in the red zone. Moncrief is a big, physical player who could complement Green nicely. He'll also be looking for a one or two-year prove it deal. He's only 24-years-old and didn't have the production he was hoping to have last season – he finished with 26 receptions for 391 yards and two touchdowns.
What about linebacker?
Sign Nigel Bradham or Tahir Whitehead – The Bengals are known for signing linebackers that are past their prime. A.J. Hawk, James Harrison and Karlos Dansby are just a few of the players who have spent time at Paul Brown Stadium in recent years. If they're going to go the free agent route again, they need to add a player who can make an impact. Bradham and Whitehead fit the profile of what the Bengals should be looking for.
Both players are in their prime and were top 25 linebackers in 2017 according to PFF. Bradham excels in coverage – he could complement Vontaze Burfict and thrive alongside Nick Vigil. He was a leader for Philadelphia during their Super Bowl run and a big reason why they had so much success. In November, the Philadelphia Inquirer wrote about Bradham's importance to the team and why he needed a contract extension. Bradham would likely command somewhere around $5-6 million per season. It would be a lot of money, but it's also what the Bengals are set to pay Pacman Jones in 2018. Who would you rather have?
Whitehead is familiar with new Bengals defensive coordinator Teryl Austin. He's had 242 tackles over the past two seasons. He'll be in the market for a contract that looks a lot like Bradham's. If the Bengals add one of the two linebackers in free agency, I'd bet it would be Whitehead since he's worked with Austin. Adding him to a core led by Burfict would give a boost to an already above-average defense.
There are some who think the Bengals should try to sign a tight end in free agency. Some believe Trey Burton would be a perfect fit in Cincinnati. It sounds good, but should they really spend $6 million per season on a tight end not named Eifert? Burton is a fine player, but I'm not sure it makes sense to let Eifert walk out the door for the same or less money. Burton has 63 receptions for 629 yards and six touchdowns in his career. There's no way the Bengals should bring him in at the price he's expected to command in free agency.
The Plan
Obviously the Bengals can't sign all of the players I mentioned. Here are the moves they should make in free agency:
Sign Cameron Fleming – There was a reason I didn't write about Andrew Norwell. He's the top guard available and will likely command around $13 million per season. So will Solder. The Bengals need to improve the offensive line, but they can't break the bank for one player in free agency. Fleming would fill a need at right tackle, but he would allow them to upgrade in other areas too. I don't want the Bengals to have tunnel vision in free agency or the draft. Signing Fleming would give them a plug-and-play right tackle entering his prime. The best part about this signing, is the flexibility it gives the organization. They can add another proven commodity to the offensive line before the draft.
The contract – They Bengals sign Fleming to a four-year, $25 million contract. He's 25-years-old and would give them a young, promising right tackle for the rest of Dalton and Green's prime years.
Sign John Sullivan – Sullivan is the perfect place holder for the Bengals. He's a proven commodity, who won't break the bank and he's better than what they had. Sullivan can start for now and gives the organization time to groom a center of the future. This is another signing that gives the Bengals flexibility. They could and should certainly consider drafting Billy Price, Frank Ragnow or another center during the first two days of the draft – but they wouldn't be forced to reach for one.
The contract – The Bengals sign Sullivan to a three-year, $20 million contract with a team option in year three. The addition of Sullivan gives the Bengals a center for the next couple years – they can draft and develop one in the meantime.
Sign Marquise Lee – The Bengals signing Lee would be a lot like the Falcons adding Mohamed Sanu two seasons ago. You knew Sanu wasn't a number one wide receiver, but he was more than capable of making big plays as the number two. Cincinnati can't wait around for Ross, Boyd or another of the other young wide receivers to prove themselves. Lee is 26-years-old and would complement Green well. He'd cost more than LaFell, but not a ton more. He's expected to get a deal around $6 million per year.
The contract – The Bengals sign Lee to a five-year, $32 million contract. They let Sanu get away a few years ago – Lee signs for a similar deal and gives Dalton a perfect number two wide receiver to pair with Green.
The Bengals would use around $19 million of cap space this season if they signed Fleming, Sullivan and Lee. That would leave them plenty of space to re-sign Kevin Huber and extend any of their current players. Releasing LaFell, Jones and Johnson gives them that flexibility. The key to this scenario is moving on from veteran players and being aggressive with the money they save.
Other potential moves
The Bengals have 11 draft picks in April's draft. They need to do their due diligence and consider trading for players who can help them in 2018. Here are a few players the Bengals may be able to add via trade:
Ja'Juan James, RT, Miami – James could be available since Miami has others who can play right tackle. He's due $9 million in 2018 and the Dolphins probably won't extend him. I'd imagine the Bengals could land James in exchange for a mid-round pick in April's draft.
Emmanuel Sanders, WR, Denver – If the Broncos can't land a veteran quarterback in free agency, I could seem them parting ways with Sanders. He'd be a great addition to the Bengals wide receiver corps for a variety of reasons. I take a deeper dive at why this would make sense here.
Cordy Glenn, LT, Buffalo – Glenn would give the Bengals exactly what they need – a franchise left tackle. He's dealt with injuries and was reportedly on the block before the trade deadline last season. Some believe Glenn could be had for a couple mid-round picks. IF that is the case, then this is a move the Bengals should make.
What about the draft?
If the Bengals were aggressive in free agency, it would give them a lot of flexibility heading into the draft. Right now they have 11 picks and plenty of needs. If they made the signings I suggested – or something similar – they would only have a few weaknesses to address in the draft.
They'd still need to add a left tackle with a relatively high pick. They'd also have to address the depth at linebacker. It would give them the ability to take the best player available. They wouldn't have to reach for a right tackle or a center. They could draft a quarterback as early as they wanted to. Their offensive line and wide receiver room is full of question marks – excluding Green and Boling. This is how the Bengals can return to the playoffs in 2018.
Are you on board? Is my offseason plan crazy? Email me your thoughts.
Subscribe to the Locked on Bengals Podcast here.
Subscribe to my iHeartRadio channel that includes every episode of Cincy 3:60, interviews with Bengals, my hottest takes of the week & more here.
Email Me: JamesRapien@ESPN1530.com
Photo By Getty Images