The Bengals added defense and built around Andy Dalton in mock draft 1.0. They do the same in this draft, although some of the faces are different. The biggest change in this mock has to do with the quarterback position. We know AJ McCarron will play elsewhere in 2018. This means the Bengals have to replace him. They do that by adding one of the most polarizing players in the draft.
I used Fanspeak to complete this mock. Here are the first 11 picks of the first round:
Saquon Barkley, RB - Cleveland Browns
Josh Rosen, QB - New York Giants
Bradley Chubb, DE - Indianapolis Colts
Sam Darnold, QB - Cleveland Browns
Minkah Fitzpartick, S - Denver Broncos
Josh Allen, QB - New York Jets
Vita Vea, DT - Tampa Bay Buccaneers
Quenton Nelson, G - Chicago Bears
Denzel Ward, CB - Washington Redskins
Tremaine Edmunds, LB - Oakland Raiders
Roquan Smith, LB - Miami Dolphins
And with the 12th pick in the 2018 NFL Draft, the Cincinnati Bengals select.....
12. Derwin James, S, Florida State – Some scouts believe James could be the next Eric Berry. James is a freak athlete at 6'3" and 215 pounds. He ran a 4.48 40-yard dash at the combine. He has the size, speed and athleticism to be a nice addition to any defense. James is extremely versatile – the Bengals could use him all over the field. Seahawks safety Earl Thomas is a big fan of James'. You're probably wondering why I went with him over any of the offensive tackles that were available – the Bengals aren't going to reach to fill a need. I'm not sure any of the tackles in this draft are worth the No. 12 pick. I think the Bengals feel the same way. James has the potential to be a game changer. He can help the defense as a rookie. James' versatility to play multiple roles ensures that he'll fit in with George Iloka and Shawn Williams, who are both under contract through the 2020 season. Watch James' 40-yard dash and check out who the Bengals select with their other 10 picks below.
46. Lamar Jackson, QB, Louisville – The Bengals were hoping an offensive tackle like Kolton Miller from UCLA or a center like Billy Price from Ohio State fell this far, but they didn't. The Bengals still like the depth on the offensive line, but Jackson is the highest rated player on their board. You're probably wondering if Jackson could fall this far in real life? I don't think so, but stranger things have happened. This should be a dream scenario for the Bengals.
Even if you don't believe in Jackson, you should be able to admit his ceiling is sky high. He is the same exact size as Dalton – their both 6'2" tall and 216 pounds. I've always wondered what it would've been like to watch a focused Michael Vick who enjoyed watching film – we may see it with Jackson. Jackson gives the Bengals a weapon who could be a gadget player as a rookie – think Mohamed Sanu – and he can learn and develop behind Dalton in 2018.
77. Frank Ragnow, C, Arkansas – Ragnow is the first of multiple offensive linemen taken by the Bengals. He could be a day one starter at center. Ragnow has good size and power. The Bengals offensive line gets better with this pick. I wouldn't be shocked if he beat out Russell Bodine for the starting job – assuming the Bengals re-sign Bodine and let Ragnow compete to start. If the Bengals stick with Bodine, Ragnow has experience at guard. His versatility is appealing for a Bengals team desperate for an upgrade.
100. Alex Cappa, OT, Humboldt State – Cappa has a mean streak that the Bengals offensive line has been missing. He has great size at 6'7" inches tall and 305 pounds. Cappa should be able to contribute as a rookie, even if that means playing guard. This Bengals team couldn't run block worth a lick last season – the thought of Cappa mauling opposing defenders, while Joe Mixon accelerates out of the backfield would be a beautiful thing.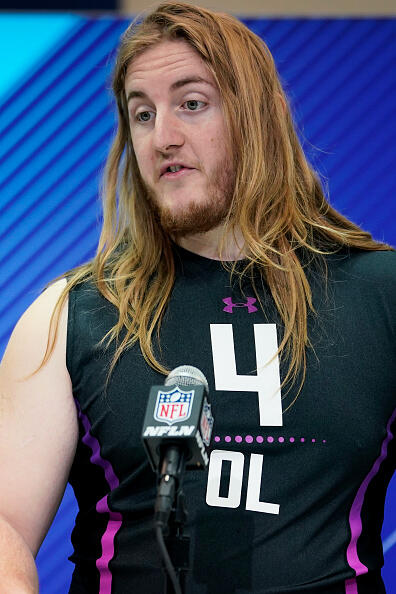 112. Michael Gallup, WR, Colorado State – This is the second-straight mock draft where the Bengals land Gallup. He was productive at Colorado State hauling in 176 receptions for 2,690 yards and 21 touchdowns. He impressed at the Senior Bowl and fared well the the combine. The Bengals have plenty of question marks at wide receiver. They hedge their bet with guys like John Ross, Josh Malone and company by taking the best player on their board.
151. Shaquem Griffin, LB, Central Florida – The Bengals need speed at linebacker – Griffin brings that and more. He ran a 4.38 40-yard dash and would bring much needed athleticism to a defense that needs it. Griffin is small – 227 pounds and plenty of people will point out the fact that he only has one hand. He thrives despite his physical limitation and would have a real shot at making an impact on special teams as a rookie.
170. Durham Smythe, TE, Notre Dame – Smythe has great size at 6'5" and 257 pounds. He could help the Bengals in one key area – blocking. He would be a great addition as a run blocker. Tyler Kroft and C.J. Uzomah are both decent blockers, but it doesn't come as naturally to them. Smythe could be an extension of the offensive line and help give the Bengals the rushing attack they need to have success in 2018. He's also good in pass protection and could help their offense as a rookie.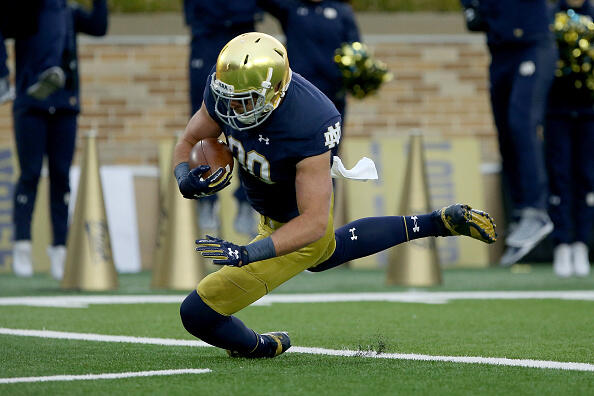 187. Fred Warner, LB, Brigham Young – Warner gives the Bengals another fast, athletic linebacker who should be able to contribute on special teams as a rookie. The additions of James, Griffin and now Warner give the Bengals defense much-needed athleticism. Warner played in the slot some in college and could excel in coverage with time at the NFL level. Adding a special teamer who has potential to contribute in the future makes sense at this point in the draft.
249. Rashaan Gaulden, CB, Tennessee – The Bengals are shocked to have Gaulden fall this far. He's projected to be drafted in round four according to most analysts. Instead, the Bengals get a corner who could slide in and be their nickel of the future. Darqueze Dennard is a free agent after the 2018 season and Adam Jones is in the final year of his deal. Gaulden could play a year of special teams and learn behind both players, before contributing on defense in 2019. Watch some of Gaulden's combine highlights below.
252. Ike Boettger, OT, Iowa – Boettger has plenty of injury concerns, but the Bengals have 11 picks and might as well take the chance on potential. He has a chance to play tackle and/or guard in the NFL. He missed seven games due to injury in 2015 and missed most of last season. He tore his achilles last year and it may take time to get back to full strength. It's worth the risk with offensive line being a weakness. Boettger could come in, develop and maybe have a role with the team in the future.
253. Ade Aruna, DE, Tulane – Aruna tested well at the combine and it would be shocking to see him available this late in the draft. He ran the second fast 40-yard dash among the defensive ends at 4.6 seconds. Aruna is a good athlete, who moved to America to play basketball. The Bengals haven't shied away from projects and Aruna is worth a look if they can get him – especially this late in the draft.
Josh Rosen is my favorite quarterback in the 2018 NFL Draft.
Check out my offseason plan for the Bengals.
Subscribe to my new Reds podcast and listen to it here.
Subscribe to the Locked on Bengals Podcast here.
Subscribe to my iHeartRadio channel that includes every episode of Cincy 3:60, interviews with Bengals, my hottest takes of the week & more here.
Email Me: JamesRapien@ESPN1530.com
Photo By Getty Images