Reds: Winning streak snapped with 9-5 loss to Cards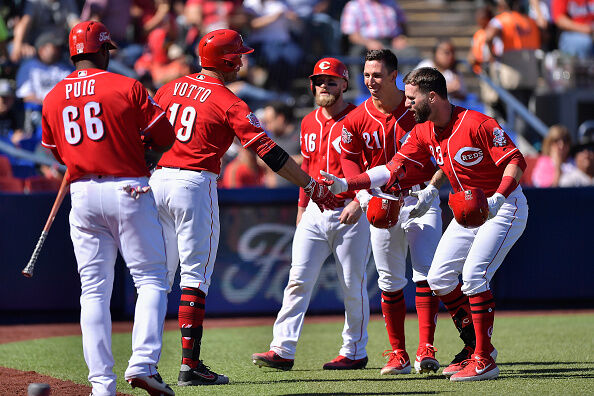 Cardinals 9 Reds 5
The Cards jumped on starter Anthony DeScalfani for a 4-0 first inning lead......saw the Reds rally to tie the game..... then jumped on the Reds bullpen for a five run seventh inning to beat the Reds 9-5 and snap their four game winning streak.
DeSclafani served up a Marcel Ozuna three-run homer and a Tyler O'Neill solo shot in the opening inning.
Disco did settle down to hold the Cards over the next three innings: 4 IN, 5 H, 4 R, 3 B, 3 K, 2 HR. His ERA climbs to 7.43.
The Reds rallied in the fifth inning. Michael Lorenzen took over for DeSclafani and lined an RBI double to put the Reds on the board, trailing 4-1.
Jesse Winker followed Lorenzen with a three-run, game-tying homer, again to the opposite field, to make it 4-4. Winker has homered in four of his last five games.
But the Cards battered Amir Garrett, Jared Hughes and Zack Duke in the 7th inning. Garrett threw one pitch and Matt Carpenter took him yard for a 5-4 lead.
Hughes recorded just two outs while allowing 4 runs on 3 hits and walk, including Ozuna's second homer of the day. Duke walked in a Hughes baserunner on four pitches and allowed two more of his runners to score on a single.
ERA's: Hughes 8.10. Duke 8.31.
Yasiel Puig homered for the first time as a Red in the 8th inning.
The Reds loaded the bases in the 8th, but Kyle Farmer grounded out. Tyler Mahle was forced to pinch-run in the inning when Derek Dietrich was hit on the leg by a pitch and had to leave.
On the plus side, Robert Stephenson tossed another scoreless inning, recording two strikeouts and dropped his ERA to 1.23.
All things considered......the Reds were 4-1 for the week. They stand 5-9 on the season.
Next: The Reds head to LA for Castillo vs Kershaw Monday night.
Box score HERE

Lance McAlister
Lance McAlister covers everything in Cincinnati sports! Host of sports talk on Cincinnati News Radio 700WLW and ESPN 1530!
Read more