Dietrich breaks tie, bullpen locks it down, Reds win third straight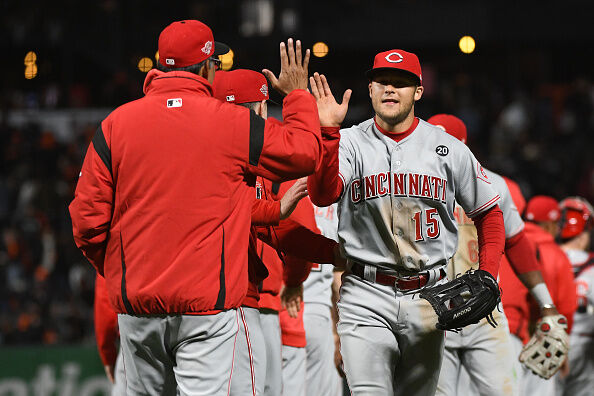 Reds 5 Giants 4
Derek Dietrich parachuted a single into shallow left-field to break a 7th inning tie and David Hernandez and the Reds bullpen did the rest in a 5-4 win Saturday night in San Francisco. The Reds have won three straight games and moved to 18-22 on the season. They'll go for a three-game sweep of the Giants on Sunday.
Hernandez struck out five, including four in a row, in two innings of work and teamed with four other relievers to toss five innings of shutout baseball.
The bullpen rescued starter Anthony DeSclafani who was knocked around for four runs on eight hits in four innings: Robert Stephenson (1.0), Amir Garrett (1.0), Raisel Iglesias (1.0). Iglesias struck out two in the 9th to record his 8th save. The pen threw 74 pitches on the night.
The Reds erupted for three runs in the first inning off Jeff Samardzija. Nick Senzel walked to lead off and Joey Votto tripled him in. Yasiel Puig added a two-run homer (6). But the Giants answered with a run in the 1st inning and three more in the 4th inning to take a 4-3 lead.
Eugenio Suarez hit a solo homer (12) to tie the game in the 5th inning. He doubled to leadoff the 7th inning and scored on the Dietrich flare into left.
A Reds offense that continues to show signs of coming to life produced 10 hits, including at least one hit from all nine batters in the starting lineup.
Suarez and Puig collected two hits. Puig is 11 for his last 33 (.333).
Senzel and Jesse Winkler collided trying to field a one-out single in the sixth. Both players were shaken up but stayed in the game.
Sunday it's Tyler Mahle vs Madison Bumgarner.
Box score HERE

Lance McAlister
Lance McAlister covers everything in Cincinnati sports! Host of sports talk on Cincinnati News Radio 700WLW and ESPN 1530!
Read more