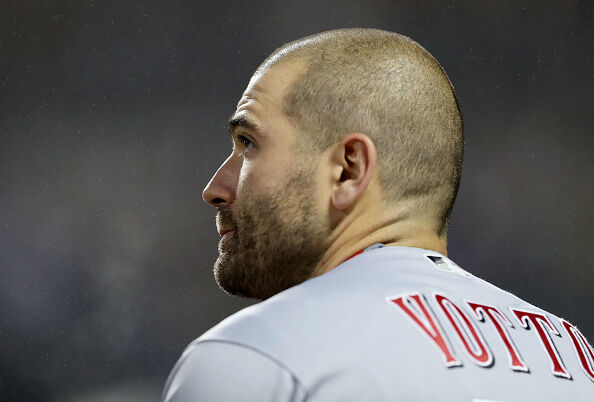 The Votto Funk
Joey Votto has traditionally a been a slow starter. His career numbers indicate April has been his least productive month: .289-.406-.499-.905.
But it's now May and Votto is 5 for 42 (.119-.260-.167-.427) for the month.
He's had six hitless games in 10 starts this month, including 0 for 5 and 0 for 7, a three strikeout game and a four strikeout game.
Season stats: .206-.325-.338-.663, 3 HR, 7 RBI, 21 BB, 39 K. WAR -0.2.
He's striking out 24.4 percent of the time, up from 16.2 last season and five percent higher than his previous career high.
He has looked at 33.4 percent of strikes, up from 29.7 last season.
He's hitting .266 on fastballs, down from .333 in 2017 when he finished 2nd in NL MVP voting.
His whiff percentage on fastballs (22.5) is up from 13.1 two years ago and his highest since 2009.
He's 5 for 49 this season on breaking balls/offspeed pitches (.102) after hitting .242 vs those pitches last season.
His launch angle of 16.6 percent is up from 13.3 last season and above his career average of 12.7.
His flyball rate is 39.6 percent compared to 26.7, 29.9, 19.4, 19.6 his previous four seasons.
His line drive rate is 20.0 percent, down from 34.0 last season.
His pull percentage of 39.6 percent is up an average of six percent over the last four seasons.
His chase percentage (pitches out of zone) is up from 13.1 percent last year to 15.5 this year.
His chase contact rate was 75.2 percent last year, but just 50.0 this year.
Source: Baseball-Reference and Baseball Savant.

Lance McAlister
Lance McAlister covers everything in Cincinnati sports! Host of sports talk on Cincinnati News Radio 700WLW and ESPN 1530!
Read more