Hendricks pitches and hits Cubs past Reds, 3-1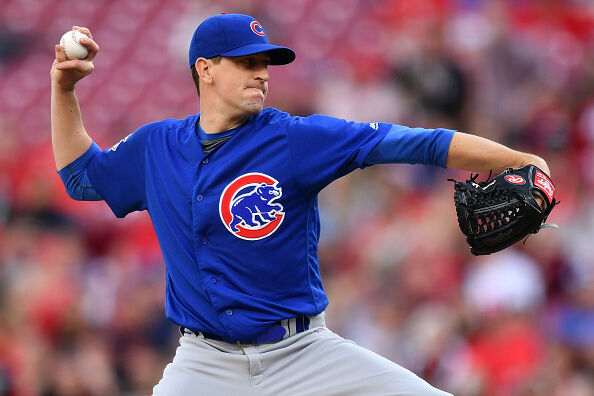 Cubs 3 Reds 1
Cubs pitcher Kyle Hendricks allowed just three hits and a run over 8+ innings, while collecting three hits of his own, including the biggest hit of the game, as the Cubs beat the Reds 3-1 at GABP.
On the mound, Hendricks used an 84-86 mph fastball with a sinker and occasional curve to keep Reds hitters off balance. He was given a shot at the complete game but was done after issuing his first walk of night to Nick Senzel leading off the 9th. LHP Kyle Ryan came on and got Votto to pop out to short left-field on a 3-1 pitch. RHP Steve Cisheck then was brought on and got Eugenio Suarez to pop up and Jesse Winker to ground out to end it.
Hendricks helped his cause with a 2-out, 2-run double in the 2nd inning to give the Cubs a 2-0 lead. Tanner Roark had retired the first two batters in the inning before a Daniel Descalso bunt single towards an empty third base with the Reds playing a four outfielder shift. Hendricks entered the game 1 for 15 on the year and 24 for 267 (.090) with 133 K's in his career.
Hendricks: 8.0 IN, 3 H, 1 R, 1 BB, 7 K. 97 pitches/67 strikes. The 29-year old has allowed one earned run over his last three starts (25 innings), including a complete game, 81 pitch effort vs the Rockies.
The Reds drop to 18-24 on the season and a season worst 8.5 games back of first place. The Reds lost for the 8th time this season when allowing three runs or fewer in a game. They stand 9-19 in games decided by 1 or 2 runs.
The Cubs have won 11 of 13 and stand 25-14 after a 1-6 start.
Roark: 5 IN, 8 H, 3R, 1 BB, 6 K. 86 pitches/51 strikes.
Hendricks retired the first 10 batters before Joey Votto rocketed a solo-homer (4) to right-center field to make it 2-1 Cubs. It has his first homer in 61 at-bats (March 26).
Votto smoked the ball three times in going 1 for 4. Exit velocity: 106.4 HR, 98.9, lineout, 91.3 lineout. Entered game at 87.8 mph average.
Bullpen: Jared Hughes (2.0/0 R), Wandy Peralta (1.0/ 0 R), Michael Lorenzen (1.0/ 0 R).
Josh VanMeter had a pinch-hit single in the 5th inning.Jose Iglesias picked up the only other hit of the night by the Reds.
Box score HERE

Lance McAlister
Lance McAlister covers everything in Cincinnati sports! Host of sports talk on Cincinnati News Radio 700WLW and ESPN 1530!
Read more