Reds lose again, have dropped 6 of 8.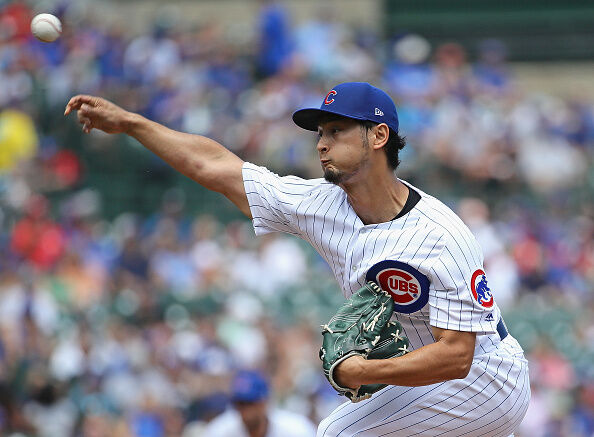 Cubs 5 Reds 2
The good news is the Reds finally scored a run. The bad news is the Reds lost to the Cubs 4-2 and appear to be free-falling. And to think a series that started with such promise with Monday's 6-3 comeback win ended with such an ominous feel.
The Reds drop their first series in four tries vs the Cubs and finish 2-4 on the road trip. They have now lost 6 of 8 in dropping to 43-50 on the year and falling 7.5 games back of the Cubs in the NL Central. That deficit is the largest they have faced since June 16 (8.0)..
The Reds were held scoreless for 16 innings, spanning the second inning Tuesday night into the 8th inning on Wednesday. They had a runner thrown out at the plate, a runner picked off at 3rd base and committed an error.
Nick Senzel's 8th inning RBI single scored Jose Peraza (double) to break the streak and end the shutout bid. Yasiel Puig added an RBI single to make it 4-2, but Philip Ervin's double play ended the rally.
The Cubs got a run back vs Matt Bowman in the bottom of the 8th inning to put things officially out of reach at 5-2.
Kris Bryant homered off Sonny Gray for a 1-0 Cubs lead in the 1st inning and Addison Russell followed with a sol shot in the 2nd to make it 2-0. Both were first pitch two-out blasts.
Gray settled and retired the next 13 batters through six innings. Gray: 6 IN, 2 H, 2 R, 0 BB, 8 K. 84 pitches/54 strikes. He passed 1,000 career innings pitched in the 2nd inning.
Yu Darvish was on a roll from jump. He took a no-hitter two outs into the 5th inning before catcher Juan Graterol, called up earlier in the day, singled.
Trailing 2-0, David Hernandez entered in the 7th inning. He walked the first two batters and later Jason Heyward lined a 2-run double to make it 4-0 Cubs. His last 8 appearances: 4.1 IN, 15 h,14 ER, 5 BB, 2 HR....ERA 29.09.
With the way Hernandez is pitching and the obvious lack of confidence to let Jimmy Herget anywhere near a ML game, I'd suggest the Reds are playing 2 down in the pen and with a 23 man roster. Good luck.
The Reds missed multiple scoring chances earlier in the game:
-They put two on with two outs in the 5th and did not score.
-Senzel doubled to open the 6th but was cut down at the plate when 3B David Bote came home on a hot smash fielder's choice off the bat of Eugenio Suarez.
-Ervin was hit by a pitch to lead off the 7th. The Reds put two on with one out and didn't score. Jose Iglesias was picked off 1st base as the tying run by a snap throw from catcher Victor Caratini.
Darvish: 6 IN, 2 H, 0 R, 0 BB, 7 K. 83 pitches/60 strikes. It was his 20th and best start of his season.
Votto went 0-for-4 and is 4 for his last 32. His streak of reaching base safely in 42 straight games at Wrigley Field ended. His batting average, once up to .271, has dropped to .257.
Votto struck out looking for the 35th time (76 total). His K looking rate is a career-high 45.3%. His career average: 29.7. ML average: 24.0 The 35 K's looking is more than his total in seven other seasons.
Derek Dietrich was hit by a pitch for the 21st time this season. He exited the game after being hit on his knee and was replaced in by Ervin in LF. Three Reds batters were hit on the day: Dietrich, Gennett and Ervin.
Updated FS Ohio stat: Dietrich has 18 singles, 19 homers and 21 times hit by a pitch this season.
Ervin entered the day 18 for his last 34 (.529). I get he's been a guy that has traditionally hit LHP and struggled vs RHP, but he's 11 for 37 (.297 vs RHP this season).
Peraza extended his hitting streak to a season-high 6 games (9-19, .474).
Michael Lorenzen replaced Nick Senzel (tight hamstring) in CF in the bottom of the 8th inning. He moved to the mound and recorded the final out of the inning.
Per listener Jeff: Gray has allowed 5 homers in 3 starts vs Cubs and 6 homers in his other 16 starts. Gray's ERA is 1.65 over his last four starts.
Prior to the game, the Reds selected the contract of Graterol from Triple-A Louisville and placed on the 3-day paternity list Raisel Iglesias. Graterol replaced Kyle Farmer in the starting lineup.
Per the Bats: Graterol has nabbed 22 of 63 potential base stealers (35%) this season. The 30-year-old has 61 games of MLB experience with Angels (58 G, 2016-18) and Twins (3 G, 2018).
Alex Wood makes a rehab start for Triple-A Louisville tonight.
Box score HERE

Lance McAlister
Lance McAlister covers everything in Cincinnati sports! Host of sports talk on Cincinnati News Radio 700WLW and ESPN 1530!
Read more