Reds lead and then lose........ things turning ugly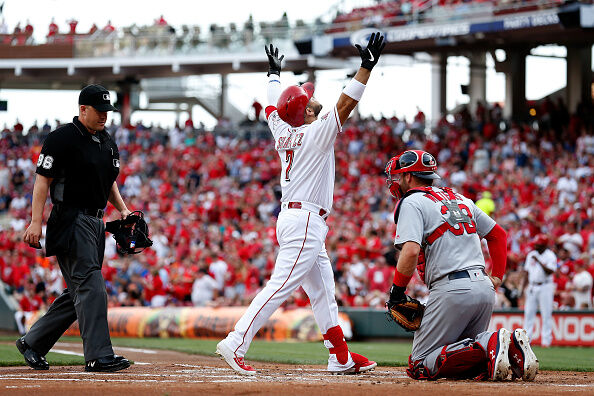 Cards 7 Reds 4
Losers of 6 of 8, 7.5 games out and facing mounting injuries with just 13 days to the trade deadline, the start of Thursday night's four-game series vs St. Louis felt like a significant moment in the season.
When the Reds scored three runs inside the first three innings to lead 3-0, things appeared to be looking up. But by the time rookie Tommy Edman crushed a Robert Stephenson pitch for a grand slam in a five run 6th inning that gave the Cards a 7-3 lead, things had come crashing down....... on the game....and perhaps the season.
The Cardinals beat the Reds 7-4 Thursday night at GABP. The loss dropped the Reds to 43-51 and 8.0 games back of the first place Cubs. Two weeks ago tonight the Reds had beaten the Brewers 1-0 behind Luis Castillo and pulled within 3.5 games of first and within three games of .500.
Look at the bright side, the last time the Reds fell eight games below .500 they reeled off six straight wins. Hey, I'm trying.
Stephenson, who replaced starter Tanner Roark, recorded just two outs in the 6th inning, allowing five runs on four hits and a walk over 22 pitches.
Eugenio Suarez homered in the first inning, his ML leading 9th in the opening inning this season. He's hitting .338-.420-.704-1.124 in 82 first inning plate appearances.
The Reds added two runs in the 3r inning. Joey Votto singled in Roark after his lead off double and Suarez roped a sacrifice fly to deep CF to score Jesse Winker (single). Votto went half-way to 3rd base on the Suarez ball and could not tag and advance. Then, he did not score on Yasiel Puig's flair double into shallow right field that was bobbled three times by Jose Martinez. The Reds left runners on 2nd and 3rd.
Roark got in trouble multiple times early and then was reached for a two-run homer by Paul DeJong in the 5th inning. He escaped a two on jam in the inning, but his pitch count climbed to 101 and it was his final inning of work: 5 IN, 5 H, 2 R, 2 BB, 6 K. 101 pitches/63 strikes.
Lucas Sims, called up earlier in the day, was a bright spot. He retired all four batters he faced, including two strike outs. He works quickly and confidently.
Catch Juan Graterol made an outstanding play on a dive behind the plate to grab a fouled bunt by Dakota Hudson.
Scooter Gennett was doubled off 2nd base on a liner to shortstop by Jose Iglesias.....a liner right in front of Gennett.
Stephenson's ERA jumped from 3.50 to 4.66.
Wandy Peralta pitched a clean 8th inning. Jimmy Herget pitched a scoreless 9th, appearing in just his second game since his July 1 call-up.
Puig gunned down a runner at 3rd base to start what turned into a 9-5-6 DP that I don't think I've ever seen before. His thrown went to 3rd base for a tag out and then Suarez threw to 2nd base and Iglesias put the tag on the batter.
Box score HERE

Lance McAlister
Lance McAlister covers everything in Cincinnati sports! Host of sports talk on Cincinnati News Radio 700WLW and ESPN 1530!
Read more