Reds drop third straight, 3-1 to Nationals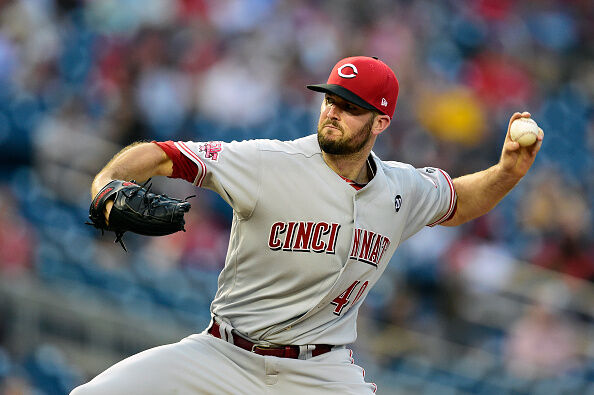 Nationals 3 Reds 1
Don't look now but the Reds have suddenly dropped three consecutive games and appear to be fading from the outer reaches of the playoff picture.
The Nationals jumped on Alex Wood early and played long ball later in a 3-1 win over the Reds Tuesday night in D.C..
Meanwhile, the Reds struggled to solve Washington starter Joe Ross and failed to capitalize on multiple chances.
The Reds drop to 56-62 on the season. It think it is fair to wonder how much blowing a 3-0 lead and losing to the Cubs on Sunday took out of this team.
The Reds mounted a 9th inning rally with a lead off double by VanMeter and a two-out pinch-hit single by Freddy Galvis who was making his Reds debut. But pinch-hitter Tucker Barnhart struck out in an eight pitch at-bat.
The Nationals hustled into a first inning run. With runners on 1st and 3rd with one out, Victor Robles scored from third on an inning ending double play. Joey Votto took a one hopper off the bat of Juan Soto, stepped on 1B (removing the force) and threw to 2B where Iglesias applied the tag on a sliding Anthony Rendon. But Robles crossed home plate before Iglesias recorded the 3rd out. 1-0 Nationals.
Juan Soto (25) and Brian Dozier (17) went yard with homers vs Wood in the 4th inning for a 3-0 lead.
Wood: 5 IN, 6 H, 3 R, 0 BB, 4 K. 73 pitches/51 strikes.
Nationals starter Joe Ross entered the night having recording back-to-back shutout appearances (11.1 IN). He kept the roll going vs the Reds: 6.2 IN, 5 H, 1 R, 2 BB, 3 K.
The Reds finally reached Ross for a single run in the 7th when Nick Senzel doubled with two outs and came home on a single by Iglesias.
But the Reds continue to miss scoring chance after scoring chance:
4th inning: Jesse Winker double to lead off. But Votto (K), Suarez (FO) and Aquino (FO) were retired in order.
6th inning: Jose Peraza, pinch-hitting, drew his first walk since June 4. He tried to go third on a single by Winker. Robles, cut the ball off while on the run into right-center field and threw a seed to 3rd. Rendon made a stretch/catch/tag to get Peraza. Heck of a play. Tip your cap.
8th inning: Votto and Suarez lined two-out singles. But Aristides Aquino popped up to end the inning.
So much for a Reds offense that entered the game leading the NL in the following categories since the All-Star break: Runs (169, 5.63), BA (.290), OBP (.354), SLG (.507) and OPS (.861).
Bullpen:
Lucas Sims: 2 IN, 0 H, 0 R, 2 BB, 3 K. 30 pitches/18 strikes.
Robert Stephenson: 1 IN, 0 R.
Box score HERE

Lance McAlister
Lance McAlister covers everything in Cincinnati sports! Host of sports talk on Cincinnati News Radio 700WLW and ESPN 1530!
Read more