Reds miss another opportunity, settle for split with Cards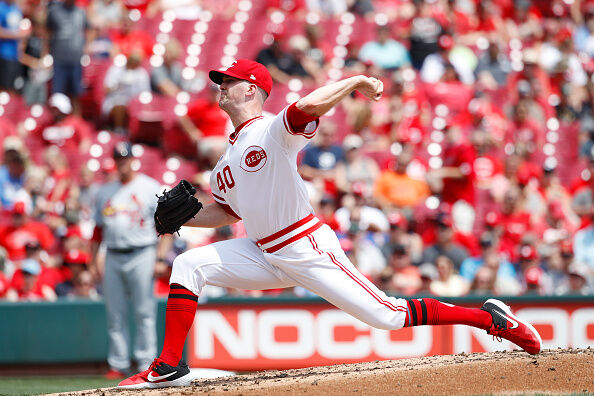 Cardinals 5 Reds 4
For the second consecutive weekend the Reds rolled into Sunday afternoon with a chance to win a series vs a first place team.
But for the second consecutive weekend the Reds had to settle for a series split. This time dropping a 5-4 affair to the Cardinals.
Words like settle and split don't work this time of year. Not when you are chasing the division lead and a wild card spot.
The Reds drop to 58-65 on the season and once again fall 7.5 games back of the front-running Cardinals.
The Reds made things interesting.......but once again took a 1-run loss (18-24).
The Reds are now a mind boggling 16-33 in day games compared to 42-32 in night games. They fall to 6-14 on Sunday.
Trailing 5-2 in the 9th, Tucker Barnhart singled in two runs vs closer Carlos Martinez and it was 5-4 with nobody out. But Nick Senzel flew out, the just called-up Brian O'Grady pinch-hit struck out looking and Eugenio Suarez struck out on a check swing to end the game.
It was once again a day the Reds lacked enough big hits, stranding two runners in the 4th, 5th and 7th innings. They left eight runners on for the day.
The Reds, per usual, grabbed a first inning lead. They had entered the day 30-7 when leading after one inning, 4th best in MLB.
Suarez, back after missing a game with a thumb injury, tied his career-high with home run No. 34 in the first inning for a 1-0 lead. It was his ML leading 12th first inning homer.
But Alex Wood wasn't sharp, although his defense didn't help: 5 IN, 8 H, 5 R, 4 ER, 1 BB, 6 K. 92 pitches/57 strikes. ERA sits at 5.92. He's allowed eight home runs in 24.1 innings.
Paul Goldschmidt reached Wood for a two-run homer to give the Cardinals a 2-1 in the 3rd inning. A Suarez throwing error opened the door for another Cardinals run and a 3-1 lead in the 4th inning. The Cards tacked on two more runs in the 5th inning when Tommy Edman homered and Marcell Ozuna doubled home a run on a ball that Nick Senzel misplayed.
Down 5-1 in the 7th, the Reds loaded the bases with one out. LH Andrew Miller came on to walk Jose Peraza and force in a run to make it 5-2. . RH John Gant came on for Miller and induced a line shot 6-4-3 DP of Suarez to extinguish the threat.
The Reds bullpen tossed four scoreless innings, allowing just one hit and striking out seven.
Rookie Joe Kuhnel showed well: 2 IN, 0 R, 0 H, 1 BB, 1 K. 30 pitches/19 strikes.
Kuhnel has the look of a a 70's and 80's Reds pitcher. I'm not even sure what that means, but he does.
Kevin Gausman struck out all six batters faced in the 8th and 9th innings. He had an 'Immaculate Inning' in the 9th inning.....9 pitches/9 strikes/3 strikeouts. He's the first Reds pitcher to accomplish that since Drew Storen on 4/18/17 and the sixth overall. Last three appearances: 5 IN, 1 H, 0 R, 9 K.
Jose Iglesias singled to extend his season-high and team high hit streak to 13 games. He had another two hit day (.294).
Aristides Aquino showed excellent patience and plate discipline in a two walk day, the first of his ML career.
Aquino saw 27 pitches in his four plate appearances: 8 pitch pop up, 7 pitch walk, 5 pitch walk, 7 pitch ground out. Nice answer in the chess match
Joey Votto was placed on the 10-day IL (back) prior to the game. O'Grady was recalled from Louisville.
Box score HERE

Lance McAlister
Lance McAlister covers everything in Cincinnati sports! Host of sports talk on Cincinnati News Radio 700WLW and ESPN 1530!
Read more