Reds reel in Marlins behind Gray and Galvis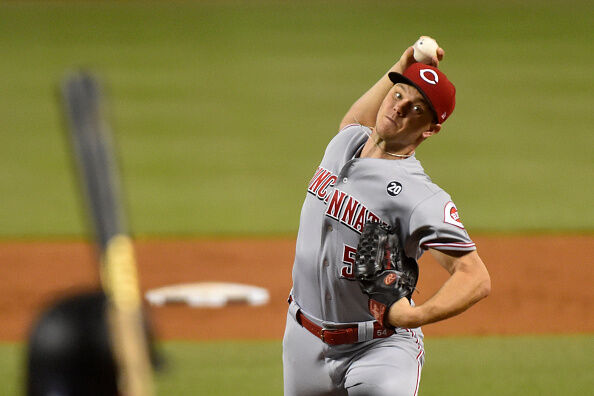 Reds 6 Marlins 3
Just call him the stopper. Sonny Gray walked the wild side early Monday night, but then found his stride to toss six plus innings of two run baseball and helped the Reds put the breaks on a three game losing streak, 6-3 over the Marlins. The Reds move to 17-9 Gray's starts this season.
The Reds offense contributed three home runs on the night: Freddy Galvis, Eugenio Suarez and Phillip Ervin.
Gray walked four batters in the first three innings and five on the night. Neil Walker made him pay with a two-run homer for a 2-1 Marlins lead in the 3rd. But Gray settled down and retired the next 12 batters. Leading 4-2, he walked the leadoff batter in the 7th and allowed a single to end his night (102 pitches). Michael Lorenzen came on and retired the next three batters.
Gray: 6 IN, 2 H, 2 R, 5 BB, K. 102 pitches/54 strikes. ERA at 2.92. Gray has posted an ERA of 0.90 in his last five starts and 1.70 in his last 11 starts.
Galvis and Josh VanMeter were in the middle of the Reds scoring action multiple times: VanMeter tripled, walked and scored two runs. Galvis singled twice, homered, drove in four runs and scored a run.
VanMeter tripled (1st ML triple) in the 3rd inning and scored the first run of the game on a Galvis fielder's choice.
Trailing 2-1 in the 5th inning, Nick Senzel singled, VanMeter walked and Galvis jacked a three-run homer (22) to give the Reds a 4-2 lead.
Suarez added to his career-high for homers when he launched a solo shot (36) 432 feet in the 8th inning. He's on pace for 45 homers.....5-2 Reds.
Ervin joined the long ball fun with a frozen rope to center field (436 feet/106.3 mph) in the 9th inning.......6-2 Reds
2 hit night: Suarez, Senzel (BB). Senzel entered the game 5 for his last 42.
Aristides Aquino singled in the first inning to extend his hit streak to six games.
Three Reds pitchers combined to allow the Marlins just five hits.
Attendance: 5,297
Bullpen:
Lorenzen: 2 IN, 0 R
Raisel Iglesias: 1 IN, 1 R.......he allowed a homer and a triple in making this interesting.
Dietrich (0 for 1)....Since his 3 HR game vs Pirates on May 28: .149-.329-.274-.603. 17 hits (17 for 114), 17 HBP, 2 HR, 8 RBI in 49 games.
Box score HERE

Lance McAlister
Lance McAlister covers everything in Cincinnati sports! Host of sports talk on Cincinnati News Radio 700WLW and ESPN 1530!
Read more