He's back: The Derek Dietrich story........continues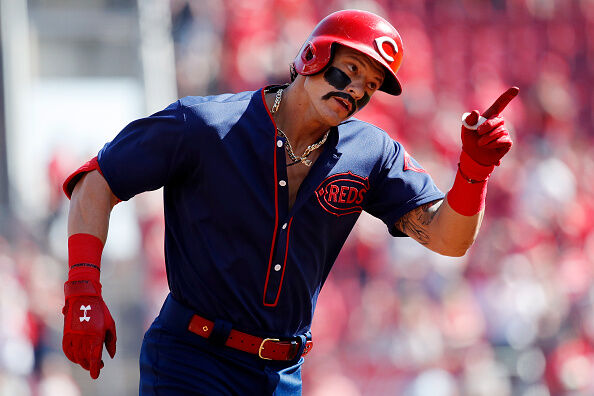 All to nothing: The Derek Dietrich story..............continues
On February 19, 2019 the Reds signed Derek Dietrich to a minor league contract with a non-roster invitation to spring training.
He quickly becoming a fan favorite and the talk of the town with his swagger, gold chain, shenanigans and power display.
But pitchers adjusted to his new swing. He didn't. He hurt his shoulder. He couldn't regain regular playing time or his hitting stroke.
In November he was designated for assignment.
Today.....he's back, signed to a minor league contract with an invitation to Major League spring training camp.
Dietrich produced one of the oddest individual seasons in franchise history in 2019. His season was all or nothing.
First 52 games: .254-.364-.720-1.085, (30 for 111), 17 HR, 35 RBI, 8 HBP
Last 54 games: .142-.322-.258-.581 (17 for 120), 2 HR, 8 RBI, 17 HBP, (since 3 HR game May 28)
He finished the season 0 for his last 21 and 1 for hist last 39.
His last home run was July 13. He did not drive in a run over his final 30 games of the season.
Consider the path his season took.........
The Scooter Gennett injury opened the door to Dietrich getting playing time in April.
April 7: Dietrich homer twice and drove in four runs vs the Pirates. He angered pitcher Chris Archer after admiring a blast he hit out of PNC Park. Archer threw behind Dietrich's back later in the game, resulting in a bench-clearing brawl.
A slow start to the season for Jose Peraza eventually gave Dietrich the starting job at 2B. He took off in May .304-.400-.841-1.241, 12 HR, 22 RBI.
May 3: Hit two homers and drove in six runs vs Giants.
May 5: He drew an eye-black and a mustache on his face during a game the Reds wore their 1911 throwback uniforms.
May 6: He donned bee keeper gear and came to the rescue when a swarm of bees at GABP delayed the start of the game vs the Giants.
May 7: He dressed up as a handyman during a power outage prior to the Reds game in Oakland.
May 28: He hit three home runs vs the Pirates and received a curtain call from the GABP crowd. His third homer of the night was his 17th of the season, establishing a new career-high. His 118th at-bats were the fewest by any player in Reds history to reach 17 HR.
June 21: He became the first Reds player since 1900 to be hit by a pitch three times in one game (Milwaukee).
June 22: Hit by two pitches, he became the first player to be hit by five pitches in a series since 1904.
July 13: Hit home run number 19.
August 5: He was placed on IL with left shoulder issues and missed nearly three weeks.
August 20: He was hit by a pitch in his first at-bat of his rehab assignment at Louisville.
Season stats: .197-.342-.487-.830, 19 HR, 43 RBI. Career high numbers in homers, slugging and OPS.
He's started at four different positions: 2B (43), 1B (13), LF (7), DH (2)
He was hit by a pitch 25 times, one short of Shin Soo Choo's franchise record for a season (2013).
Dietrich was arbitration eligible this offseason. But with Mike Moustakas signed and 2B options that include Josh VanMeter, Alex Blandino and Kyle Farmer, Dietrich was designated assignment.
All to nothing. Dietrich's 2019 season with the Reds.
Wonder what is next?

Lance McAlister
Lance McAlister covers everything in Cincinnati sports! Host of sports talk on Cincinnati News Radio 700WLW and ESPN 1530!
Read more