Sports Talk guidelines to keep us sane during Bengals/Burrow conversation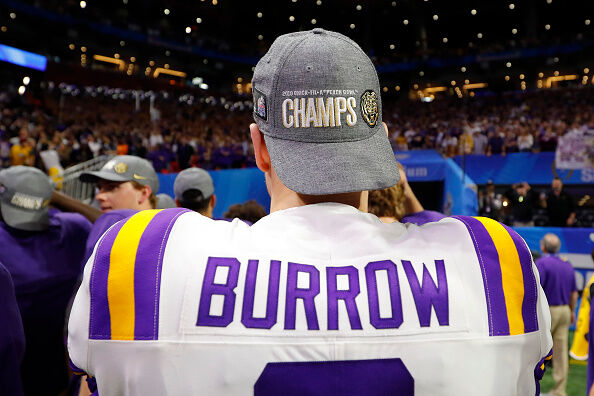 Rules of the offseason: Bengals, Joe Burrow, No. 1 pick
-The offseason conversation will be a whole lot easier if we can just agree on these points as starting points for our conversation.
-Andy Dalton has never been the sole reason or even the biggest reason for the Bengals woes.
-Drafting Joe Burrow will not fix all the Bengals problems.
-Don't try to outthink the room. The Bengals have the No. 1 pick. They need a QB. Burrow is clearly rated as the top QB. It's ok to think and say what everyone else is thinking and saying.
-The Bengals must upgrade their OL. We know. You don't have to tweet, email or call to say that. It's like saying water is wet. Nobody is disputing the OL woes. We have accepted the point and entered it into evidence. No need to reference it. #WeGetIt.
-QB is the most important position in the NFL and the most important position in team sports.
-You can get a QB and THEN fix the roster. It can be done that way.
-I've heard for nine years that Andy Dalton is an average QB….not good enough. When you have the No. 1 pick and you need a QB, you don't trade down to take a lesser QB.
-If you are going to suffer through 2-14, only to then create scenarios of Burrow holding out, demanding a trade, being 'screwed up by the Bengals,' just pick another team to root for. It would be much easier for you and all of us.
-The draft is more than your first round pick. Barring trades, the Bengals will have at least six other draft picks to use.
-The Bengals also need to upgrade at LB and in the secondary. Nobody is disputing this.
-Per Pro Football Focus, the value of a DE is about 2 wins per year over a replacement level player. The value of a QB is closer to 6 wins per year.
-Anyone believing they should tank for Trevor Lawrence next season isn't paying attention. Think of how close the Bengals came to losing out on the No. 1 pick this year. They lost eight games by one score, without their first round pick and AJ Green. If not for the decision to bench Andy Dalton fir three ganes, they likely don't get the No. 1 pick. Nobody is going to bet on earning back-to-back No. 1 picks overall.
-Stop with the Akili Smith/Joe Burrow 'one hit wonder' college career comparison:
Akili Smith: Pac-10/Oregon, 571 attempts, 56%, 45 TD, 15 INT
Joe Burrow: Big10/SEC, 896 attempts, 69%, 73 TD, 11 INT
And finally...................our last guideline
-The Bengals are drafting Joe Burrow No. 1.

Lance McAlister
Lance McAlister covers everything in Cincinnati sports! Host of sports talk on Cincinnati News Radio 700WLW and ESPN 1530!
Read more