Semi-Regular Reds Recap Blog: FeLdman
What Happened In Five Sentences Or Less
Cesar Hernandez hit the eighth pitch of the season out of the ballpark, and it never really got better from there. Dreams of a wire-to-wire season died on Opening Day. Phillies 4 Reds 3.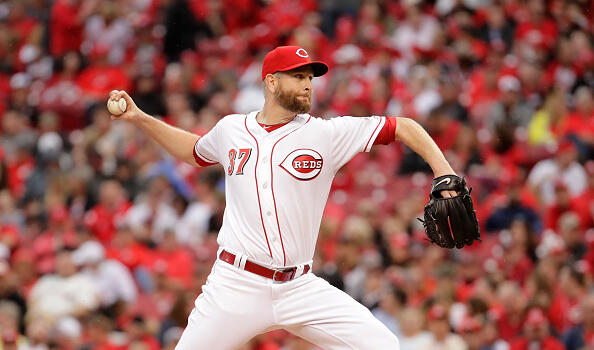 (Photo: Getty Images)
Credits
The bullpen. One of the reasons for optimism is that the relief corps is made up of guys who aren't Ross Ohlendorf or JJ Hoover. Yesterday the men in the 'pen kept the Reds in the game, giving up just a run in four and a third innings.
Scooter Gennett. The soon-to-be-fan-favorite went deep in his first game playing for his hometown team. It looks odd seeing someone that isn't Brandon Phillips wear the number four, but if Scooter can hit a home run in every game, no one will mind the fact that he's wearing BP's digits.
Jose Peraza. He had two hits, was a multi-hit game machine at the end of last season, and turned a harder-than-it-looked double play to stave off a larger Philly rally in the first.
Blames
Scott Feldman. Scott Feldman was not pegged as the Opening Day starter out of merit. He was chosen to pitch because someone had to take the ball. His Reds debut got off to an inauspicious start with the leadoff homer and another run in the first. The good news is that Scott Feldman is a longshot to pitch for the Reds, or anyone else, on Opening Day next season.
Jose Peraza. Jose had a couple of chances to be a big hero, and didn't take advantage. DP ball to end the third with two on. A strikeout to end the seventh with Hamilton on third base. Yes, we're crediting and blaming people simultaneously this season.
Moment That Mattered
One out, bottom third. A run in, Reds down two, and runners on first and second. The team's best two hitters due up, and Peraza hits into a double play, sending the loudest groan of the day throughout Great American Ballpark.
Numbers That Counted
3. The Reds hit into that many double plays. This one was nifty.
23. Consecutive Opening Day games I've attended. The weather has been nice for like two of them.
Other Highlights
They've put an odd-tasting version of Cheese Whiz on the Frybox. Bad move. When you order, get this without the goo. Hot Take
Baseball was back. I've got six months to talk about the team being bad, the future hopefully being bright and the things that will shape both the season and how we feel about it. For a day, I was happy to be at GABP with good company, cold, overpriced beer, and a ballgame playing out in front of me.
Video/Photographic Evidence

Mo Egger
Mo Egger delivers his unique take on sports on Cincinnati's ESPN 1530!
Read more