Semi-Regular Reds Recap: Welcome To The Bigs, Jesse Winker.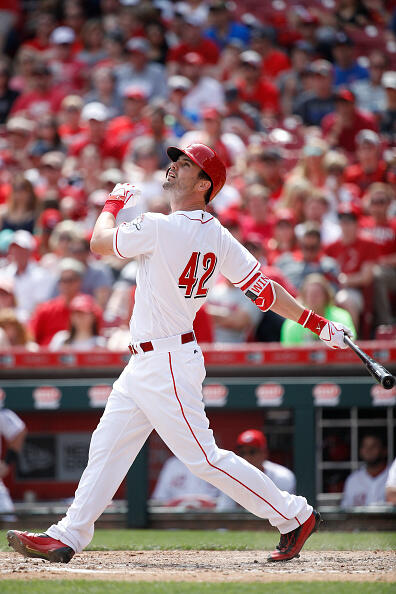 WHAT HAPPENED IN FIVE SENTENCES OR LESS
The Reds fell behind early and had to turn to the bullpen in the second inning. After watching one lead evaporate, they went ahead for good on Jesse Winker's first big league hit. Some crafty bullpen maneuvering helped the Reds seal the game and end a two-game losing streak.
CREDITS
Jesse Winker. His first Major League hit was a tie-breaking double (that probably should've been scored a single) that scored two runs in the sixth. Even bigger than that, he got to hang out with Jeff Piecoro.
Scooter Gennett. The team's RBI leader punished his former team with two hits, two runs driven-in, and a run scored.
Scott Schebler. His solo homer changed to mood. At least where I was.
Robert Stephenson. On a heavy bullpen day, Stephenson turned in his second nice performance in a row, throwing three innings, giving up just a run (I think we'll all be happy to see Eric Thames go away), and settling things down a little.
BLAMES
Brandon Finnegan. Granted, he was hurt, but he was also wild in his one inning, perhaps due to the fact that he's hurt. He did have an important pick-off though. And again, he's hurt.
MOMENT THAT MATTERED
With two on and one out in the sixth, Jesse Winker - in just his second big league at-bat, picked a mighty fine time to deliver his first career hit.
NUMBERS THAT COUNTED
12. Reds pitchers struck out that many Brewers hitters. Pizza will be had.
OTHER HIGHLIGHTS
Kids Opening Day. Cool idea. Well-executed.
HOT TAKE
I don't love every move Bryan Price makes - today I hated Hamilton bunting with Iglesias on second and nobody out in the fifth (to be fair, Billy could've been acting on his own, and he's always a threat to beat the throw and get a hit), and I would've hit for Storen with Duvall with two outs and two on in the seventh, but I love how he's managing this team - with urgency and a very adept touch with the bullpen. The Reds are not getting much length from their starters - a league-worst 4.6 per start - but they are winning. That's a credit to a lot of things, the manager's work being one of them.
VIDEO/PHOTOGRAPHIC EVIDENCE

Mo Egger
Mo Egger delivers his unique take on sports on Cincinnati's ESPN 1530!
Read more