Semi-Regular Reds Recap: Eric Thames Is Entering The Reds-Killer Pantheon.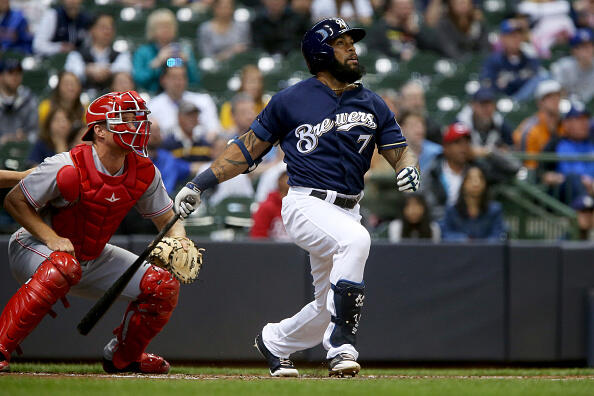 WHAT HAPPENED IN FIVE SENTENCES OR LESS
Amir Garrett finally pitched poorly. Eric Thames continued in his quest to be the biggest Reds killer of all-time. Hernan Perez did some damage too. An eighth inning rally fell short. Brewers 11 Reds 7
CREDITS
Ariel Hernandez. He made his big league debut in relief of Garrett, and did a nice job, throwing two and two-thirds innings of hitless ball, striking out five, and legitimately looking like the best pitcher I've ever seen, and I'm only half-joking about that. Dude was ridiculous. He also ate a Gatorade cup on the dugout, which makes you wonder about the quality of the clubhouse spread at Miller Park.
Zack Cozart. He had two hits, both for extra bases, walked a couple of times and scored twice. He also made a couple of nice picks at shortstop. The guy has been on fire since the get-go, with a .393/.478/.696 line through the season's first 20 games. Maybe Bryan Price should try moving him up in the order, no?
Scott Schebler. His three-run homer in the third cut the deficit to two, and made you believe that maybe we'd have a competitive ballgame. He also had a run-scoring double in the ninth.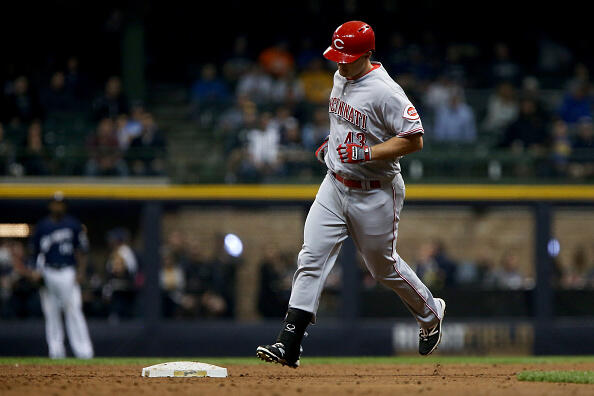 Stuart Turner. He banged a couple of run-scoring doubles, both of which were rockets.
BLAMES
Amir Garrett. He had his first bad big league start, giving up ten runs on eight hits, including three homers. A more experienced pitcher working under different circumstances would've been pulled earlier than Amir was. Hopefully there's something to be gained about being left in for a beating.
MOMENT THAT MATTERED
There were a few - Eric Thames' first two plate appearances come to mind - and there was a part of me wondering why Hernandez was left in to bad with a guy on second and one out in the sixth - but any hopes of a Reds comeback were thwarted in the eighth inning, when Joey Votto came to the dish with the bases loaded and two out. Instead of extending the inning or tying the game, Votto grounded out to a perfectly-placed Orlando Arcia.
NUMBERS THAT COUNT
19. Number of Eric Thames at-bats against the Reds in 2017.
7. Number of Eric Thames home runs against the Reds in 2017.
From Elias....Eric Thames has 7 HR in April against the Reds. The only other player in MLB history with at least 7 HR in April against a single team is Willie Stargell (8 vs Braves in April 1971).
OTHER HIGHLIGHTS
While Ariel Hernandez was doing his thing, and as I salivated over what I was watching, I decided to read this Ocotber 2016 Baseball America profile of him.
HOT TAKE
It's a rebuild and all, and we all like to imagine the possibilities of a Hamilton/Peraza 1-2 punch, but maybe it'd make sense to move someone else - Suraez, Cozart, um, Votto(!), into the two hole?
PHOTOGRAPHIC EVIDENCE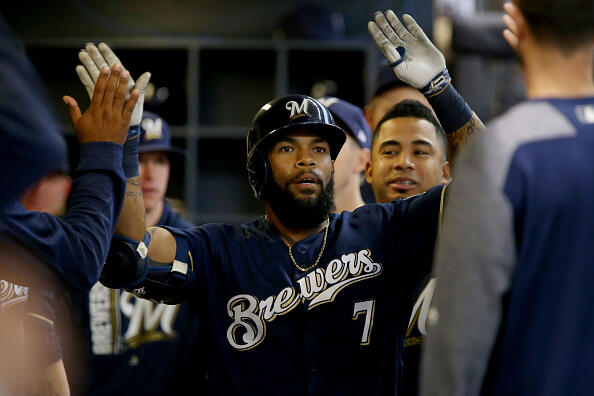 (Photos: Getty Images)

Mo Egger
Mo Egger delivers his unique take on sports on Cincinnati's ESPN 1530!
Read more