Semi-Regular Reds Recap: Billy Runs, Then Walks-Off Pirates.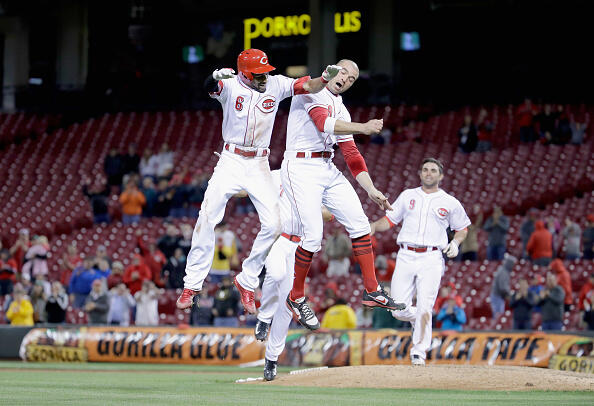 WHAT HAPPENED IN FIVE SENTENCES OR LESS
The Reds fell behind, took a lead, blew it, then walked off the Pirates in ten innings, ensuring that some good starting pitching wouldn't go to waste. Reds 4 Pirates 3
CREDITS
Billy Hamilton. Billy came up big with the game-winning two-out hit in the bottom of the tenth, scoring Arismendy Alcantara, who has a fun name to say. Hamilton also doubled, stole three bags, and scored a run. Finally, he hyperventilated during his postgame interview on TV...
Adam Duvall. A day after his offensive heroics helped the Reds salvage a game in St. Louis, Adam came up big again, this time with a three-run homer in the sixth that put the Reds in front, even if only temporarily.
Amir Garrett. He bounced back nicely from his only poor start last week in Milwaukee, going seven, and surrendering just two solo home runs.
Michael Lorenzen. Held things down nicely in the ninth and tenth, throwing two scoreless frames while whiffing three.
BLAMES
Drew Storen. This guy has done a nice job this season, but on Monday, he gave up Josh Harrison's second homer of the evening, this one in the eight that tied the game.
MOMENT THAT MATTERED
After an errant Daniel Hudson pickoff throw sent Alcantara to second in the tenth, it kind of felt like in that inning, the Reds were either going to win the game or set themselves up for failure. With two outs, Billy Hamilton delivered the game winning hit that sent most of the 83 people still remaining at GABP home happy.
NUMBERS THAT COUNT
4. Reds/Pirates games in 2017.
4. Reds wins in Reds/Pirates games in 2017.
OTHER HIGHLIGHTS
The noise that Chris Welsh makes at the :07 mark.
HOT TAKE
I enjoy watching Amir Garrett pitch. I know, I'm really bringing the fire aren't I?
PHOTOGRAPHIC EVIDENCE
(Photos: Getty Images)

Mo Egger
Mo Egger delivers his unique take on sports on Cincinnati's ESPN 1530!
Read more