Semi-Regular Reds Recap: Indians Win Game That Had Lots Of Stuff In It.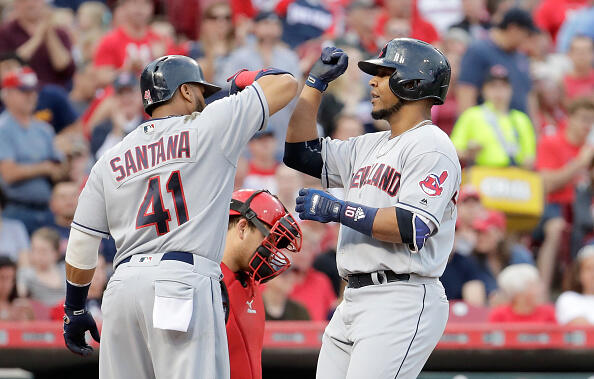 WHAT HAPPENED IN FIVE SENTENCES OR LESS
The Reds fell behind. Then they took the lead. They they gave it up. Then they tied it. Then they lost. Indians 8 Reds 7
BLAMES
Drew Storen. Drew's done a nice job for the Reds, and the decision-making by Bryan Price in the top of the eighth inning will be examined later in this blog entry, but after the Reds charged from down four in the seventh to tie it, Drew gave the lead back with a wild pitch that scored Edwin Encarnacion, who some still can't get over the Reds trading.
Amir Garrett. We all like Amir Garrett, but the bright spot in the Reds rotation now has an ERA of 6.00 after his five inning/seven run performance against Cleveland.
Scooter Gennett. An error in the eighth. A strikeout to end the night in the ninth.
CREDITS
Eugenio Suarez. There was a time when people took All-Star voting kinda/sorta seriously, and if we still lived during that time, I'd be doing all sorts of research into the All-Star case for Eugenio, and likely leading the charge for him to be selected to the NL squad. He's been fantastic this season, and his three-run home run in the seventh was perhaps his finest moment of 2017, prompting this incredibly insightful tweet....
Joey Votto. He had two hits and he walked twice. He's now batting .300, and to the best of my knowledge, he got along with the paying customers.
Adam Duvall. I was in full "Duvall's gonna end this with a long one" mode in the top of the ninth, which didn't happen, but Adam still had a productive night, with two hits and two runs batted in.
Austin Brice. The Reds may have found something here with this guy, who threw two scoreless innings in relief of Garrett. Acquired from Miami in the Dan Straily trade, Austin has done a nice job. Also, wouldn't it be fun if Bryan Price married Austin Brice?
MOMENT THAT MATTERED
There were a few in this one, but the two that stand out the most were when Duvall struck out with Votto on first and no one out in the ninth, and when Mesoraco popped to second with two on and one out later in the inning. I swore to my sleeping infant daughter that both guys were gonna go deep, marking the first of many times that I will have lied to my kid.
Honorable mention goes to Peraza getting thrown out at the plate to end the eighth. Shit happens sometimes, I guess. Maybe Billy Hatcher shouldn't have sent him. I don't know.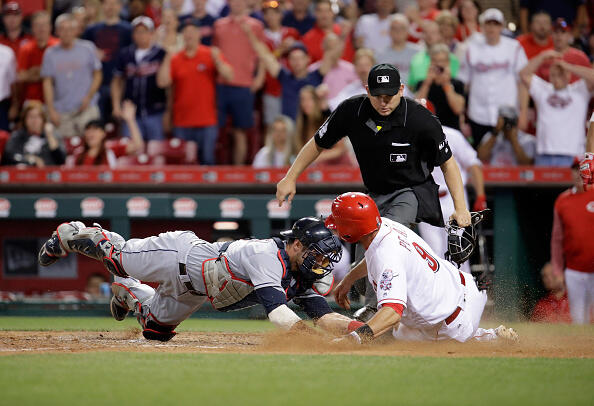 NUMBERS THAT COUNT
248. That's how many home runs Edwin Encarnacion has hit since the Reds traded him in 2009. You are lying to me if you thought that at the time, we'd be talking about Edwin Encarnacion doing big things in 2017.
OTHER HIGHLIGHTS
After Adam Duvall struck out to record the first out of the bottom of the ninth, Fox Sports Ohio cameras caught him expressing his displeasure, with an audible f-bombs being broadcast to homes all throughout Reds country. Thom Brennaman quickly had to move into serious-mode, adopting a remorseful inflection while apologizing to the parents of now-corrupted kids. Somewhere, Marvin Lewis expressed concern about the example being set for the kids.
HOT TAKE
Neither manager had a good night, with both Bryan Price and Terry Francona - who I'm required to point out, is a great guy - doing what they could to help the other team. First, Francona had Jose Ramirez lay down a bunt with two on and no outs, which backfired as Mesoraco and Gennett combined to make a nice play to force the lead runner at third. Dumb.
Not to be outdone, Price elected to have Storen pitch to Daniel Robertson with two outs, a base open, and Indians ace reliever Andrew Miller on deck, instead of forcing Francona to make a choice between leaving Miller in or hitting for him. Robertson didn't hurt the Reds - Storen's wild pitch gave Cleveland the lead - but Price had a chance to force his counterpart into a difficult move, perhaps changing how the rest of the game would've played out.
PHOTOGRAPHIC EVIDENCE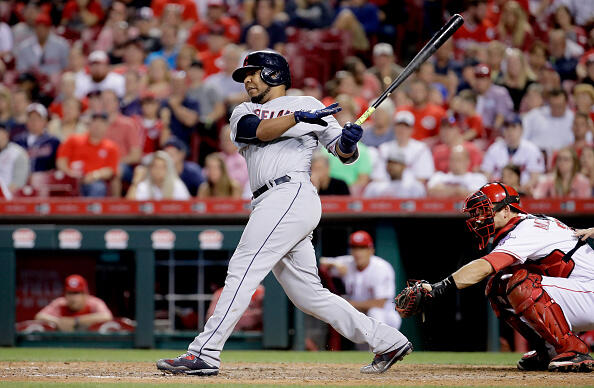 (Photos: Getty Images)

Mo Egger
Mo Egger delivers his unique take on sports on Cincinnati's ESPN 1530!
Read more