This Is A Really Good Read On Billy Hamilton.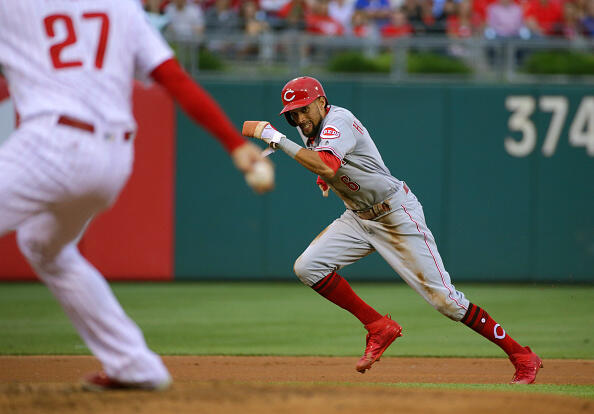 (Photo: Getty Images)
Jerry Crasnick of ESPN.com has a really good piece out on how Billy Hamilton affects games with his legs....
Hamilton, 26, has been an intriguing test case since his big league debut in 2013 because of his incredible speed and projections of what he might achieve if he could harness it offensively. The Reds and the statistical community wonder how many bases he might steal and runs he would score if he could find a way to consistently reach first base.
Hamilton's evolution as a hitter has been a mixed bag, but there's no denying his efficiency: If he can cover the 90 feet from home plate to first base, he's a strong threat to go the full 360.
Hamilton is tied for 11th in the majors with 40 runs even though he ranks 127th among 171 qualifying hitters with a .305 on-base percentage. If he continues at his current pace, he'll finish the season with about 109 runs. Since the start of the live ball era in 1920, only two players have scored 105 runs in a season in which they logged an OBP of .305 or worse.
Any conversation with Hamilton's teammates invariably strays to mad dashes around the bases or frantic sprints in the outfield that test the limits of StatCast. Reds catcher Tucker Barnhardt recalls a California League game in 2012 in which Hamilton tagged up and scored on a pop fly to the second baseman in shallow right field. Reds coach Freddie Benavides, similarly, remembers the day in spring training when Hamilton raced out from shortstop and caught a ball at the warning track.

Mo Egger
Mo Egger delivers his unique take on sports on Cincinnati's ESPN 1530!
Read more