It Doesn't Feel Like The Andy Dalton Era Is Ending Any Time Soon.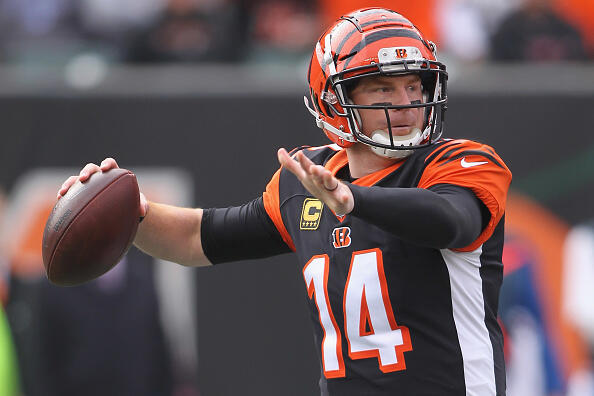 This was originally published in The Athletic...
I​ could​ save both of us​ a lot of time with​ this post-draft column by​ copying​ and pasting​ last​ week's​​ pre-draft column – you know,the one where I tried to lay out the case for the Bengals using the 11th pick to take Dwayne Haskins. Then I could add, "yeah, well they took someone named Jonah Williams instead, so nevermind" to the end of it, instead of writing another piece aimed almost entirely at Andy Dalton and what the Bengals will or won't do with their quarterback.
But that would be lazy, and while I'm not above cutting corners, it would also be unfair to the players the Bengals picked this weekend and the possibilities each of them brings to their new team. So in the spirit of fairness, and in the spirit of avoiding accusations of laziness, let's talk about them first.
From a pure player-acquisition standpoint, the Bengals had a pretty productive last few days and even though it might not be saying much, their roster is in better shape than it was when the draft began. For a team coming off of a historically poor season defensively, it does stand out that this year's class was weighted with so many offensive players, but that has more to do with the way the draft played out and the stockpile of talent, or lack thereof, at individual positions than Duke Tobin ignoring the team's biggest weakness. There's a lot to like about this draft judging solely by the guys the Bengals chose.
It's not far-fetched to believe that Jonah Williams, thought by many to be the best blocker in this draft, might already be the team's best offensive lineman. It's completely reasonable to think that, right now, Germaine Pratt is the team's best linebacker. Then again, they could've signed someone who's never even heard of football, given them a jersey with a number in the 50s, and he'd have a chance to be better than some of the guys who've lined up at LB over the past few years.
I watched just enough of Trayveon Williams at Texas A&M to be excited about his potential, and even if one draft won't solve all of their problems on the O-line or at linebacker, they've at least used this year's picks to acquire multiple players for position groups that badly needed help. N.C. State quarterback Ryan Finley could end up being more ready to step in and play in games, if needed, than any non-veteran backup quarterback the Bengals have added in years. And even if it feels like they reached when they used the 52nd pick to take Washington's Drew Sample, the addition of a blocking tight end does at least strongly indicate the identity Zac Taylor plans on having offensively. That's not an insignificant development if you watched recent Bengals offenses often struggle with what they were supposed to be.
It also says something about Andy Dalton, which in a way is odd. The Bengals used one of their draft picks to steer the offense away toward Andy throwing as much, yet they used the entire weekend to affirm the team's commitment to him as the starter.
Yes, here's the part where the column shifts, not only to Dalton but to the theme of draft weekend, which felt like a doubling down on their current quarterback, even as their most eyebrow-raising choice hinted at an offense that could be less-reliant than ever on him throwing. They could have used their 11th pick on Haskins, but didn't. They could have chosen to take Missouri's Drew Lock with the 42nd pick, but instead traded it and allowed him to go to Denver. (This doesn't disappoint me, by the way). Or they could have offered that pick to the Cardinals in exchange for Josh Rosen, who went to Miami in exchange for the 62nd selection, and still had a chance to take Sample on Saturday.
They instead chose Ryan Finley, whose absolute maximum upside is probably that of Dalton's, to be Andy's understudy and likely, very little else.
To read the entire piece, go to The Athletic.
(Photo: Getty Images)

Mo Egger
Mo Egger delivers his unique take on sports on Cincinnati's ESPN 1530!
Read more