The Mo Egger Blog: Reds At The One Quarter Mark.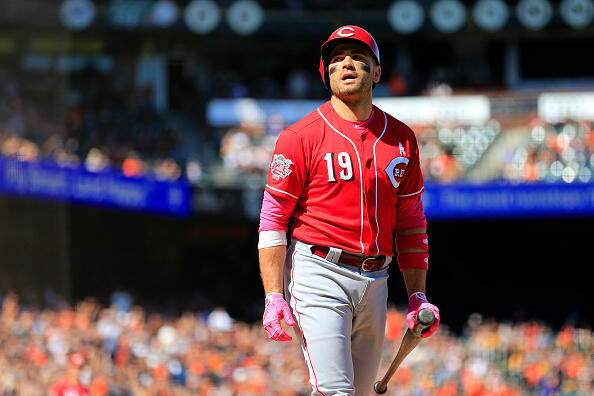 Stand by for some unbelievable sports commentary and insight on this here blog thing.
*The Reds are at the one quarter mark. Or maybe they were there on Saturday after game 40 instead of after yesterday's game 41. I don't know. I do know that there is more to like than not like right now when you look at the 25 men the Reds are using at the moment. The starting pitching continues to be quality, the depth continues to shine through, and the collective personality of the club is a damn good time.
That said, yesterday's loss was more than mildly frustrating, starting with the fact that they had three different leads, continuing with the blown opportunity in the eighth, and finishing with David Hernandez doing what David Hernandez usually doesn't do, which is help lose the game.
A 3-3 trips gives way to a two week stretch where the Reds will play 11 games against 2018 playoff teams that have a combined winning percentage this season of .610. If the idea is still for the Reds to be at least fringe playoff contenders, they'll have to tread a little water between now and Memorial Day.
The nagging questions, right now with the record at 18-23, are more about where this team would be had they actually been using their best 25 - meaning, obviously, their best possible outfield - instead of Mat Kemp (who they never really wanted) and Scott Schebler (who they know more about than they care to admit). That 1-8 start has torpedoed everything that's happened since, and has put the Reds in a place where they can ill afford another losing streak. There were so many close, perhaps avoidable losses across the first month of the season that you can't help but think but wonder where they'd be if not for their own self-sabotage.
This is a fun team to watch, with a mix of guys that's really, really easy to root for. The front office has done a nice job of building depth and developing a team full of guys that really seem to enjoy playing with each other. If only they hadn't undermined their own work.
*Two pieces from the past, from The Athletic, that I'd like to steer you toward...
Joey Votto is not getting any younger, and the Reds need to be ready for it. Worth keeping in mind as he continues to not look and play like Joey Votto.
Mick Cronin's successor will face unprecedented expectations. Worth revisiting given the current unease among many UC fans. Replacing Mick Cronin was/is never going to be easy, even if so many are just realizing that now.
Thanks for reading, and subscribing.
*FC Cincinnati scores, and wins. Here's a soccer opinion: The team I watched on Saturday afternoon looked a hell of a lot faster and better prepared than the ones I'd watched over the previous two months. They played looking like a team that, for the first time all season, seemed un-burdened. It was fun to watch.
Here's another soccer opinion: FC Cincinnati needs more day games.
*If you watched Kawhi Leonard do his thing for the Toronto Raptors last night, you saw one of the most legendary playoff performances the NBA has ever treated us to, at the end of a grueling, intense series that culminated in a fantastic back-and-forth game seven. His last season of discontent and injury in San Antonio almost made people forget that not too long ago, some viewed him as a top five player in the league. He carried the Raptors in this series, doing more heavy lifting than usual in the fourth quarter last night, propelling Toronto to an Eastern Conference Finals series that should be really, really good.
FWIW, I'll go Bucks in seven.
And in Curry v. Curry, I'l take the Warriors in five pretty good games.
Incredible analysis you're getting here, right?
*Harrowing experience on Saturday night: I took ubers to two different functions. The first one was a 20-minute to a brewery. The driver was listening to a podcast of a show we did on Wednesday. He never said a word as he listened rather intently while I cringed in the back. Here's my synopsis: We need to take more phone calls.
*Delightful experience on Saturday night. This place. Go there.
Radio Show: The Reds' front office is doing something important. Find out what it is, and more, today starting at 3:05 on ESPN1530.

Mo Egger
Mo Egger delivers his unique take on sports on Cincinnati's ESPN 1530!
Read more