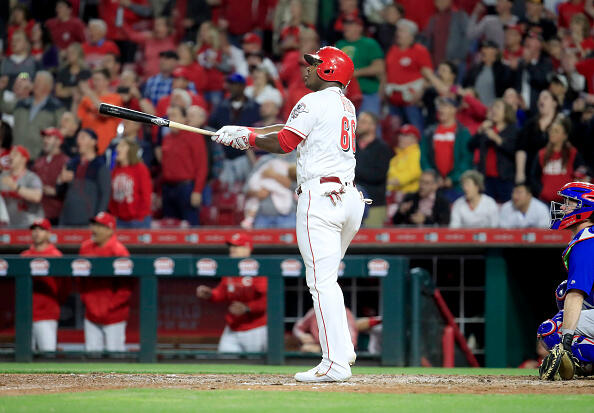 (Photo: Getty Images)
The guy behind me in line this morning to buy coffee told me that last night's Reds/Cubs game was the "game of the year." He didn't clarify as to whether he meant in all of baseball, all of sports, or just on the Reds' schedule to date. But I'll go with it, mainly because the guy offered to pay for my coffee, which was nice.
*Thom Brennaman made reference to this a few times during the later innings, after Eugenio Suarez's majestic opposite field bomb tied the game in the eighth: last night's game was one game that, as it crawled on, became almost imperative to win. The Reds overcame themselves - with shaky baserunning, terrible fielding, and what felt like a general inability to keep Cubs hitters from leaving the yard - escaped a jam in the top of tenth (there are managers who wouldn't have pulled Raisel Iglesias in favor of Amir Garrett), got some luck in the bottom half (Votto should've been thrown out at third), and finally, spared us all sorts of gushing over Joe Maddon's five-man infield when Yasiel Puig turned a game that was often maddening, into one that the guy at Dunkin' Donuts exclaimed was the best of the year.
With an awesome bat-flip to top it off.
Maybe it will mean something. Perhaps not. But in the moment at least, the first Reds' victory over the Cubs this season felt significant. We'll see.
*Here's my two questions for those already exasperated with David Bell:
1) Don't you think that if David Bell was fired, the Reds would replace him with someone who manages and sees the game similarly. (They would)
2) Is your issue with David Bell specifically, or the way baseball is managed in 2019? If you think about it, the answer is probably the latter.
*I'd like to know where the NCAA gets off telling a college football player who admits to dealing with mental illness that his "circumstances do not warrant relief." Maybe you, dear reader, can explain.
*Isn't a scenario involving Andy Dalton having a career year while the Bengals still finish in last place the worst possible thing that can happen?
*If you had Brook Lopez draining a whole bunch of threes to bring his team back in an NBA Playoff game on your list of things you thought you'd see, you are all by yourself.
That happened last night, and on a night when Kyle Lowry was spectacular, when the Bucks kept throwing up bricks, and when The Greek Freak (I'm not bothering with his last name) was, by his standards, pedestrian, if you're the Raptors, A) congrats on being more than just one person B) you have to win that game if you're going to win the Eastern Conference Finals.
*Speaking of the NBA. A few of you have asked. Many of you did not. The Knicks not geting the top overall pick in the NBA Draft isn't the apocalyptic development many are making it out to be. They had an 86 percent chance of not getting the number one pick, which means that getting upset at the ping-pong balls not falling your way is like losing at a casino and getting pissed that the house advantage screwed you.
They still defied the odds, by getting a top-three pick, and while the dropoff from Zion Williamson to any prospect in this class is steep, RJ Barrett would've been number one overall in any number of recent drafts. He can be - should be - a very good pro. They have loads of cap space, a prime draft spot, some extra picks in future drafts, and they still might be able to compile enough assets to swing a trade (though not the way the Lakers can). They room for two max slots, and look, right now it looks like Kevin Durant isn't even needed by the Warriors.
My favorite NBA team is in a better place than it was 48 hours ago. Other who root for them need to step back off the ledge.
Here's some stuff to read....
The fuzzy math of the NCAA Transfer Portal.
Paul Dehner Jr.: Joining The Athletic a new dream come true.
Joey Votto Falls From The Reds' Pedestal.
Here's a fantasy glimpse of what a 2020 NFL draft lottery could look like. (I need this to happen, BTW)
Radio Show: Let's talk about David Bell. And more. 3:05. ESPN1530.
Follow me on Twitter:@MoEgger1530.
Email me:mo@espn1530.com