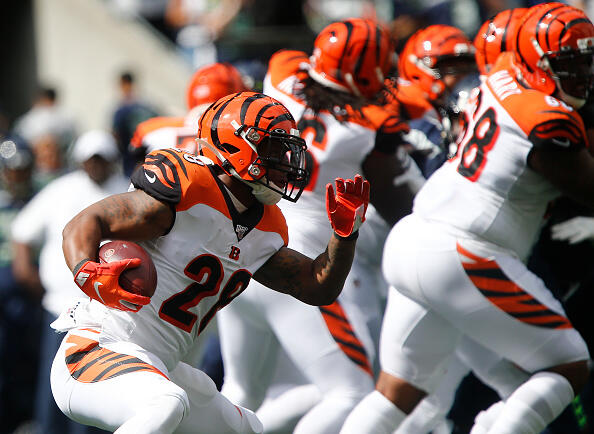 This was originally published in The Athletic....
The outcome of Ezekiel Elliott's holdout was so obviously predictable despite all the drama. The Cowboys were always going to give "Zeke" the increases and guarantees he demanded. Elliott was always going to join his team for the start of its season. The new contact was always going to place him atop the list of highest-paid running backs. And once this entire dumb ordeal ended, I was always going to write a piece that used Elliott's freshly signed deal to talk about Joe Mixon and the Bengals.
So here we are.
But first, a little more on Elliott, whose extension is commensurate to both his production across his first three NFL seasons and his place in the hierarchy among the league's best backs. It is also reflective of his importance to a Dallas franchise he's helped resurrect since being drafted the No. 4 overall pick in 2016. You may or may not believe that Elliott is the NFL's best running back — I say he is, by the way — but no one who's followed his career could argue that it's unreasonable for Elliott to be highest-paid player at his position.
What's made the Elliott contract issue at least marginally interesting for non-Cowboys fans like me is less about how he's played and what kind of numbers he's posted and more about how much he's been used and will be utilized as the primary cog in Dallas' offense moving forward. And years of hard evidence strongly suggest that enormous dollar figures for a running back represent an unsound investment.
If you follow the NFL, you know this by now: comparatively speaking, running backs decline quickly. The precise number of carries, touches and absorbed hits at which a particular running back may start to fade varies depending on any number of factors, but there are clearly limits to the amount of usage and physical punishment each NFL runner can endure before his production and, eventually, his value to the team begin to drop.
Elliott, since his rookie season in 2016, has accumulated over 1,085 carries and receptions combined in 44 regular-season and playoff games. His 381 total touches led the NFL last season and twice in his three seasons, he's led the league in carries. Elliott's physical style was brought to Dallas from Ohio State, where he was Urban Meyer's workhorse, totaling more than 700 touches over his final two seasons in Columbus.
Add to the past five years the likely workload Elliott will assume over the next two seasons and by the time his new extension fully kicks in, we could be talking about a 26-year-old running back who just had seven seasons of high usage. He will have something in the neighborhood of, I don't know, 2,500 combined touches. There will be legitimate questions about whether Elliott's next few thousand touches have any chance of being nearly as productive as those already listed on his NFL.com page.
So now, the Mixon part.
To read the entire piece, go to The Athletic.
Photo: Getty Images