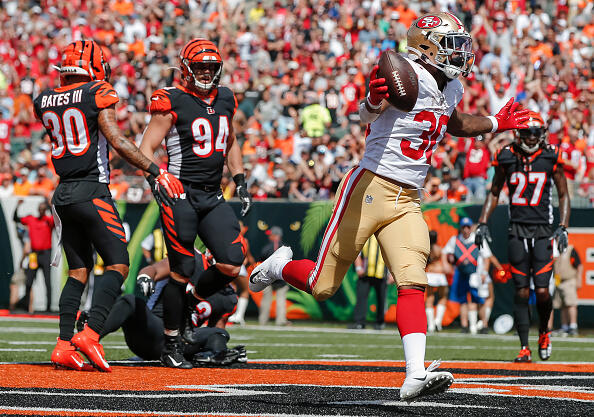 (Photo: Getty Images)
The Bengals got smoked by the 49ers. The people wrote things. Here's the best of what was written.
Paul Dehner Jr., The Athletic...
Taking a look around as the final seconds ticked off, Taylor had an undeniably clear view of what he inherited. A defense easily rendered ineffective and overwhelmed to the point of giving up 500 yards in three quarters. An offensive line comprised of spare parts and busted first-round picks, including last year's first-rounder Billy Price playing next to the guy who displaced him at center and holding after getting bulldozed to the ground to negate a touchdown pass.
"Last week I said we shot ourselves in the foot," tight end C.J. Uzomah said. "This time we pretty much set a grenade off and said run for the hills."
A fan base uninterested in any of it collectively shakes its head and mutters something about Dave Shula on the way down the L-scalator.
Winning them back over after this will be an excruciating uphill climb. It may be the most lasting, damaging effect of what was one John Ross garbage touchdown away from being the worst home-opening loss in franchise history.
If there was any good sign for the Bengals(0-2) in this one, it was the continuation of John Ross' hot start and Tyler Boyd's playmaking ability. Although Ross was the beneficiary of the 49ers' prevent defense in the fourth quarter -- a 66-yard catch and run that was made with his speed -- he ended the day with four catches for 112 yards and is certain to maintain the confidence of a second-round pick who had disappointed before 2019. As for Boyd, his day of 10 catches for 122 yards could've been better has a holding penalty not brought back a would-be TD reception. Boyd was sure-handed in catching all 10 of his targets, and was the only real bright spot of an offense that was frustrated all day.
One week after a strong debut, Bengals defensive coordinator Lou Anarumo will understandably be the target of scrutiny after a historically bad outing as the Bengals surrendered 572 yards of total offense, the fifth-highest amount in franchise history. Poor tackling and execution were two of the defense's problems. Bengals defensive end Carlos Dunlap said they struggled with the amount of motion and misdirection the 49ers used and failed to create the necessary leverage at the line of scrimmage. It was one of the factors that led to the 24-point loss. "We played to their game plan, and we didn't stop the bleeding -- ever," Dunlap said.
Apparently, Cincinnati's opener in Seattle was fool's gold for Bengals fans, because if Week 2 proved one thing it's that the team's biggest problems from 2018 -- their defense and their offensive line -- still haven't been fixed. The Bengals, who had the worst defense in the NFL last season, looked helpless against the 49ers, surrendering 572 yards of total offense to San Francisco. It was the second highest yardage total the Bengals have given up since 2007. The Bengals offensive line also struggled. Not only did Andy Dalton get sacked four times, but the Bengals only got 25 yards on the ground, their lowest rushing total since 2012.
Jay Morrison, The Athletic....
The weather felt like July. The wither felt like November.
You remember last November, right? That's when the Bengals gave up at least 500 yards in a third consecutive game, resulting in the firing of defensive coordinator Teryl Austin and, ultimately, a third losing season in a row and the dismissal of head coach Marvin Lewis.
It's what bought Zac Taylor and a New Dey to Cincinnati.
There were questions about how a first-time head coach with a first-time offensive coordinator and a first-time defensive coordinator would fare in trying to turn around the franchise. Then Seattle happened and the Bengals surprised everyone by how well they played in a one-point road loss and optimism oozed.
Then San Francisco happened. Then 41-17 happened. Then quotes happened.
"They got us rattled," cornerback Dre Kirkpatrick said.
"This is not the type of team we are or want to be," defensive end Sam Hubbard said.
"We got punched in the mouth today at home, and we never fought back," defensive end Carlos Dunlap acknowledged.
The Cincinnati defense struggled as a unit, but Geno Atkinswas in top form, giving the 49ers fits as both a pass-rusher and run defender. Atkins' power was on display all day, as he regularly forced 49ers linemen deep into the backfield to disrupt rushing lanes and pressure Jimmy Garoppolo. San Francisco was twice penalized for holding Atkins, an indication of how dominant he was when facing one-on-one blocks.
Four-year veteran cornerback was rarely targeted on the day and flashed his coverage skills early in the second quarter when he intercepted a pass from Jimmy G. However, Jackson and his fellow defensive backs failed to do much when San Francisco targeted the perimeter with screen passes or with the running game. The struggles of Cincinnati's secondary were a big factor is the 49ers' rushing success.
had a quiet day for most of the game until garbage time when he caught pass and took it 66 yards to the house, leaving several 49ers defenders in his dust. He was targeted earlier in the game on a go route, but went stride for stride with him on the incompletion, and Ross also had a drop on a pass at the line of scrimmage.
was conservative throughout the game, and he wasn't particularly accurate when he did push the ball downfield. He seemed indecisive when forced to go through reads and made some poor decisions resulting in turnover-worthy plays
Derrik Klassen, Football Outsiders...
Between this week and last week vs. Seattle, I'm actually sort of impressed by Zac Taylor's offense. They just don't have the dudes up front to make it work right now and Andy Dalton is, well ... I don't need to go any further. We all knew this was a Year 0 for Taylor, so the best you could hope for was that he proved himself a capable offensive mind. I think he has done a fine job of that so far.
The Bengals were really good in Week 1 against a good Seattle team, and so I'm willing to give them a mulligan for Game 2 of the Zac Taylor era. But that one got ugly.
A week after the defensive line dominated the Seattle Seahawks the exact opposite happened against the 49ers. The Bengals were manhandled at the point of attack, which is big reason San Francisco rushed for 259 yards and the Bengals didn't record a single sack after they held Seattle to 72 yards rushing on 25 attempts and recorded four sacks, three by the defensive line.
"We need to get off blocks and make tackles," said Taylor. "That was the biggest thing in the running game that I saw. It wasn't anything that we hadn't seen before, but we need to be physical and get off the blocks and we can't miss open tackles."
Against Seattle the Bengals top two tacklers were defensive ends Sam Hubbard with 10 (including two sacks) and Carlos Dunlap with seven (including a sack), but against the 49ers no defensive lineman was in the top four tackles on the team.