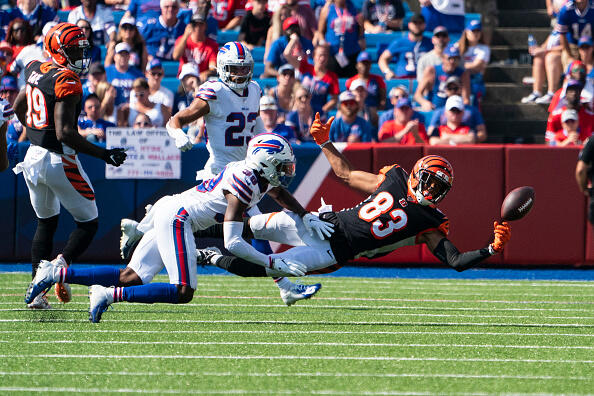 This was originally published in The Athletic.
The Cincinnati Bengals don't have enough good players.
OK, so that's not only a painfully obvious statement, but also one that comes across as a cheap reaction to both Sunday's brutal first-half performance in Buffalo by the Bengals and their 0-3 start. It's a statement that must be made, though, before we get to the real issue here: that the Bengals are winless three games into Zac Taylor's first season as head coach isn't much of a surprise.
Yes, they've dealt with injuries, and sure, they've had their share of misfortune. But if you want to examine why the Bengals have tripped over themselves out of the gate, look no further than the folks who were tasked last offseason with swapping out the underperforming players from any of the previous three seasons and replacing them with upgrades.
There is the issue. The Bengals have a new coach, whose acumen and leadership can't fairly be judged three games into his tenure, but regardless of whether Taylor does or doesn't know what he's doing, he has been ill-equipped to have immediate success.
There are deficiencies all over the roster, starting with an almost shocking lack of speed on defense. Linebacker play has been a major weakness for years, in large part because the Bengals do not have someone playing the position who fits the 2019 prototype, possessing the speed and athleticism to make an impact regardless of down, distance or what personnel the offense is utilizing. In a vacuum, a team being exposed as weak at linebacker is a problem, but when it becomes the kind of recurring issue that has plagued this franchise for years, the problem becomes less about the men playing linebacker and more about the people in charge of choosing them.
There are other problems, of course. The secondary has been a disappointment, and even if young players like Jessie Bates and Williams Jackson still have upside, the lack of playmaking by the defensive backs has been eye-opening.
The offense is a mess, one made worse by injuries, but even if Jonah Williams and Cordy Glenn were healthy, it's doubtful that the offensive line would have been much of a strength. A.J. Green's ongoing absence surely hasn't helped, but even if the Bengals ever operate with a full complement of skill players, their road back to relevance is hindered by a big roadblock — a quarterback, Andy Dalton, whose skills are limited.
Forget the nuts and bolts of the roster, though. The pressing issue in this supposed "New Dey" era of the Cincinnati Bengals is how little was actually done to address weaknesses during an offseason that was supposed be defined by change.
To read the entire piece, go to The Athletic.