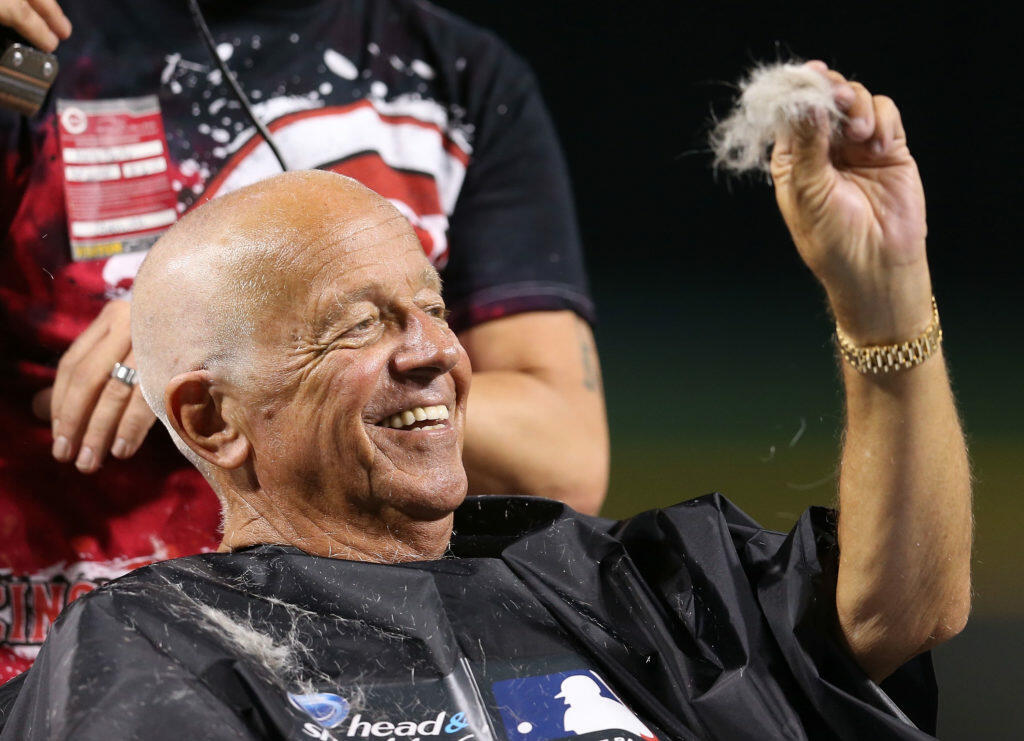 This was originally published in The Athletic.
I'm hoping for two things to happen as Marty Brennaman conducts his final Cincinnati Reds radio broadcast.
I'm hoping that the sense of dread I've felt as Marty's finale has drawn closer doesn't give way to sadness and wistfulness that last so long that they sap whatever joy I'm supposed to derive from the listening experience. I'm fearful that saying goodbye to a voice that's provided the narration for nearly every meaningful stage of my life is going to be even more difficult than I anticipated. It's cool that the Reds are giving those of us that will be attending the Reds' home finale free transistor radios so we can listen to Marty's final notes. Mine better come with tissues.
I'm also hoping that something during the game goes wrong.
I'm not talking about something going wrong during the broadcast – that should, and will sound pristine – and I don't want something to happen that's somehow significant enough to compete with Marty's farewell, as if such a thing is possible.
I'm talking about something relatively mundane during the ballgame itself. A Reds failing. A guy not getting a big hit with runners on base. A fielder committing some sort of miscue. A shaky pitching performance. A questionable managerial move. Something not good.
Something for Marty to spend at least little time railing on. Something that gives him a chance to tell it like it is, just one more time. A final chance to speak with unfiltered, unafraid, honesty. One more opportunity, on a day that's all about him, to put the listener first.
Marty Brennaman is one of the finest technical announcers in the history of any broadcasting medium, a brilliant descriptor of the action on the field whose genius is coloring in details and painting pictures that as a listener, I can't see. Those things alone are enough to earn the career's worth of accolades that culminate with a retirement that's appropriately turned into a civic event.
But he also possesses the one true gift that any of us who've sat for even a few minutes behind a microphone spend lifetimes hoping to obtain, even just temporarily. He is one of a handful of radio performers that can hold my attention as a listener, even when I'm no longer supposed to be listening. We can all recite some of Marty's most famous calls, but it's one thing to rise to the occasion when the moment demands, it's another thing to be able to weave storytelling and reliability to the audience in between the balls and strikes during the banality of a long baseball season.
My favorite Marty on-air moment doesn't involve a milestone hit or memorable individual feat. It's not a call of a signature moment in Reds history. It actually came during some random midsummer game in 2014 when he told a story about traveling to Ashland, Ky., and stopping in a local tavern with his wife, checking out the score of the ongoing Reds game on TV. A man sat at the bar complaining to Marty about the announcers, completely oblivious to the identity of the person he was talking to. It was a story filled with amusing asides and anecdotes, one he unfolded across an entire inning, with the game action and commercial breaks pushing back the payoff long enough that once he was finished telling it, I'd long gotten to where I'd been driving to and had just spent 10 minutes or so parked in a driveway because I had to hear how it ended.
There aren't many people on the radio or in other more modern forms of mass communication that can keep me sitting at attention even after I've already gotten to where I need to be.
The greatest thing about listening to Marty, though, is that being in his audience doesn't require a bullshit detector.
To read the entire piece, go to The Athletic.
(Photo: Getty Images)