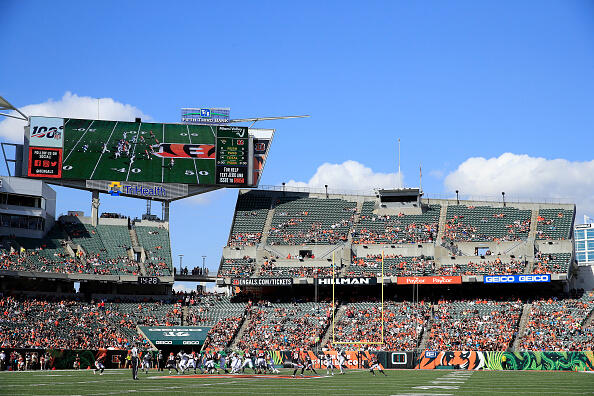 This was originally published in The Athletic.
In the grander context of the way the NFL works, what the Bengals did on Tuesday should not have caused much of a stir. A team still searching for its first win as Halloween approaches replacing its struggling veteran starting quarterback with someone younger isn't the most earth-shattering development. In fact, the reaction around much of the country to Andy Dalton's benching was more "what took so long?" than anything resembling surprise or criticism.
Yet given both Dalton's longevity and that it's been more than 17 years since the Bengals have made a non-injury-related in-season quarterback change, Tuesday's news was, in the smaller context of the way this franchise works, more than a little jarring.
The announcement that Ryan Finley will be the starting quarterback when the Bengals return from a bye week took place against the same-day backdrop of the NFL's 4 p.m. trade deadline. That came and went with a whimper across the league, with the Cincinnati roster predictably looking exactly as it did when the day began. A.J. Green is still a Bengal. So are Geno Atkins and Carlos Dunlap. Tyler Eifert remains. As does, even if it's against everyone's wishes including his own, Cordy Glenn. An 0-8 team that desperately needs a talent overhaul stood pat at the deadline, meaning that the same day they did something that for them is drastically different, the Bengals remained very much on-brand.
I'm not going to pretend that I know the particulars of every trade overture that was made to Duke Tobin, or even that I don't believe that many observers seemed to exaggerate the collective value of the trade-worthy assets the Bengals have. It is entirely possible to imagine that whatever offers the Bengals did receive were underwhelming. More important than the particulars of any deals that didn't get done however, is the prevailing theme that dominated a day in which the Bengals made one of their biggest in-season moves in years: Their stubborn unwillingness to be open-minded enough to entertain possible offers and a complete refusal to aggressively pursue moves designed to push forward.
To read the entire piece, go to The Athletic.
(Photo: Getty Images)