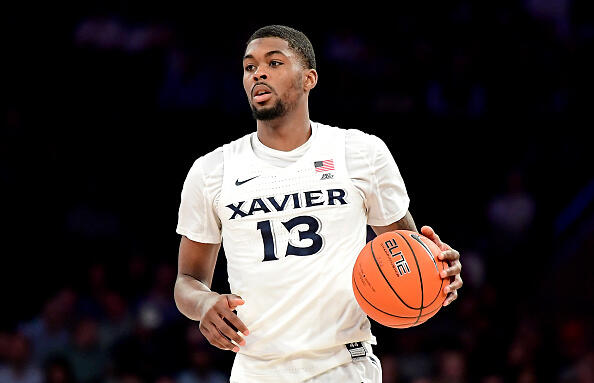 This was originally published in The Athletic.
I believe there aren't many teams that are more interesting entering the season than the Xavier Musketeers.
Year 1 under Travis Steele was like two seasons wrapped into one. That wasn't totally unexpected given there's usually an acclimation process required when there's a coaching change, but the first two-thirds of 2018-19 saw the Musketeers play some of the most uneven basketball in the program's recent history. Heading down the stretch, Xavier wasn't even considered a possibility to make the NCAA Tournament, and a double-digit-loss season in Big East play seemed inevitable once XU fell to 3-8 in conference and 11-13 overall.
But Steele's guys seemed to buy in over the final third of the season. The Musketeers found ways to win close games, and they started to look like a collection of guys who had each found their roles.
In the semifinals of the Big East Tournament, the Musketeers were one overtime away from playing for the league's automatic bid, which would've represented one of the more impressive in-season turnarounds in recent college hoops history, locally or otherwise.
With Year 2 of the Steele era upon us, there is a lot to sort through, from a lengthy list of new guys added to the core of Naji Marshall, Quentin Goodin, Paul Scruggs and Tyrique Jones to a calmer offseason brought on by less upheaval on the coaching staff and the roster.
As the season tips off, I posed to Shannon Russell the five most burning questions I have about this year's Xavier squad.
1. Every coach whose team goes on a foreign trip in the summer will talk about how much further ahead their team will be once practice begins in the fall, and Travis Steele has been no exception. The offseason had a different type of feel from a year ago, which was to be expected. That said, Steele had to do some scrambling when he initially succeeded Chris Mack to get a staff hired and piece together a roster, including a trio of seniors who were new to the program and to Xavier's level of college basketball. 
So with the coaching regime firmly in place, some very positive recruiting momentum that's netted some promising newcomers, and a core of returning players that's already been through a lot, logic would dictate that the Musketeers would be far ahead of where they were a year ago even without the trip to Spain. Just how much further along and stable are the Muskies than this time a year ago?
To borrow a cliché, it's night and day.
Steele has said multiple times that Xavier is "way, way, way ahead of last year" at this time. Part of that is stability. Last offseason was practically a three-ring circus with a coaching change, roster shuffling, three grad transfers and three new assistant coaches. Now there is staff continuity. Assistant coaches Jonas Hayes, Dante Jackson and Ben Johnson don't have to ask how Steele wants something handled; they just do it. They've had more than a year to build synergy and take a team through a season's worth of practices. Steele's transition from associate head coach to head coach also is a thing of the past. He has the attention of his players.
Speaking of which, these players have already exhibited strong chemistry. Not to impugn last year's group, but several Musketeers said the addition of seven newcomers has felt incredibly easy. You could probably attribute some of that to the Spain trip, including XU's 10 practices at Cintas Center, and the willingness of juniors and seniors to acclimate the new players rather than create a divide.
Roster depth covers a multitude of shortcomings, another contrast to last season. A deeper bench doesn't mean Xavier will be the prolific shooting team it was two years ago, but it does help to have multiple scoring options. Naji Marshall is shooting with more confidence. Paul Scruggs still has untapped potential.
It will be interesting to see how all the pieces fit together and the way the group responds to adversity.
To read all five questions and answers, go to The Athletic.
(Photo: Getty Images)