Blog Of Football Guesses: It Never Ends Well.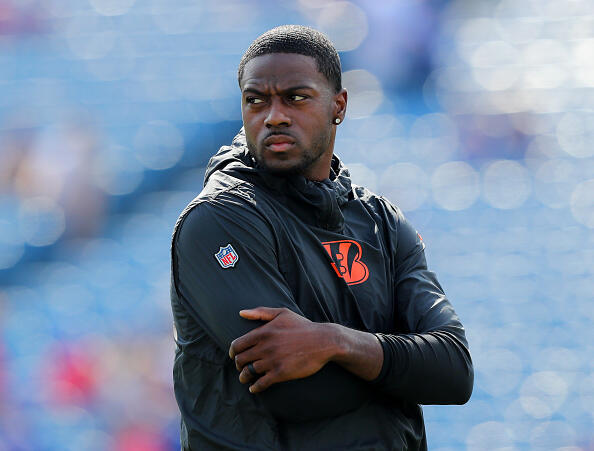 Andrew Whitworth. Carson Palmer. Willie Anderson. Corey Dillon. Chad Johnson. Takeo Spikes. Boomer Esiason. However it ends, whenever it ends, it never ends well here for nearly every really good players the Bengals have.
It feels like it won't end well between AJ Green and the Bengals.
Because the Brown family was unwilling to hit try to move AJ when they should have - which was way, way before last week's trade deadline - they're stuck with having to do one of three things, neither of which seem ideal.
They can let him walk, and get nothing in return beyond a compensatory pick.
They can franchise tag him so we can deal with even more uncertainty about what AJ's future holds.
They can pay big money to a soon-t-o-be 32 year-old wide receiver with extensive injury issues who's game is probably not going to get any better with age, even if it doesn't get much worse.
None of those three options are exceptionally appealing, thanks in large part to this franchise' inability or unwillingness to be proactive in rebuilding. As a result, the Bengals are behind where they should be, with no clear direction, very little leadership, and a franchise icon whose time in Cincinnati seems destined to end the same way it has for so many great players that came before him.
Good times, indeed.
NFL tilts of interest...
Cincinnati (10.5) over Baltimore. I see absolutely no pathway to the Bengals winning, but they have been decent against big numbers this season, with covers as 9.5, 6, and 10.5 (against the Ravens) underdogs, and they came pretty close to a backdoor cover against the Rams in London. I could see one of two things happening: A spirited start by the Bengals that we'll all attribute to the change at QB, or a late, cheap touchdown by the Bengals that we'll attribute to Ryan Finley finally getting comfortable. Plus, teams that have beaten the Patriots one week and have given 7 or more points the following week are 0-8 since 2003. An 0-9 record and mathematical elimination from the AFC North race by 4:00 on Sunday seem inevitable, and I'm not investing that heavily in this, but yeah, despite the face you're making as you read this, my very, very small amount of money is on the home team.
Ravens 24 Bengals 16
Tampa Bay (-4.5) over Arizona. I'll take the better of the two shaky pass defenses. When Kyler Murray finally throws a touchdown pass on the road, I'll pick the Cardinals on the road.
Cleveland (-2.5) over Buffalo. Bills Mafia is feeling it. Browns fans are salty. The real numbers here should be the number of arrests and ejections. The Bills's six wins have come against the Jets, Giants, Dolphins, Bengals, Redskins, and Titans. The Browns are a mess, but they're not as bad as it's suddenly become fashionable to make them out to be, and even if I have to assume that clueless Freddie Kitchens knows how to use them, they'll have both Nick Chubb and Kareem Hunt on Sunday.
Detroit (+2.5) over Chicago. The Bears have a good defense. They do not have last year's defense. And they're getting easier to play defense against by the week.
Carolina (+5.5) over Green Bay. There's a little too much Christian McCaffrey for the Packers to cover a number that's a shade too high. I may wait until the last minute to see if it climbs, but I like the Panthers.
College tilts of interest....
Cincinnati/UConn under 54.5. I don't love the 35. The Huskies have covered big numbers against UCF (42) and Houston (22), and the Bearcats have been a little too uneven on both sides to feel good about laying five touchdowns, even at home against one of the worst teams in FBS. I believe Cincinnati will win handily, but I also think we could see enough Bearcats backups to allow a touchdown cheap enough to blow any potential cover. I still mildly like the under, however.
Northwestern (-2) over Purdue. The Boilermakers are starting a former walk-on and have some of the worst special teams I've seen. I'll gladly lay less than a field goal.
Kentucky (-1) over Tennessee. The Vols have been playing well, but I don't think they can corral Lynn Bowden, and the Wildcats have been at least semi-proficient in not giving up big plays in the air.
Alabama/LSU first half under 31.5. In the most important game of the weekend for Bengals fans, I don't have a feel for which team covers, but just because the Crimson Tide don't have the best defense in college football doesn't mean the D isn't very, very good, and even if we assume that Tua Tagovailoa plays, I'll wager on the side of him either starting slow or Nick Saban going run-heavy to start.
Penn State (-6.5) over Minnesota. The Gophers are fool's gold, with a weak schedule that's included bad defensive performances against Purdue, Georgia Southern, and Fresno State. The Nittany Lions have given up more than 13 points just once. I'm not sure they give up that many this week.
NFL Mark in 2019: 29-19
College Mark in 2019: 27-23-1
(Photo: Getty Images)

Mo Egger
Mo Egger delivers his unique take on sports on Cincinnati's ESPN 1530!
Read more