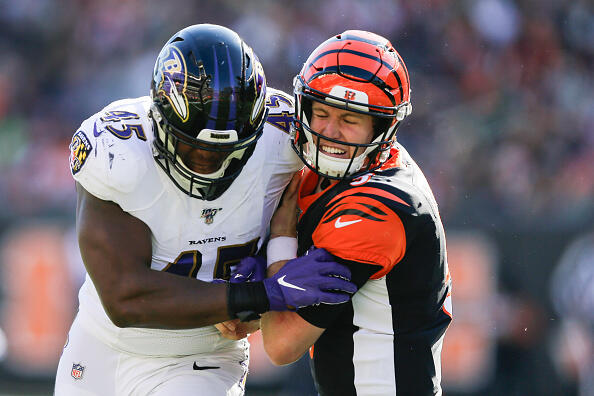 (Photo: Silas Walker/Getty Images)
*In nearly every conversation I've had about what the move the Bengals made at quarterback after their London trip, eventually someone would ask what would happen if Ryan Finley blew us all away with great performances. Would there still be the same urgency to use next year's first round pick -possibly number one overall - to draft a quarterback?
I think we have our answer. Finley played like a rookie backup quarterback yesterday. He made some nice throws. He also telegraphed some passes, including one that ended up in Marcus Peters' hands for one of the easiest pick-sixes he'll ever have. Finley was saddled with a bad offensive line, a lack of quality receivers, and a coaching staff that seems more like innocent bystanders than anything, but if you were clinging to the idea that Ryan Finley possessed some previously unforeseen ability to establish himself as a franchise quarterback, I say you can stop clinging.
Even after one game.
*I saw enough of the way Joe Burrow played against Alabama that I'm sold. I don't want to get too hyped about the Bengals possibly taking the LSU Heisman candidate for a couple of different reasons.
A) The Bengals could still screw up having the number one pick. I doubt they will, but it's possible.
B) The draft is five months away and we will inevitably get to a point when Burrow's game will be so picked apart that some will latch onto whatever flaws in his game exist, which will be exhausting.
C) Baker Mayfield. Sam Darnold. Carson Wentz. Jared Goff. Josh Allen. Jameis Winston. Marcus Mariota. Some of these guys will end up being fine players. In fact, some of them are. Each has been the next big thing only to regress, level off, turn into a pumpkin, get hurt, etc.
There have also been Pat Mahomes, DeShaun Watson and of course, Lamar Jackson. Three quarterbacks that it feels like we can all agree on. But right when it feels like a quarterback has arrived as a franchise-savior, something not good seems to happen, proving that we are way, way too quick to hand down final evaluations of these guys.
The next quarterback of the Cincinnati Bengals will come to town burdened by enormous expectations. In fact, he may be more responsible for the Bengals getting a new stadium lease done than anyone currently working in Paul Brown Stadium. I can't wait to start talking about who the next QB is, what he'll do, and whether the Bengals can successfully build around him.
But it already feels like the hype for whomever it is - and put me in the pro-Burrow camp - is already a little too much.
*I tweeted about this sequence yesterday....
Not exactly some of Zac Taylor's best work. More evidence to suggest that he's drowning in his new job.
*AJ Green. Andy Dalton. Ryan Finley. The offensive line. All meat shields for a defense that's almost comically bad, and a front office that absolutely should not be forgiven for bringing last year's unit back. What the Ravens did yesterday was ridiculous. Triple options to a backup quarterback. Multiple throws to tight ends that badly exposed how bad the Bengals are in the middle of the field. Lamar Jackson undressing linebackers. This. Front. Office. Brought. This. Defense. Back.
*Lamar Jackson. (Sigh.) (Swoon.)
*Cats roll. Clean effort against a UConn team that might be the worst in FBS college football. Not much in the way of analysis is needed. Mike Bohn was about the game, much like I spent the night at my house the day my first wife and I decided to get a divorce. It was weird.
There's today's blog.
Radio: Tony Pike and I have the Tony and Mo Football Show today at the Sam Adams Taproom in OTR. Join us!