Luke Fickell Has A Really Good Gig At UC.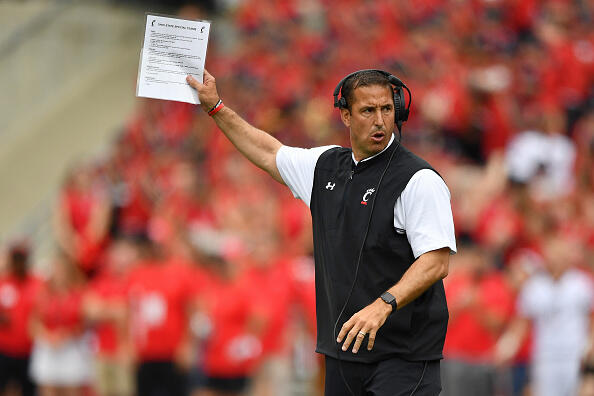 This was originally published in The Athletic....
Only Luke Fickell truly knows what compelled him to stay at the University of Cincinnati instead of jumping to take over the football program at Michigan State.
Maybe the money wasn't enough.
Perhaps being tasked with toppling Ohio State's Big Ten dynasty lacked appeal.
It could've been that for all of his successes in East Lansing, and despite his insistence that candidates would "crawl" to the MSU campus just to have a chance at coaching the Spartans, Mark Dantonio left the program in such disrepair that assuming the responsibility of fixing it isn't all that alluring.
Or we could just take Fickell at his word and his decision to stay did indeed come down to his family loving it here so much that moving elsewhere, or for the moment anyway, wasn't worth climbing one or two rungs on the college football coaching ladder.
Either way, Fickell coaching the Bearcats for a fourth season is exceptionally welcomed news on a number of levels. UC will have a roster talented and deep enough to be considered preseason favorites in the American Athletic Conference. And given that the AAC's champion has qualified for a New Year's Six Bowl Game after four of the past five seasons, there will be legitimate hopes for UC to nab its most high-profile bowl game since the 2009 Bearcats made it to New Orleans. The expectations for, and the excitement surrounding, the 2020 season should be massive.
There's also a factor that's purely emotional. Let's face it, being a supporter of UC sports usually means gearing up for the next goodbye. Neither Dantonio, Brian Kelly nor Butch Jones made it to a fourth season in Clifton, each opting to parlay different levels of success into more lucrative gigs elsewhere. Was it easy to understand why they'd leave? Sure. Did it feel at least a little like being rejected every time one of them would leave Cincinnati behind? Yes.
Does it feel nice to watch someone else get the "it's not you, it's me" treatment? Absolutely.

Mo Egger
Mo Egger delivers his unique take on sports on Cincinnati's ESPN 1530!
Read more