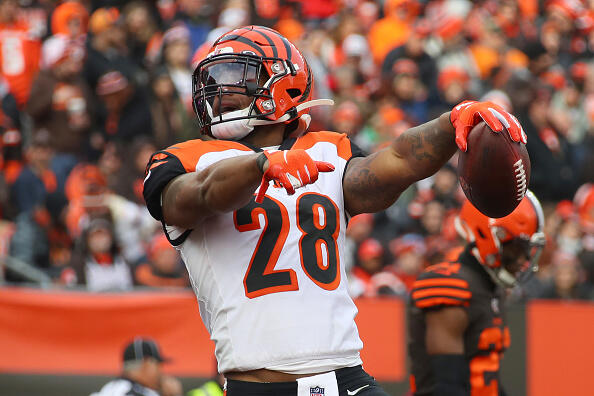 This was originally published in The Athletic...
So what's the best approach when it comes to a possible deal for Mixon?
I'd leave the decision up to Zac Taylor.
From the day he was formally introduced as the Bengals' head coach, Taylor has used the word "culture" more frequently than an anthropology professor, mentioning it twice in his initial press conference when he took over for Marvin Lewis more than 20 months ago. It's remained a popular Bengals buzzword throughout Taylor's tenure, with it being included in a February 2020 Taylor letter to season ticket holders that the team sent out last February, and then used again by Taylor during his early offseason sitdown with Paul Dehner Jr.
The coach again dropped his favorite wordwhen talking with reporters at the NFL Scouting Combine, then he cited among other things the impact of the team's massive free-agent haul on his team's culture in early April.And when talking about this year's draftees, his most-memorable quote about the Joe Burrow-led class was a very direct reference to the culture he's sought to build and maintain since coming to Cincinnati:
"When you say a guy with an edge, that's a guy who's not afraid to hold his teammates to a higher standard," Taylor said. "They have a killer instinct on the field playing against an opponent, but at the same time, that's not where most of your time is spent. Most of your time is spent in meeting rooms, on practice fields, or doing individual stuff. We're going to get to where we want to go if not just the coaches hold the players to a high standard, but the players hold themselves to that standard."
I don't know if Taylor will prove to be a winning NFL head coach, but I do know that he has made it abundantly clear that among the qualities he values in football players are the willingness to help build and maintain a certain team ethos, quality teammates, hard-workers, etc. As a fan, am I a little more interested in the tangible attributes Taylor's players bring to the table? Of course, but do I also understand why a new-ish coach tasked with repairing a franchise might feel he's best-equipped by having players who fit the – dare I say it – culture he's trying to establish?
Absolutely.
Taylor surely has an idea of what he's looking for in the players he'll be coaching, and if nothing else was accomplished during an otherwise miserable first season, he at least had a chance to identify which players fit what he's looking for. He's had a chance not only to figure out how Mixon fits schematically within his offense but to gauge things like his work ethic and whether he's a good teammate. He's watched a season's worth of Mixon play through weeks' worth of games the Bengals had no chance of ever winning, and he's had a chance to determine whether the player will be among those willing to buy into the system and the culture he's trying to establish.
If Taylor has determined that Mixon is an important component of getting a winning culture established, that's all I need to hear.
To read this entire piece, go to The Athletic.
(Photo: Getty Images)