Three Things: The Bearcats Need To Play A Home Game On The Road Every day there are three things, none worth devoting an individual post to, but each worth at least mentioning.
1) The college game. The Bearcats and Muskies both have tilts tonight. There were tilts involving area squads last night. Let's pack them all under one number.
*The Bearcats. Forget that the selection committee didn't seed UC on Saturday. Forget that pollsters overly punished Mick Cronin's team for losing to a ranked team on the road. Forget the fact that the American Athletic Conference is hot garbage and likely to hurt Cincinnati when the selection committee meets again. Forget what Palm and Lunardi say about where UC should - and will - be seeded.
The Bearcats have to play better than they did against SMU. They were passive on offense, too reliant on the three, too reluctant to work for better shots, and the senior point guard went missing. Those things can't happen against good teams.
More than just having to play better than they did against the Mustangs, the Bearcats have to play better away from home.
It's only natural to expect a team to not be as good when they're not playing in their own gym, but the lack output in games not contested at Fifth Third has been striking, especially for a team that's as efficient as teh Bearcats are when they're the home team. Last Sunday, they scored 51 in Dallas against SMU. In the road game before that one, they had to scratch and claw to hit 57 at Tulsa. There was the 55-point game at East Carolina, the 56 they scored in Philly against Temple, and going back a while, the 55 they got away with scoring in an overtime game against Iowa State.
It's not just the point totals. For all of their success home and road, the Bearcats look like a different team when they're the visitors. The offense as a whole is much more tentative, wing players aren't as aggressive, and it takes them longer to get good shots, if they get them at all. The thing is, this isn't merely your typical grind-it-out UC team. These guys have shown at home the ability to be a proficient team in both the half court and in transition, and they're far more willing to keep the opposing defense from dictating the kind of shots they take.
Again, some of this is to be expected, but this season's defining games aren't going to be played at Fifth Third Arena. The team we see when the Bearcats are playing in their own arena has to show up in other cities.
*The Musketeers. Xavier's Big East Bubble Tour - three straight road games against teams clinging to NCAA Tournament hope - begins tonight in Providence. It's a winnable game for the Muskies, but decidedly less so if Trevon Bluiett isn't a go.
I watched closely as Trevon hobbled around last Saturday against Villanova, with his mobility almost completely compromised. Understanding that his ankle issue will probably not be completely resolved until after the season, I'd sit him tonight, aim to get him as better as possible for Saturday's tilt at Marquette and beyond. The guys who were left to do the heave lifting against 'Nova certainly didn't back down. Maybe those guys can scrap their ways toward a road W tonight. If not, well then there's still time, and maybe a healthier Bluiett.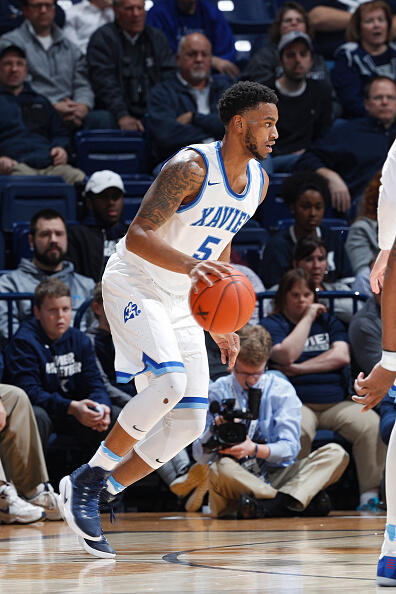 (Oh, those uniforms.)
*The Wildcats. I tweeted about ball movement, because my tweets about ball movement are really why you should follow me.
UK's shooting tonight has been outstanding. Their ball movement has been even better.

— Mo Egger (@MoEgger1530) February 15, 2017
*The Flyers. The St. Louis Billikens should thank the South Florida Bulls, because without them, they'd be the worst college basketball team I've watched this season. UD went to St. Louis and didn't screw around, hammering underhanded SLU in front of what looked like 13 people in one of my favorite arenas. Credit to Archie Miller's team for being business-like against a team they could've let down against, and to Archie himself for actually cracking a smile on the bench.
No human being alive looks more awkward when smiling than the coach of my alma mater's basketball team.
2) The pro game. While NBA fans have been inundated with stories of the Knicks and their on and off court woes (stories that, as a Knicks fan, even I'm tired of) and the return of Kevin Durant to Oklahoma City (newsflash: star player who left city returns to the city and fans boo), the best story in the NBA is coming out of Boston.
I was on a lengthy car ride this fall with two friends of mine who are big NBA fans. I promised them that by midseason, there would be legit "can Boston challenge Cleveland" stories circulating on the internets.
Well, here we are at midseason, and what do we have. Stories like this one and this one, among others.
Yes, part of this reflects the Cavaliers' vulnerability. Part of it reflects that fact that NBA writers have to pick someone to be LeBron's biggest Easter Conference hurdle (even with Serge Ibaka, most seem reluctant to completely go all-in on the Raptors), and most casual fans - and even many diehards - will dismiss the idea that another Cavs trip to the Finals in't inevitable.
But the C's have a shot. Their best player, Isaiah Thomas, is the second-most-fun-to-watch guy in the league (Curry, Steph. Still.), and his fourth quarter exploits have been absurd. They have one of the most underrated players in the league in Marcus Smart, and scoring presence in the post in Al Horford. With the way they've had to juggle lineups due to injury, they've developed one of the deeper teams in the league, they have one of the NBA's great tacticians, and if Avery Bradley can get healthy, they'll have strong defensive capabilities on the wing.
The Celts are just two and a half games out of the top seed in the east, and they have assets to deal at the trade deadline, including draft Brooklyn's top four pick and a guy who in Jaylen Brown who I'd pounce on if I was an rival GM. They desperately need rebounding help, they could surely use a scorer to take pressure off of Thomas, and they do reside in the same conference as Lebron James, but as much I love that idea of the Cavs and Warriors turning into the 21st Century version of Lakers/Celtics, I'd love to see Thomas get a chance to square off against Steph and the Dubs in June.
Also, I just wanted to bang out a few words about the NBA, and as much as I'm conditioned to loathe the Celtics, I wanted to use this blog as an outlet to tell my friends that I told them so.
3) To T.O. or not to T.O.? I'm a little late on this, but I was reading this Peter King piece that mentions Terrell Owens not getting elected to the Pro Football Hall of Fame, as well as this Pro Football Talk piece that shoots down the narrative that NFL teams "couldn't wait to get rid of T.O."
Seriously, Terrell Owens isn't a Hall of Famer? One of the top three most physically gifted players of my lifetime, a guy who ranks among the top eight in catches, touchdowns, and receiving yards, whose Super Bowl performance - nine catches for 122 yards - on a broken leg is one of the most badass individual efforts of all-time, a guy who played at a reasonably high level when he was 37 years-old...that guy is not a Hall of Famer?
And you thought Baseball Hall of Fame voters were haughty dipshits.
I get it, he wasn't maybe the best teammate. He was a self-promoter. There's a lengthy list of guys who were crappy in the locker room and who might have cared more about themselves than anything who weren't close to the type of player Owens was. He was an excellent player, and if a player who's excellence outshines nearly every player who ever played his position can't get to Canton, then they really should just not have a Hall of Fame.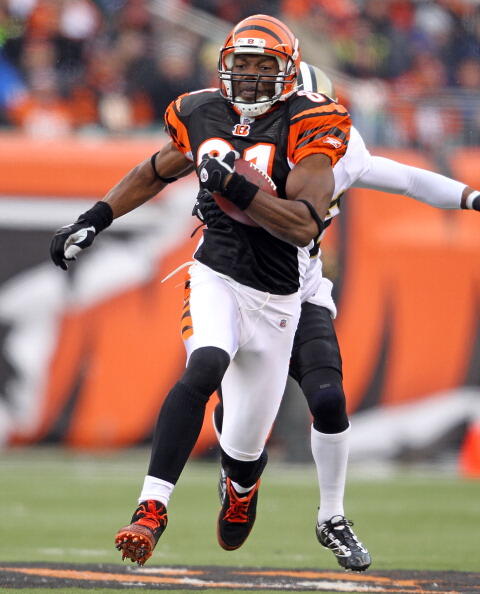 Radio Show: Terry Nelson talks UC, Byron Larkin talks XU, John Harkes talks FC Cincinnati. You and I talk about everything else. Join us today at 3:05 on ESPN1530
ICYMI: Listen: My Interview With Sean Kilpatrick.
ICYMI: Now Comes The Hard Part.
Follow me on Twitter @MoEgger1530.
(Photos: Getty Images)