Should we really worry about a 23-3 team?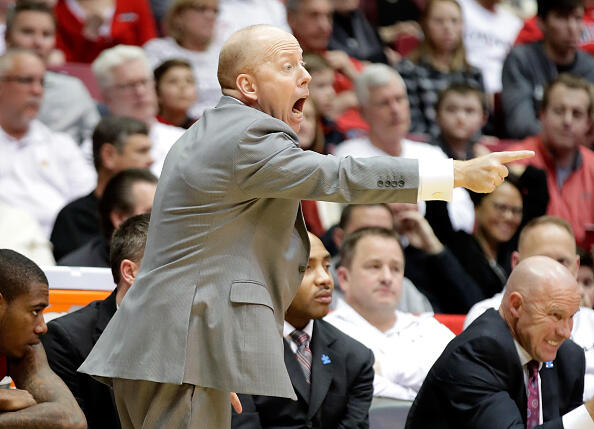 Should we really worry about a 23-3 team?
It would seem a stretch to complain or nitpick a team with a 23-3 record and 16 wins in its last 17 games. But I will, because something seems just a tick or two off from the well oiled machine form of this team prior to the last two weeks. I'll call it the equivalent of a NASCAR ride not handling quite right.
The Bearcats offensive efficiency has been off lately. They have shot less than 40-percent from the field in three of their last five games: .353 Tulsa, .500 Connecticut, .354 Central Florida, .347 SMU, .422 South Florida. UC has averaged 63.6 points in those five games. In fairness, UC faced two of the top 21 defensive efficiency teams in the country in Central Florida and SMU in that span.
After averaging 20 three-point shots per game in their first 20 games, the Bearcats have averaged 27 three-point shots in their last six games (34, 24, 26, 29, 32, 18). They had not attempted as many as 27 three-pointers in any of their first 20 games. UC jacked up 32 three-pointers in 49 field goal attempts vs SMU.
The Bearcats have also been out-rebounded in four of their last five games:
-10 Tulsa, -2 UCF, -1 SMU, -3 USF.
For much of the season we pointed to multiple options being able to step up/pick up the slack on
off nights by other players. But off nights seem to keep popping up:
Jacob Evans went scoreless vs Connecticut
Troy Caupain missed all seven shots in a two point performance vs SMU
Caupain and Gary Clark combined to shoot 5 for 24 vs USF
Kevin Johnson hit just 2 of 13 shots in consecutive games vs USF and Tulsa.
Caupain is averaging just 6.5 points over his last six games, shooting 14 of 52 (.269). He is still distributing well, with 25 assists to just three turnovers in that time. Hopefully the three-pointer he hit vs South Florida is a positive sign that carries over.
Evans is not getting to the basket much lately. He's just 2 for 2 at the free throw line over his last five games. He's attempted 44 three-pointers in his last seven games, after attempting 25 three-pointers in his previous seven games.
Teams seem to have a better grasp of the Jarron Cumberland scouting report. He scored 15 vs Xavier, 26 vs South Florida and 15 vs Connecticut, but has also contributed a total of 17 points in 77 minutes in four games vs Tulsa (4), Central Florida (3), SMU (3) and South Florida (7). It's also fair to wonder about that invisible "freshman wall."
Nysier Brooks missed three games with the knee issue and has played a total of just six minutes in two games since his return.
The defense has wavered slightly on deflections numbers, but has still allowed just 56.6 points per game on .390 percent shooting over the last five games.
Is this much ado about nothing? Are these minor annoyances or legit concerns? Did the Bearcats peak?
You have to figure most teams would gladly take such issues, while dealing with a 23-3 overall record, 12-1 conference record, 16 ranking in the RPI and riding a 23-game home winning streak.
I know this, there are five regular season games and a conference tournament to go to get any legitimate kinks ironed out. The next chance comes Saturday vs Tulsa.
What is your level of concern with the Bearcats? Join us HERE.

He insists he has the best job going....and who is to argue? He gets paid to talk about the teams he grew up with in Cincinnati. He painted his face for the Freezer Bowl and watched Pete get hits 3,000 and 4,192 in person. His broadcast career originated with weekly calls to WLW Sports Talk to talk circles around Bob Trumpy. When he wasn't bugging neighbor Marty Brennaman to sign his 1976 Reds Greatest Hits album, he was playing for Cincinnati's 1977 dynasty little league team, Wicks Good Food and Booze. Being cut from his high school baseball team, as a left handed shortstop, opened the door to doing radio at his high school station. After graduation from Carmel High School in Carmel, Indiana in 1984 it was onto Butler University. His TV sports anchor career began at WSBT-TV in South Bend and took him to CLTV in Chicago. The highlight of his broadcast career was winning a Midwest Emmy for Chicago Bulls coverage. Eventually he left to do radio with Norm Van Lier at WMVP AM 1000 in Chicago. Then it was back home to Cincinnati in 1997. He resides in Northern Kentucky. Wife Kelly was his intern in Chicago (insert own joke here). He has two children, Casey 17, and Peyton 14. In 2003, Casey received a bone marrow transplant that saved his life after being diagnosed with AML leukemia.Lance is the proud owner of the St. Pete Roses, his fantasy baseball team for the past 27 years. In 2006 he played on the Reds Baseball Heaven Championship team with his father. Despite an injured hamstring that limited him to a DH role, he hit a crisp .500 (14 for 28) for the week. In November of 2008, after fainting in the emergency room, Lance's heart stopped and he flat lined for 60-seconds. That day he received the ultimate conversation starter, a pacemaker. Like the watch, he keeps on ticking today.