Chris Brown Tells Offset 'Fight Me' After Migos Rapper Calls Him Out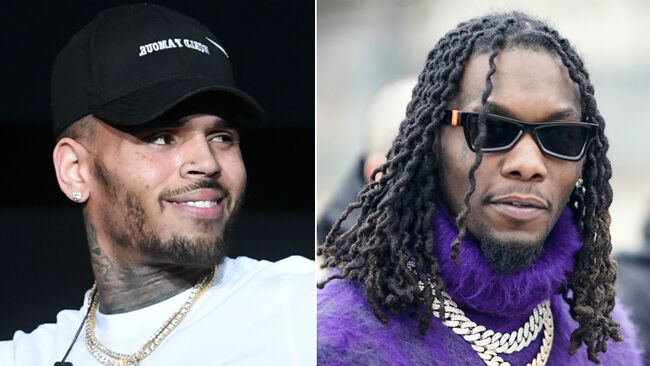 Talk about the feud we neither wanted nor needed — Chris Brown and Offset are beefing on Instagram, and it's all because of a 21 Savage video.
On Wednesday (February 6), the "Freaky Friday" singer shared a clip of 21's Freshman cypher, which was edited to have the vocals of U.K. rapper Big Shaq . "CMON FAM, STOP PLAYING WIT DA MANS DEM," Chris captioned the shady post, clearly referring to the recent revelation that 21, who is currently in ICE custody for allegedly overstaying his 2005 visa, is from the United Kingdom.
Not seeing the clip as funny, especially given the circumstances of 21's Sunday (February 3) arrest, Offset commented on Chris' video: "Memes ain't funny lame."
Offset's words didn't sit well with Chris, who wasted no time firing back with a lengthy reply, writing, "F**k you lil boy. Better worry about what u got going and focus on 'you.' All this cap on IG is whats lame."
"Yo energy won't like that when I came to the Drake show in LA… if u don't get yo hip a hop a hibbet a hibbet to the hip hop and ya don't stop the rockin face a** out my comments," he added. "Sensitive ass n***a. Call me personally. U want some clout when all u gotta do is pull up. No camera no flexing and all at!!! If you a real man fight me. Oh and another thing, suck my d**k." Chris continued his expletive-filled tell-off on his Instagram Story, writing: "If he don't get his EARTH WIND AND FIRE pottytang space suits WEARING CAP A** LIL BOY da f**k out of my comments and off my d**k."
Offset then replied on his Instagram Story, writing, "Coke head don't want [smoke emoji]."
As fans know, 21, whose legal name is She'yaa Bin Abraham-Joseph, is currently in ICE custody after being arrested on Sunday for allegedly staying in the U.S. illegally. The 26-year-old rapper's legal team, however, claims that their client is a "dreamer," whose "legal status expired at no fault of his own." Many in the hip-hop community have rallied around 21 during this time, promising to take action to get him released. Most recently, Jay Z hired attorney Alex Shapiro to assist with 21's on-going legal battle with ICE , calling the father-of-three's arrest "an absolute travesty."
Offset previously defended 21 against online trolls who were mocking his arrest. "ALL THE MEMES AND SH*T AINT FUNNY WHEN SOMEBODY GOING THROUGH SOME PRAYING FOR MY DAWG AINT SH*T FUNNY," he wrote on Twitter Sunday. "HIS FAMILY DEPENDING ON HIM [...] SUCCESSFUL BLACK MAN THEY ALWAYS TRY SOME WAY TO BRING US DOWN ✊🏾✊🏾✊🏾✊🏾✊🏾."
Photo: Getty Images