Bengals: Fan votes are in for the Core 5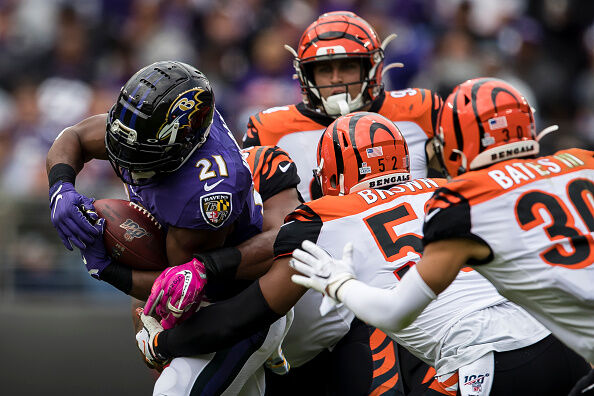 Bengals: Time to identify the Core 5
Years ago I hosted the Friday Bengals Show with Bob Trumpy. Every season he would hammer away at the fact the Bengals were poor at recognizing their core players, signing their players to extensions and keeping them around to build around.
I have presented that topic to listeners and compiled a list over the years:
Who are the five players to keep and build around over the next 3-4 years?
Imagine you were deciding on five 'keepers' for the Bengals, just like your fantasy football team. Why five players? My choice. Why 3-4 years? The average NFL career lasts 3.3 years, according to the NFL Players' Association.
So, which Bengals do you keep and which players do you toss back into the pool? 
What factors matter the most? Age? Position? Upside?
-----------
Here are listener choices/results that I was able to dig up from past years doing the topic:
It is pretty interesting to look back at some of the names fans identified as Core 5 guys over the years. Order is based on the most votes received. 
2006: Carson Palmer, Odell Thurman, Chad Johnson, Levi Jones, Eric Steinbach
2007: Carson Palmer, Johnathan Joseph, T.J. Houshmandzadeh, Levi Jones, Chad Johnson
2008: Carson Palmer, Robert Geathers, Johnathan Joseph, Keith Rivers, T.J. Houshmandzadeh/Leon Hall (tie)
2009: Carson Palmer, Keith Rivers, Rey Maualuga, Andrew Whitworth, Leon Hall
2010: Carson Palmer, Andrew Whitworth, Carlos Dunlap, Johnathan Joseph, Leon Hall
2012: A.J. Green, Vontaze Burfict, Geno Atkins, Andy Dalton, Michael Johnson
2014: A.J. Green, Geno Atkins, Vontaze Burfict, Andrew Whitworth, Jeremy Hill
2016: A.J. Green, Geno Atkins, Tyler Eifert, Carlos Dunlap. Andy Dalton
2017:  A.J Green, Geno Atkins, Vontaze Burfict, Andy Dalton, Joe Mixon (20 different players received votes)
2018: A.J. Green, Geno Atkins, Andy Dalton, Williams Jackson III, Carl Lawson (17 players received votes)
2019: Tyler Boyd, Jonah Williams, William Jackson, Joe Mixon, Sam Hubbard (18 players received votes)
Vote on my Facebook page HERE on tweet me @ lancemcalister

Lance McAlister
Lance McAlister covers everything in Cincinnati sports! Host of sports talk on Cincinnati News Radio 700WLW and ESPN 1530!
Read more