O.G. Blog: Let's Spin The Wheel Of Blame!
With last week's loss to the Steelers making official what most of us have known for weeks - that the Bengals are not going to the playoffs this season - we've now entered the "wheel of blame" part of the calendar.
Like tacky sweaters, gifts you can't wait to return, and awkward Christmas party conversations with coworkers you really don't like, spinning the wheel of blame is as much a part of the holiday season for fans of teams that won't be playing past week 17.
Like this year's Bengals.
Wanna spin the wheel?
What happens when we break out the Wheel of Blame is that whoever the wheels stops on gets chewed up for a day or two, then spit out before we move on to who's next. So far, the wheel has stopped on Marvin Lewis, Ken Zampese, and recently Andy Dalton has had his turn getting blamed for the first losing Bengals season since 2010.
My colleague Bill Cunningham is fond of the saying "Success has a thousand fathers, every failure is an orphan." That's often true, but rarely does that axiom hold up when we're talking about bad NFL teams.
The Bengals have gone from a powerhouse last season to an also-ran this year, but their failures can be attributed to a bunch of different things.
*Areas of the defense got old quickly.
*Injuries to some young defensive players and lack of development by others made the Bengals rely on aging, declining players.
*Jeremy Hill was only good when the Bengals played the worst team in the NFL.
*Vontaze Burfict put himself in a situation where he had to miss the first three games, and when he was able to play, it took him weeks to play himself into shape.
*Geno Atkins was not Geno Atkins.
*Ken Zampese appeared to be in over his head.
*The offensive line went from a team asset to a huge liability.
*Andy Dalton was guilty of key mistakes, an inability to make certain throws, and of being unable to make up for the smaller margin for error this team had to deal with compared to last year's.
*The offense allowed opposing defenses to take their best weapons away.
*Tyler Boyd has developed well, but he came along slower than hoped.
*Karlos Dansby made little impact.
*Reggie Nelson left.
*Marvin Jones left.
*Marvin Lewis appears to coach like he's scared sometimes.
*Mike Nugent missed a bunch of kicks.
*Cedric Ogbuehi appears to not be ready for the NFL.
*Injuries.
*Michael Johnson was at times invisible.
I could continue, but it's Christmas Eve and I have better things to do besides sit at a keyboard.
The point is that we overuse the word blame. The term we should be using is complicit. Many people and things have been complicit in the wreck that this Bengals season turned out to be, and no one move this offseason is going to lead to a drastic turnaround next year.
A lot of things went wrong this season - much of which was within the Bengals control, some of which we should've seen coming, some of which is just part of the natural cycle of being good for a few years before trending downward, and sure, some of it is just plain bad luck.
But for us to be prepping for the playoffs instead of rolling out the wheel this time next year, they're going to have to do more than just fire one coach or replace a handful of players in the coming months.
BENGALS v. TEXANS
I know that the Houston Texans are the worst good team in the league. I know that Tom Savage is making his first NFL start. I know that for all of their struggles, the Bengals have been in close to every game that hasn't been played against the league's elite. I know that I wish the NFL wasn't staging a game on Christmas Eve night.
I also know that the Bengals are playing a road game that means nothing to them without Tyler Efiert and AJ Green. Cedric Ogbuehi will play left tackle. Vontaze Burfict won't play. If you include Giovani Bernard's absence, the Bengals could be playing without arguably four of their seven most important players.
Yeah, I'm not guessing they win.
Texans 20 Bengals 10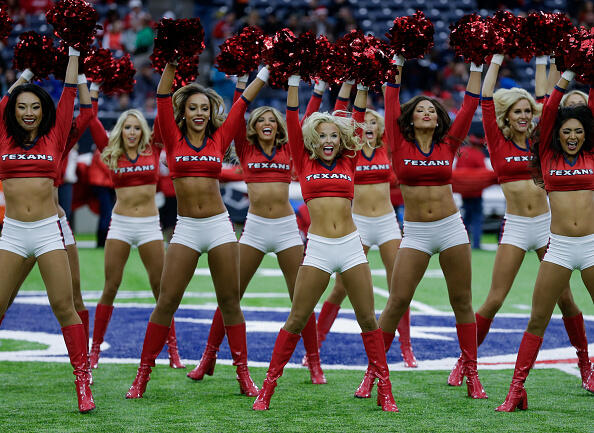 THERE ARE OTHER GAMES...We take a 125-96-8 record into the Christmas weekend....Buffalo (-4.5) plays hard for Rex Ryan, who's like the substitute teacher who impressed a dumb principal, and beats Miami....Am I about to pick a team that's laying 17 points to over? Yes, yes I am. New England (-17) over the Jets....Tennessee (-5) is going to win the AFC South, which of course means they'll beat Jacksonville....Green Bay (-6.5) beats a Minnesota team that's probably happy just to have gotten off the plane, handily....Cleveland (+4.5) keeps it close against San Diego.....Carolina (+3) has one more stand in them, and they'll upset Atlanta....Lotsa points in NoCal. Indy (+3.5) upsets Oakland....I've bought stock in the Bucs for Christmas. Tampa Bay (+3.5) wins at New Orleans.....OMG This: San Fran (+5) covers against LA....Hey Steelers fans, if you don't want Mike Tomlin, I know a fan base who will gladly take him. Pittsburgh (+6) wins. Baltimore covers....Kansas City (-3) beats a broken Denver team....And Detroit (+6.5) wins at Dallas, who should given Tony Romo some snaps.
Also, Mississippi State 38 Miami 16
Merry Christmas.

Mo Egger
Mo Egger delivers his unique take on sports on Cincinnati's ESPN 1530!
Read more