Mick Cronin's Most Talented Team Might Also Be His Toughest.
Winning the Skyline Chili Crosstown Shootout is, on its own, hard enough. Especially for the UC Bearcats. The opponent is always good. The pressure is usually immense. And luck has rarely been on Cincinnati's side.
Winning the game when a Xavier Musketeer has one of the best individual performances in your arena's history and when your team clangs a month's worth of missed free throws seems nearly impossible.
Mick Cronin may have his most talented team at UC. Time will tell if he has his most accomplished. He clearly though, has his toughest.
The Bearcats' first win in the series in four years was a testament to a lot of things. Their talent. Their depth. Maybe even a little good fortune. It spoke more than anything, though, to their collective and individual backbones.
Consider that in 459 previous UC basketball games at Fifth Third Arena, no opposing player had ever scored 40 against the Bearcats. Trevon Bluiett didn't just do that, he had one of the most efficient offensive night's in Xavier's history - tying a school record for threes in a game, becoming the first Musketeer since David West 14 years ago to score 40 in a game, and authoring one of the best halves of shooting you'll ever see, while establishing a new arena record for most points against Cincinnati.
He was magnificent, especially in the first half when he made all eight of his shots, with six threes among them, including his desperation toss at the buzzer that sent the Muskies to an eight-point halftime edge as the partisan Fifth Third crowd to the beer lines cursing the latest Xavier player to take a major star turn against the Bearcats.
UC did a better job on Trevon in the second half, holding him to "just" 14 points over the game's final 20 minutes. You wonder how much bigger Bluiett's night would've been - and how the game would've played out - had XU been more creative in getting him shots.
For a while, Cincinnati's most creative work came at the foul line. Free throws have been an issue for the Bearcats all season, and their clangs-man-ship seemed destined to doom them against Xavier. The only thing louder than the "schtonk" of a UC free throw banging against the rim were the groans that came from the stands with every miss. Cincinnati piled up 19 missed free throws in 38 attempts - some of them on the front end of one-and-ones - with Kyle Washington misfiring on ten of his 14 chances.
You're not supposed to wins games - especially this one - when you have as many free throw misses as the other team has makes.
And yet...
The Bearcats did what they haven't often done against Xavier in the past, but are doing with some regularity this season. They responded, cutting the eight-point deficit at the half to just one within the first seven and a half minutes of the second half, and ultimately taking the lead for good with 10:54 left on a Jarron Cumberland layup.
Cumberland changed the game, scoring 13 of his 15 bench points in the second half, but more importantly, playing with the type of aggression and tenacity that the Bearcats have lacked against Xavier, and desperately need to make a run in March. He attacked the XU defense with his large frame and deceptive quickness, made critical shots, and played with a fearlessness you don't expect from a guy playing in his first Shootout.
But it was a guy playing in his last who made the night's signature shot. With his team clinging to an 81-77 lead that, with UC's free throw issues, seemed tenuous, Troy Caupain lifted an end-of-possession three from the top of the key that looked short when he was released, yet somehow got caught iron, then rested on top of the rim for what felt like a week before falling through the net. It was the long-distance version of Troy's bucket against Purdue that sent an NCAA Tournament game to OT two years ago, it gave the Bearcats a seven-point edge, it sent a massive sigh of relief through the crowd, and it all but ensured that the guy who made the shot wasn't going to go 0 for his career in the Shootout.
Jacob Evans led the Bearcats in scoring with 21. (Sign me up for two more years of watching him and Cumberland play together!) He and Gary Clark kept the Bearcats afloat while Bluiett was putting on a show in the first half, but no factor in the game was more important than UC's work on the glass.
Cincinnati held a staggering 30-4 edge in second chance points. Thirty to four. UC's 19 offensive rebounds were one less than Xavier's defensive total, which is amazing considering that the Musketeers entered the game ranked in the top five nationally in defensive rebounding percentage. The Bearcats crushed XU inside, outscoring them by 22 in the paint, out-rebounding the Muskies by nine, while blocking nine Xavier shots.
The Bearcats were the better teams. They were the tougher one too.
That has to be maddening for Chris Mack, whose team appears to be at a crossroads of sorts. The Muskies have lost four of five, their best player is dealing with a shoulder problem (Edmond Sumner -whose left shoulder has been hurting, appeared to be in significant pain after falling hard to the floor in the second half.), their frontcourt just got whipped by UC, and there's still a ton of tough Big East battles ahead for a team that still seems like a safe bet to get to the NCAA Tournament, but has a ton of obstacles they need to clear to get there.
And they just wasted a 40-point performance against a team that left 19 points at the free throw line.
UC, meanwhile, is surging. I've said for a few weeks that the exciting thing about rooting for this Bearcats team is that I still don't think they've come close to playing their best ball yet. There's another gear or two that they really haven't kicked into, and maybe with Cumberland's emergence, they're about to start reaching their full potential. This is a UC team that can - finally - win with offense, and Mick Cronin has a team that's able to beat opponents with multiple scoring options.
Just as important, though, this team seems able to take a punch, and not only come off the canvas, but come back swinging with blows of their own. They seem to have learned from a couple of tough early-season lessons against Rhode Island and Butler, and while they may have caught Xavier at the right time, they certainly had to withstand enough of a challenge against the Musketeers that the game was in doubt until the final minute.
Many have called this year's UC team Mick Cronin's best. They may have shown last night that it's his most resilient. Maybe it's his luckiest.
It definitely has a chance to be a special one.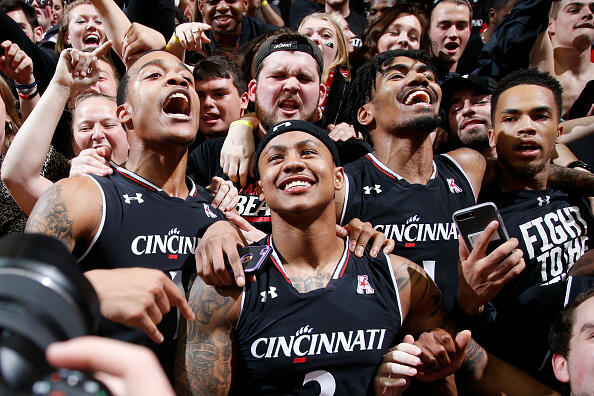 (Photos: Getty Images)

Mo Egger
Mo Egger delivers his unique take on sports on Cincinnati's ESPN 1530!
Read more