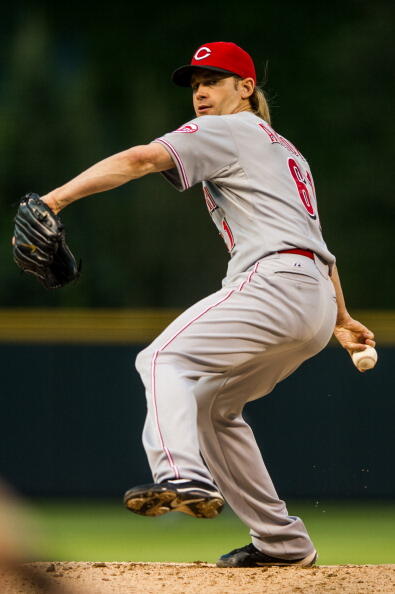 Bronson Arroyo and the Reds are apparently on the verge on reaching an agreement that would have the pitcher signing a minor league contract with an invitation to spring training. These kinds of deals happen every year with every team. An older, perhaps washed-up, guy gets a few weeks to show what he has left, if anything, and then he either makes the team, impresses another team that eventually signs him, or moves on with his life's work.
I don't know what will happen with Bronson in the coming weeks.
I do know that Bronson Arroyo remains one of my favorite all-time Reds, a mainstay in the rotation who helped return the franchise to relevance and who was a big part of three playoff teams. He came off as a guy who took his craft, but not himself, too seriously, and who demonstrated a kind of professionalism that his younger teammates undoubtedly learned from.
I also know that the chances of Bronson being the kind of pitcher he once was remains slim. He's about to turn 40 years-old, he hasn't tossed an inning in a Major League game in more than two years. There's a very, very good chance that whatever Bronson Arroyo does this spring is his last hurrah, a chance to prove to himself that he is indeed done before going quietly into retirement.
Still....what's the harm in giving him a chance?
At worst, he flames out and goes away.
At best, he does enough to make a big league club, and gets a chance to author a final, heartwarming chapter to what's been a very, very good career.
Either way, the Reds won't be worse off for giving him a chance.
They'll go to spring training, where there will be ample opportunities for every pitcher in the organization to get in work, prepare for the season, and do what they can to make the team. The complex in Goodyear has no shortage of mounds, baseballs, and men willing to squat behind plates and catch.
There are also plenty of games. Cactus League games. "B" games. Split-squad games. Minor league games. Instrasquad games. There's almost too many of them.
Have you ever listened to a Reds spring training broadcast in the later innings? Inevitably, there will be a guy getting an at-bat or logging an inning in the field that neither announcer has ever heard of. I think sometimes Marty just makes up the names of player who appear in the eighth and the ninth. Last year, I went to spring training and watched a guy pitch who didn't even have a number on his uniform. The year before, I watched a guy play right field for the Angels wearing a different jersey color than his teammates. I suspect they pulled him out of the stands.
By the way, these same precious spring training games that Bronson could be appearing in are so vital that Will Ferrell and Garth Brooks have played in them. If Ricky Bobby can get some playing time, a guy who's actually pitched in more than 400 regular season big league games can get a few innings on the bump.
I don't know if Bronson can make the Reds. They do have some pretty intriguing, young options to fill out both the rotation and the bullpen, and he's coming off of significant elbow and shoulder injuries, and he's my age. His battle will be an uphill one.
But let's give him a chance to fight it. Maybe he gives up after a week or so. Maybe his Cactus League work with the Reds does enough to warrant interest from other teams. Maybe he's healthy and capable enough to be a Cincinnati Red in 2017, under the team's terms, meaning that he'll pitch where and when he's asked.
Maybe the Reds determine that their young arms aren't ready, or that they'd like to have a veteran absorb some of the workload as they handle innings limitations or service-time issues throughout the season. Perhaps a run of injuries like the one the Reds experienced last March and April repeats itself and they need to turn to a plan B(ronson).
I have no idea. You have no idea. They have no idea. Bronson Arroyo has no idea.
I do know that giving one of their best pitchers of the last three decades a chance at what amounts to an open tryout has no downside, won't come at the expense of any other pitcher, and it certainly won't be what determines whether or not this team has a successful 2017.
I also know that once the the regular season begins, there will be somewhere between 1400 and 1500 innings to divvy up. No one will be deprived of a chance to show what they can do. No one will be denied chances to gain experience.
And I know for sure that there's no one I'll be rooting for harder this spring than Bronson Arroyo.

Mo Egger
Mo Egger delivers his unique take on sports on Cincinnati's ESPN 1530!
Read more