Three Things: Manfred, Muskies, And Making Sense Of What's Ahead For The Bearcats. Kinda.
Every day there are three things, none worth devoting an individual post to, but each worth at least mentioning.
1) Rob Manfred. I like this guy, and not because I'm in love with every rule change or proposed initiative that he's either suggested or championed. I like him because he's willing to propose initiatives, some of which are more far-fetched than others, designed to change the way the game is played, that get people talking about good, constructive ways to help the sport.
I like him more, though, because despite any pushback he ,might get from the MLBPA, media, fans, or other sticks in the mud who immediately repulse at change, he's going to modernize the game, whether the rest of us like it or not.
He gets it, even if the people who work for him don't. Baseball needs to adapt, get with the times, evolve, find a way to fit within the modern lifestyles and consuming habits of 21st Century consumers. If that involves sweeping, drastic changes that could affect strategy, so be it. If that involves, small, almost un-noticeable tweaks, then that's cool too.
His message the other night that he's willing to move ahead with what he thinks needs to happen, no matter what the players' unions wants, is a good one: We're moving forward, we're getting modern, not because I want us to, but because we need to.
I may not really like some of the ways the game is being tinkered with - and I'm personally perfectly happy with the way baseball games are played - but I understand what the goal is here, and I appreciate the willingness of a commissioner to be proactive in doing what he needs to move toward that goal.
2) The Musketeers. Yesterday, in referring to this year's Xavier team, I wondered what we call teams that aren't exactly on the bubble but can't yet be considered locks for the NCAA Tournament. I never came up with anything clever.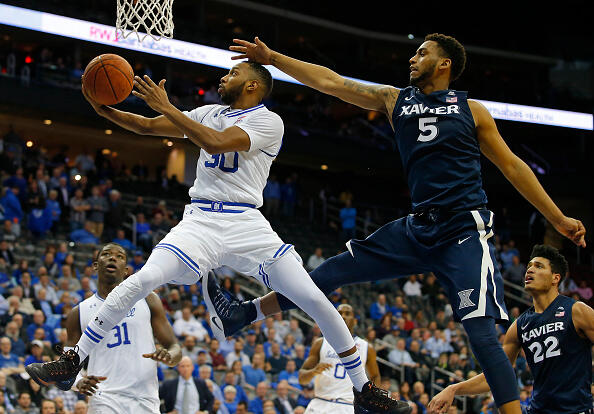 There's no need to be clever in talking about XU's current status. They're on the bubble team, albeit one on the ride side of it. Their positioning in relation to the bubble right now is in part due to the fact that the crop of potential at-large teams is a collection of garbage (Can you imagine what kind of teams would be making the tournament if the field was expanded to 96 teams, as many coaches suggested?), and in large part due to the fact that none of their individual losses they've suffered during this current losing streak is a "bad" one.
But the margin is getting thin. Xavier's resume isn't bad, but it's not complete either. And with last night's game against Seton Hall representing another missed opportunity for a resume-building win, a game this weekend against very good Butler team that just beat Villanova at The Pavilion, and most importantly, an offense that often looks completely discombobulated, it's very fair to at least wonder if the Musketeers will have their name called on Selection Sunday.
3) The Bearcats. UC's season has arrived at an interesting place. The regular season games against truly awful AAC teams are behind them, and while their next four games - Memphis, at UCF, Houston, and at UConn - aren't exactly against national championship contenders, it's not going to be easy for the Cats to run the table either. Even if Cincinnati does take care of business at home, starting tonight with the Tigers, they haven't been the same team away from Fifth Third, and one of their poorer performances did come against the same UCF team they'll play on Sunday. The Knights do present some issues on defense for the Bearcats.
And for all of the issues UConn has, they have played better as of late (last night's loss at Houston not withstanding), and with the Bearcats having problems scoring on the road, the Huskies will be a tough out in the regular season finale.
Which means...to run the table, UC will have to beat four teams among the top six right now in the American (save your jokes), including two in their building. In the conference tournament, they could have to beat the Huskies in Hartford for the second time in less than a week AND a third matchup against NCAA-bound SMU. They'd be 31-3 with NO bad losses. I don't know how many teams with three losses or less have been seeded lower than third in the NCAA Tournament's history, but damn, despite their schedule and the crappiness of the league as a whole, it'd be hard to not have them at least as a four, and really it'd be hard to argue against their resume as a three.
Right? Right?
Of course, the UCF and UConn games terrify me. And for what it's worth, neither remaining home game is a pushover. And I dislike the way the Cats are playing away home right now just enough that winning three straight in the league tournament and beating an SMU team that UC doesn't match up well against isn't a prospect I'm gambling on, so we could be dealing with a team that wasn't worthy of a top-four seed in the first bracket projection falling to something far below where their projected to be seeded at the moment.
I don't know. I'm rambling. Beat Memphis.
Radio Show: Jerry Palm of CBS talks brackets at 4:40, and I ask if Mick Cronin is really underappreciated, along with Reds and Bengals takes, starting at 3:05 on ESPN1530.
Follow me on Twitter @MoEgger1530.

Mo Egger
Mo Egger delivers his unique take on sports on Cincinnati's ESPN 1530!
Read more